The Bedford Park apartment home of Mary Vallati, the outspoken community activist who died at the age of 102, captures the character of an altruistic community leader.
There're the portraits of her family, including a vintage photo of her mother, Catholic imagery, personally crocheted items, and proclamations from various elected officials that adorn the walls of her living room. Words like "role model" and "community leader" were the watchwords for Mrs. Vallati.
Mrs. Vallati never sought the recognition, wasn't motivated by it, her daughter Linda McCauley, recalled. Her faith and love lay in the community. "She didn't want the glory," McCauley said, speaking to the Norwood News from her mother's living room. "All her life she was in the background. And she took that background role on. When she did have a lot to say, and when she got to say it, watch out."
Mrs. Vallati passed away on Sept. 12 from pneumonia.
She was born July 18, 1915 in Collinsville, Illinois, a town known for its horseradishes. Mrs. Vallati, the oldest of four children, left Collinsville in 1927, moving north to the Bronx with her siblings and mother. She settled in the neighborhood of Belmont at the age of 12, in a time when the borough transitioned from farmland to the beginnings of urban industry. Mrs. Vallati found verdant pastures on Mosholu Parkway, living on the first floor of a mid-rise building near Perry Avenue for decades thereafter.
In 1940, Mrs. Vallati married Charlie Vallati, a construction worker, and had three kids—Dennis, Linda, and the late Richard Vallati.
Mrs. Vallati had balanced the demands of a mother with her career as a customer service representative at New York Telephone Inc., known as Verizon today. Like most mothers, Mrs. Vallati groomed her kids with a mix of undeniable love and the fear of her infamous wooden spoon. Imposing discipline went beyond her kids. Even the neighborhood kids were aware of that spoon.
"…[O]ne day Dennis stole the spoon and broke it in half, which prompted grandma to bring out a metal spoon," said Jamie McCauley-Iacocca, Mrs. Vallati's granddaughter, at the Sept. 15 funeral held at St. Philip Neri Church in Bedford Park.
Mrs. Vallati was a regular at St. Philip Neri Church, practicing the Catholic teaching of doing unto others as they themselves would like to be treated. "She looked for the good in everyone. Never had a negative thing to say about anyone," said McCauley-Iacocca.
Her sense of tradition extended to her civic engagement side. Dennis couldn't quite pinpoint why. "She was always that way," he recalled.
Mrs. Vallati entered the world of civic engagement during the 1970s, serving as a tenant leader for a building on Decatur Avenue near Webster Avenue. She eventually joined the Bedford Mosholu Community Association (BMCA), the civic body that functioned much like Mrs. Vallati—a neighborhood guardian.
"Mary was a trooper," recalled John Reilly, then a community organizer for the Northwest Bronx Community & Clergy Coalition. "She went to meetings in the bitter cold or the pouring rain."
"Mary was always on the forefront whenever there was something to be done or a meeting to go," Barbara Stronczer, current president of BMCA, said.
Her notable moments included taking part in a demonstration against the closure of the C-Town on East 204th Street between Valentine Avenue and East Mosholu Parkway South in 1998. Sydney Katz was the owner of the C-Town, who also owned the Foodtown on East 204th off Bainbridge Avenue in Norwood.
"Early one morning, many of us could not go because we had work. Mary was out there before eight o'clock in the morning. And then after that, as a follow-up, on a rainy day, we were picketing Foodtown on 204th Street because our supermarket had closed. Thank God we were successful in reopening the supermarket on that side of Mosholu."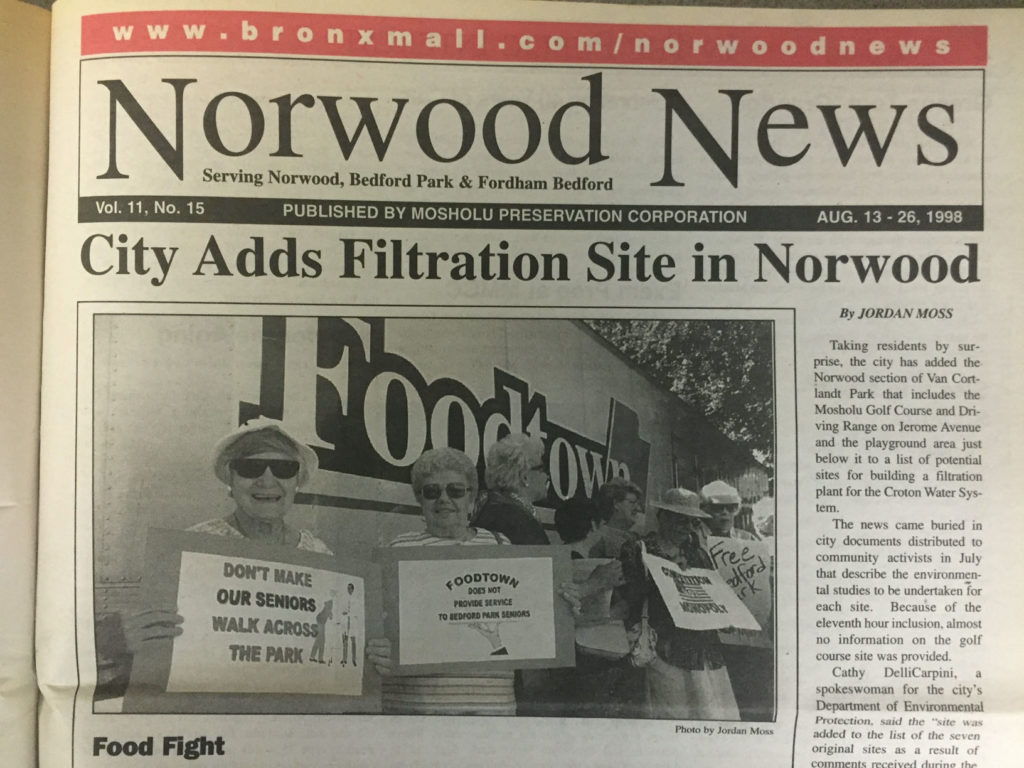 Anthony Rivieccio, a longtime Bedford Park resident and neighborhood activist, met Mrs. Vallati at the demonstration. "She was a very loving, caring, community-based person that carried a big stick and a big mouth," Rivieccio said. "I didn't see the wooden spoon, but I did see the wooden stick."
And even as the years wore on, Mrs. Vallati's need for involvement carried on. Well into the age of 100, Mrs. Vallati remained a member of BMCA, faithfully mailing meeting invitations to the list of members.
"I believe many of her long years are due to the fact that she kept both her mind and body very active," Stronczer said.
One could argue that it was her brand of apple cider vinegar elixir that kept her vibrant.
Her propensity for civic engagement came at a moment's notice. When unscrupulous residents would be found littering or ignore picking up after their dog along the parkway, Mrs. Vallati was there to shame them. "We used to tell her, 'Mary be careful. Today you can't do that,'" recalled Stronczer. "But she was right there, [saying] 'I live here, I want to keep it clean.'"
McCauley understood why. "Some people would tell her, 'mind your own business,' but to her that was her business," McCauley said.
She also remained active with the 52nd Precinct Community Council, joining in functions that included the Open House held at the Webster Avenue precinct in July. Her dedication was such that the police allowed a bench funded by friends of Mrs. Vallati and bearing her name to be placed outside the stationhouse.
Outside the council and BMCA, Mrs. Vallati was an active member of the Bronx Pioneers, a charitable group comprised of retirees from the telephone company. "Mary, my dear friend, went from here straight to heaven in an express elevator," Grace Siemers, a good friend whose husband was a fellow Pioneer, said.
Staying sharp and constantly moving helped to Mrs. Vallati living a long life. On her 100th birthday celebration, Mrs. Vallati had personally walked to BMCA's headquarters to be wished a happy birthday.
For McCauley-Iacocca, staying involved arguably helped her lead a life of longevity.
"[H]er one piece of advice was to never stop moving. Even when you feel like things might be over or life has changed, never stop getting involved," said McCauley-Iacocca.
Mrs. Vallati is survived by a son, Dennis, daughter Linda, four grandchildren, one great grandchild, and a public bench in her name.
Editor's Note: The published version of this article misstates Mrs. Vallati's date she died. The article also clarifies who provided the funding for Mrs. Vallati's bench named after her.