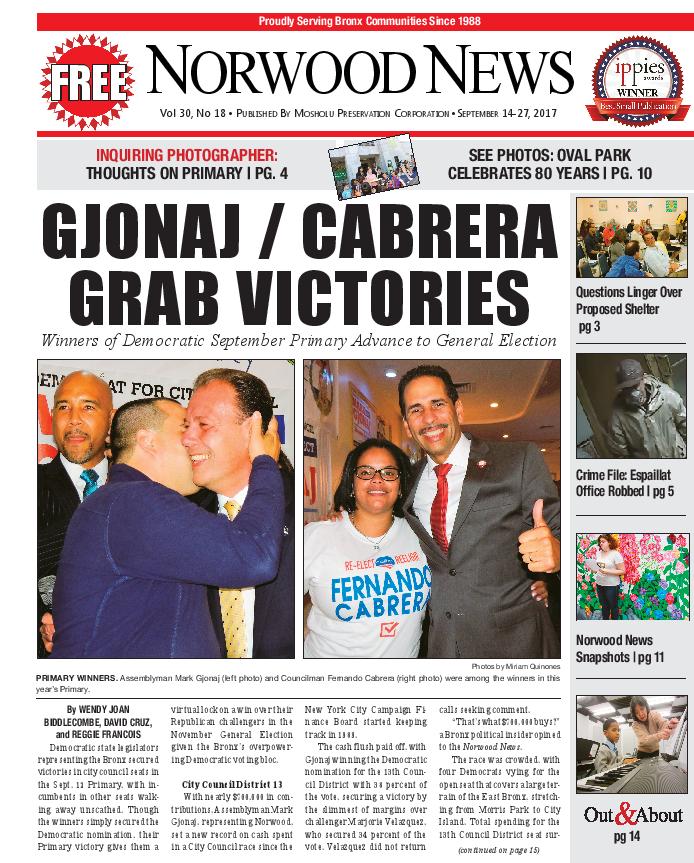 Dear Fellow Readers,
This year's 18th edition of the Norwood News is out covering community news in the Norwood section of the Bronx and its surrounding communities. Coverage of the borough begins on page one and the results of the September Democratic Primary.
Read about Assemblyman Mark Gjonaj's narrow win clenching the Democratic nomination in the race for the 13th Council District. The district covers the East Bronx. Gjonaj's win over contender Marjorie Velazquez puts him closer to clenching the seat currently held by the term-limited Councilman Jimmy Vacca. Find out what one political insider had to say about his win. We also cover the heated race in the 14th Council District between incumbent Councilman Fernando Cabrera and challenger Randy Abreu. We also recap the race for Mayor, with Mayor BIll de Blasio clenching the Democratic nomination.
Shifting to traditional news, the paper also brings you an update to a proposed homeless shelter in Norwood, with an outraged Community Board 7 mulling a demonstration. Find out which elected official is supporting the prospect.
Other news items include part three of our series, "The Bronx Develops," in conjunction with WFUV radio and BronxNet. Reporter Julia Rist covers the neighborhood of Parkchester, a city within a city that's being primed for a Metro-North station in the coming years. Hear what Bronx Borough President Ruben Diaz Jr. envisions the neighborhood in a few years.
As usual, the regular Norwood News staples are there–Inquiring Photographer, Neighborhood Notes, and Out & About–all intended to tickle your cultural, inquisitive, or civic side.
Lastly, the Norwood News would like to express condolences to a true residents, Mary Vallati, who died at the age of 102 this week. An obituary of the stalwart activist will come shortly.
So take a look at the latest edition of the Norwood News. And be sure to send comments my way at dcruz@norwoodnews.org.
Until next time!
David