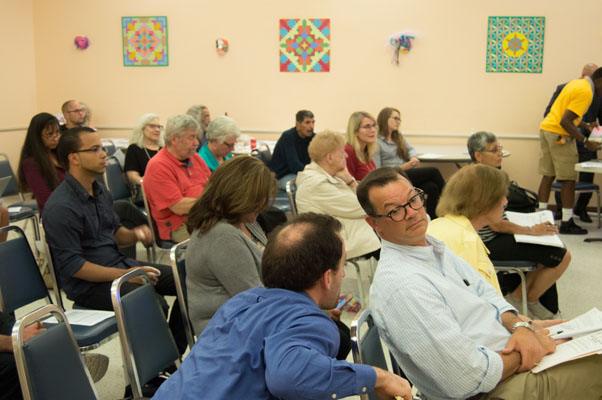 Following acrimony over the city Department of Homeless Services' proposal to establish a homeless shelter across from an elementary school on Webster Avenue in Norwood, Community Board 7 still appears to be at an impasse in getting the city to reconsider.
But Councilman Andy Cohen, who attended the board's Sept. 12 Land Use/Housing & Zoning Committee meeting, said the city did not give him a "definitive answer" on whether it will relent and scout for a shelter elsewhere.
"They have not made the changes we have asked for," said Cohen, "and so I think it's going to require some organization on our part. I think it's time to prepare for the worst."
For Jean Hill, committee chair, that means protesting. Hill noted that the board will start a petition to organize a demonstration opposing the shelter the city is considering to build at Sam's Floor Covering at 3041 Webster Ave.
"You just have to be proactive about it," said Hill. "It doesn't take a whole lot of people."
The property owner of the carpet business submitted paperwork to the city Buildings Department that would convert the property to a space allowing for sleeping accommodations while adding another floor to the current two-story property. The proposed shelter at the carpet business could accommodate more than 200 people once built.
Should it be a men's only shelter, members worry there could be a lot of homeless wandering about unsupervised.
"It's not a humane solution for anyone," said Helene Hartman-Kutnowsky. Hartman-Kutnowsky, a CB7 board member, said her concern was for the group of homeless men that may have mental illnesses or drug problems. "Since there is such a big push to find housing for people, there has to be a way that's humane for them. Having people sleep in a shelter and then get pushed out and have no place to go for the whole day is really not a solution."
She also pointed out that the board's alternate location it proposed, a former social services space at 3600 Jerome Ave., did not seem plausible either because of its proximity to the Bronx Dance Academy School.
John Reilly, a Bedford Park resident with a background in housing, suspects a majority of the homeless shelters, as part of Mayor Bill de Blasio's plan to build 90 shelters across the city, coming into the Bronx borough were being placed in the West Bronx.
"It's documented that a lot of these shelters, cluster houses and everything are being thrown into the Bronx," said Hill. "We don't mind taking out their share, but we are not going to be the dumping ground for anybody."