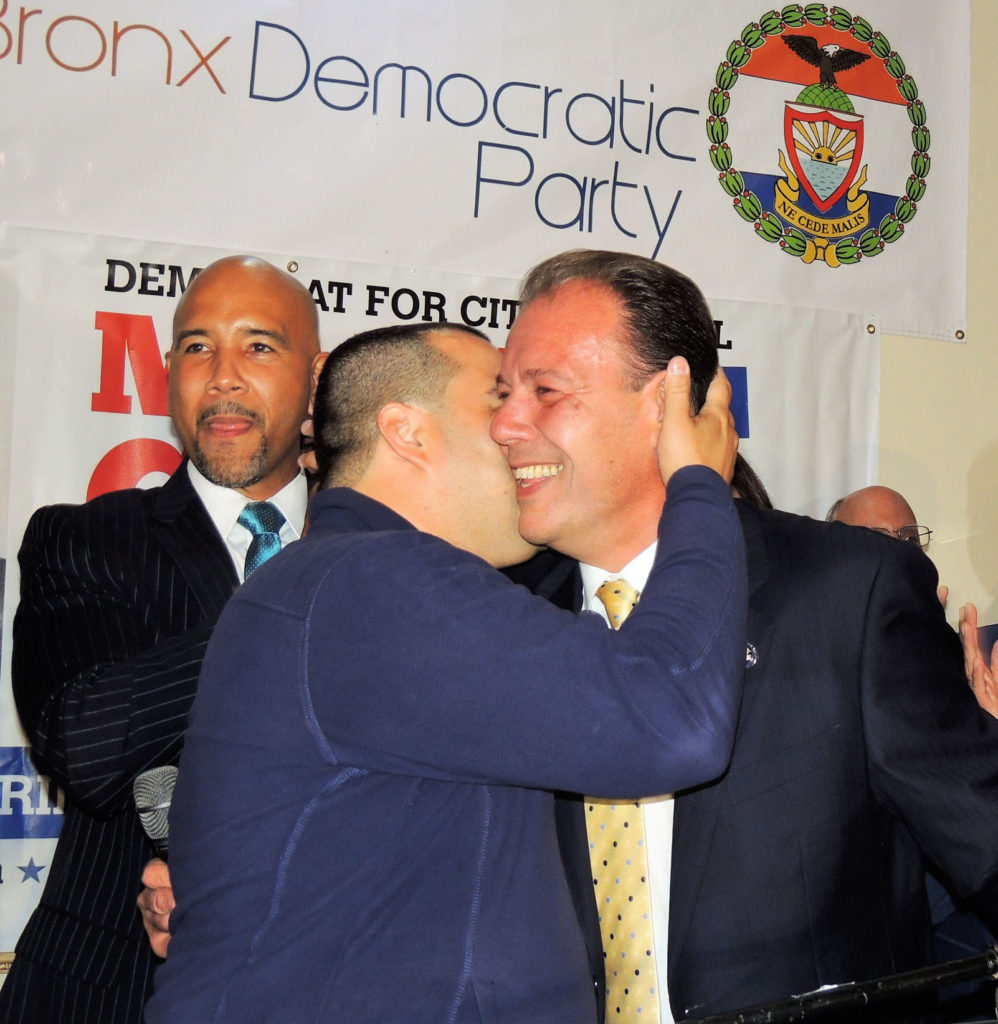 Democratic state legislators representing the Bronx secured victories in city council seats in the Sept. 12 Primary, with incumbents in other seats walking away unscathed. Though the winners simply secured the Democratic nomination, their Primary victory gives them a virtual lock on a win over their Republican challengers in the November General Election given the Bronx's overpowering Democratic voting bloc.
City Council District 13
With nearly $700,000 in contributions, Assemblyman Mark Gjonaj, representing Norwood, set a new record on cash spent in a City Council race since the New York City Campaign Finance Board started keeping track in 1989.
The cash flush paid off, with Gjonaj winning the Democratic nomination for the 13th Council District with 38 percent of the vote, securing a victory by the slimmest of margins over challenger Marjorie Velazquez, who secured 34 percent of the vote. Velazquez did not return calls seeking comment.
"That's what $700,000 buys?" a Bronx political insider opined to the Norwood News.
The race was crowded, with four Democrats vying for the open seat that covers a large terrain of the East Bronx, stretching from Morris Park to City Island. Total spending for the 13th Council District seat surpassed $1 million, making it the costliest council race of 2017. The challengers sought the seat held by Councilman Jimmy Vacca, who is term-limited.
"Together we made history, and sent a very clear message in the Bronx … we can accomplish great things together," Gjonaj said, adding that he wants to improve the quality of life for seniors, and stress the importance of education for children.
Gjonaj said he vowed to run a clean and positive campaign despite the attacks of his opponents. "Together, we can accomplish so much more … if we focus on building each other up," Gjonaj said.
Other hopefuls included John Doyle, a community leader and City Island's unofficial mayor, who raised nearly $90,000. Doyle, who did not return calls for comment, took in 19 percent of the vote. Other challengers included Victor Ortiz, who secured close to five percent of the vote and Egidio Sementelli, who won nearly three percent of the vote as of press time.
Gjonaj was backed by the Norwood-based Northwest Bronx Democrats and Bronx Democratic Party. Elected to the 80th Assembly District in 2012, his exit means that Norwood's assembly district could stay vacant until 2019, unless Governor Andrew Cuomo calls a special election (which he has a track record of not doing).
Gjonaj will challenge the sole Republican challenger John Cerini, an accountant from Throggs Neck, in the General Election. The City Council seat offers better pay than the assembly, but bars him from working a second job, according to council rules.
But by pulling 34 percent of the vote, Velazquez can run on the Working Families Party in the November General Election. Should she win the General Election, Velazquez could be the first Latina Councilmember for the district. Rumors have swirled Velazquez is merely a placeholder for her husband, Jeff Lynch, Vacca's former chief of staff who had aspirations of running for office.
If Gjonaj wins the General Election, it will leave the 80th Assembly District vacant for an indefinite time.
City Council District 14
Incumbent Councilmember Fernando Cabrera, a so-called "conservative Democrat" has secured the Democratic nomination for a third term in office with more than 56 percent of the vote.
Cabrera's 14th Council District was challenged by Randy Abreu, a young attorney who briefly served in the U.S. Department of Energy under former President Barack Obama and as a delegate for former presidential candidate Bernie Sanders, and Felix Perdomo, a Dominican-born schoolteacher. Abreu secured 33 percent of the vote, a noticeably impressive number for a first-time challenger. Perdomo secured more than 10 percent.
"It's indescribable to be here for a third time," said Cabrera at his brief victory speech at Maestro's Caterers in Morris Park. "I believe the next four years are going to be the best the Bronx has ever seen. God bless you and give God all the glory." He did not offer specifics on what he has planned.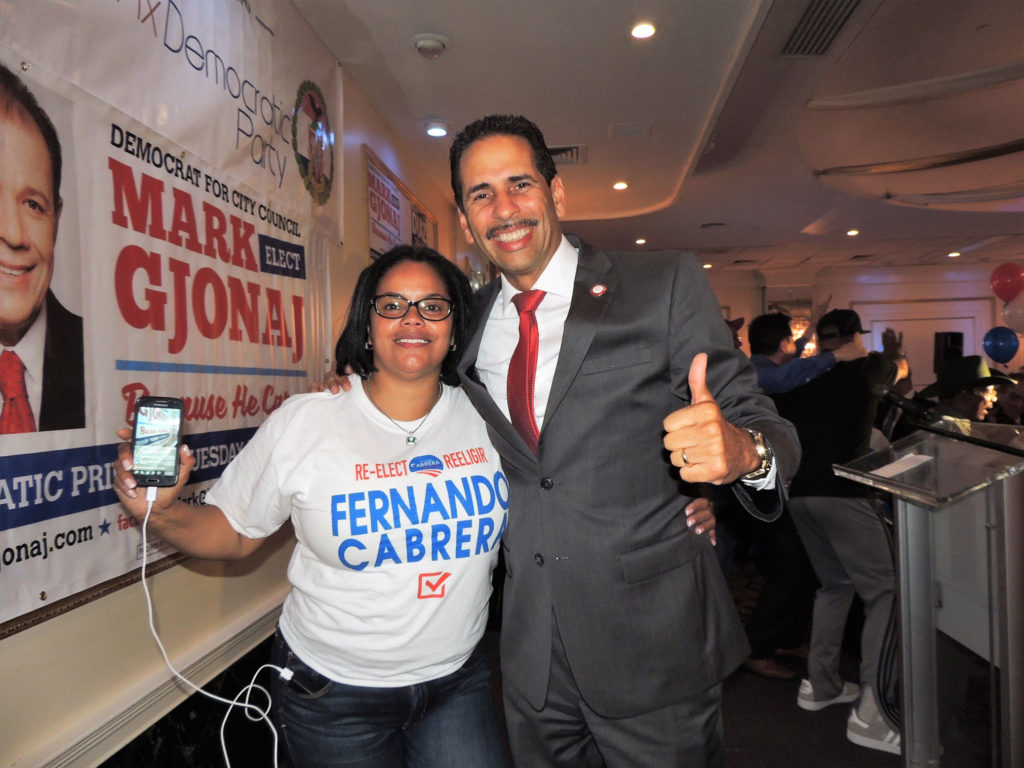 Across the Bronx, Abreu conceded defeat, telling a crowd of supporters he intends to improve the 14th Council District, which covers Kingsbridge Heights, Fordham, University Heights, and Mount Eden.
Cabrera, who was backed by organizations that include the Norwood-based Northwest Bronx Democrats, Bronx Democratic County Committee, Local 32BJ, Patrolmen's Benevolent Association, the New York Hotel Trades Council and others, raised $106,917.14 in his bid to retain his seat.
Abreu, endorsed by groups that include Streets PAC, 1199SEIU, United Auto Workers and Planned Parenthood, raised $64,558.00, and Perdomo's backers threw $15,519.65 toward his campaign. "Unfortunately we didn't pull this off tonight," said Abreu. "I want to thank each and every one of you."
John Mantz, a Fordham resident, volunteered for Abreu's campaign. He was drawn to Abreu's take on issues because of his age and how that might bring change to Bronx communities. "Being young, he was more aggressive about bringing change to the community," said Mantz.
"Over the last eight years, we've seen an acceleration of displacement, we've seen an acceleration of gentrification," said Abreu. "So I hope Fernando does come through for our community."
Borough President
Bronx Borough President Ruben Diaz, Jr. secured the Democratic nomination to his post for a third and final term with more than 80 percent of the vote.
Diaz, a former state Assemblyman, was first elected to borough president in a special election in 2009, succeeding Adolfo Carrion.
He was challenged by Camella P. Price, who formerly served as his deputy chief of staff, and Avery Selkridge, a Bronx resident whose Facebook page indicates he attended Touro College and John F. Kennedy High School.
Price received 12 percent of vote and Selkridge two percent as of press time.
"It feels good that tonight we won big," Diaz Jr. said. "Look, ladies and gentlemen, for the last eight years we've been leading the Bronx in the right direction, creating jobs, affordable housing and fixing up our Bronx … we are a team working to make a better Bronx."
Borough presidents are charged with funding organizations in their respective boroughs, deciding on land use, appointing community board and city planning members and advocating for residents. They cannot pass legislation.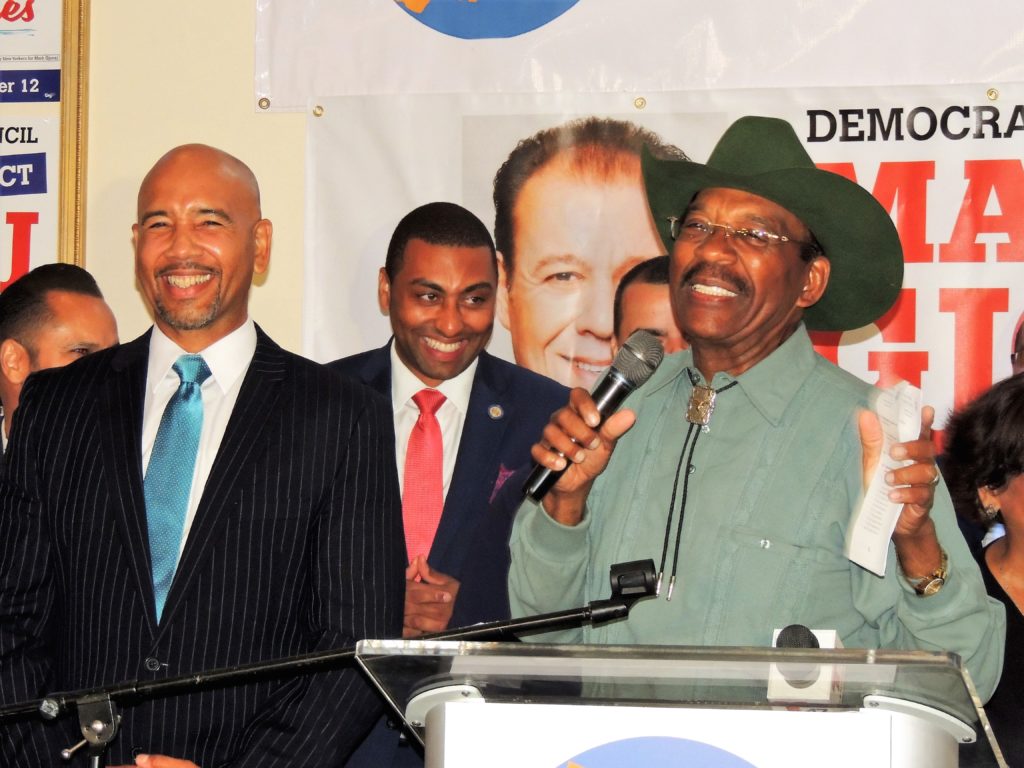 Meantime, Diaz's father, state Sen. Ruben Diaz Sr., won a New York City Council seat for the 18th Council District in the southeast Bronx, soundly defeating opponents William Russell Moore, Elvin Garcia, Amanda Farias and Michael Beltzer. The contenders vied for the seat currently held by the term-limited Councilwoman Annabel Palma. Diaz Sr.'s campaign manager, Assemblyman Luis Sepulveda, is being seen as his potential successor in the senate.
Mayor
Meantime, Mayor Bill de Blasio easily won his Primary race against challengers Sal Albanese, Michael Tolkin, Robert Gangi, Richard Bashner and securing more than 40 percent of the vote and avoiding a runoff election.
"I told them that change can come and will come," said de Blasio at his Brooklyn campaign headquarters. "This is your city. And you know it's your city when you see it work for you."
De Blasio, who championed education and criminal justice reform, also faces a homelessness crisis and a city that's become unaffordable for low-income earners.