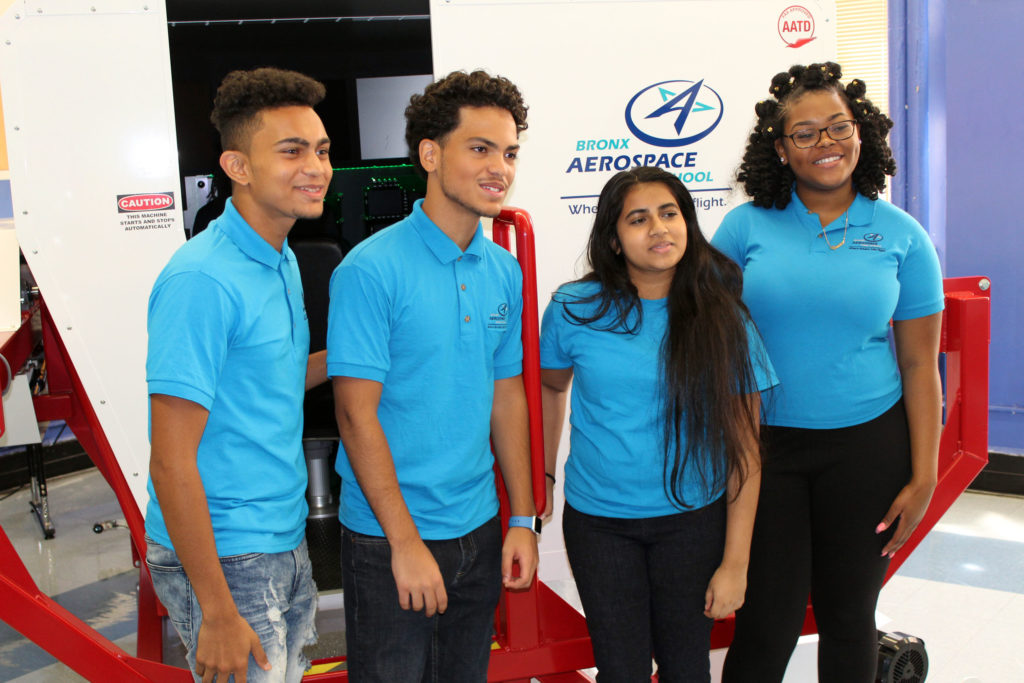 A new flight simulator has landed at a Bronx high school.
After years of waiting, the Bronx Aerospace High School at the Evander Childs Campus in Olinville has received a simulator.
Two seats, multiple screens, and a control board make up the simulator. The simulator, comparable to a small aircraft, moves according to the way real planes operate.
Councilman Andy King, who represents the 12th Council District, and Schools Chancellor Carmen Fariña were both present at a ceremonial ribbon cutting marking the unveiling of the simulator.
Fariña sees this as an opportunity to get students into classes and hopefully to into college or a career in aerospace. "First of all, it inspires students, but it helps with recruitment to high schools," said Fariña. She added, "I understand that in principal Erika Hurtado's enrollment here, the recruitment has already gone up this year and it's based on the fact that she's been talking all over the town about the simulator."
King earmarked $100,000 to the school so that the students can have hands-on experience with being in a cockpit. King, along with Fariña, believes that the new tool will inspire students to take to the skies. "This is what this does," King said, referring to the experience of the simulator. "It puts students on a real path to a career in aerospace."
The simulator is not for all Bronx Aerospace students. Those who are model students that maintain good grades in math and science, and abide by the school's standards, are only allowed to use it.
Dion Griffiths, who will lead flight simulation classes, looks to put his students in multiple scenarios that prepare them for live situations.
"I could create scenarios such as thunderstorms, if need be, so that the students can get practice flying through all types of different situations," said Griffiths.
Joslyn Batten, a junior who has flown a plane before, feels that the only difference between the tool and a real aircraft is the sensation of clogged ears.
"You can teach all you want from a textbook, but you have to actually experience it," said principal Hurtado. "It helps create a common knowledge for my students."