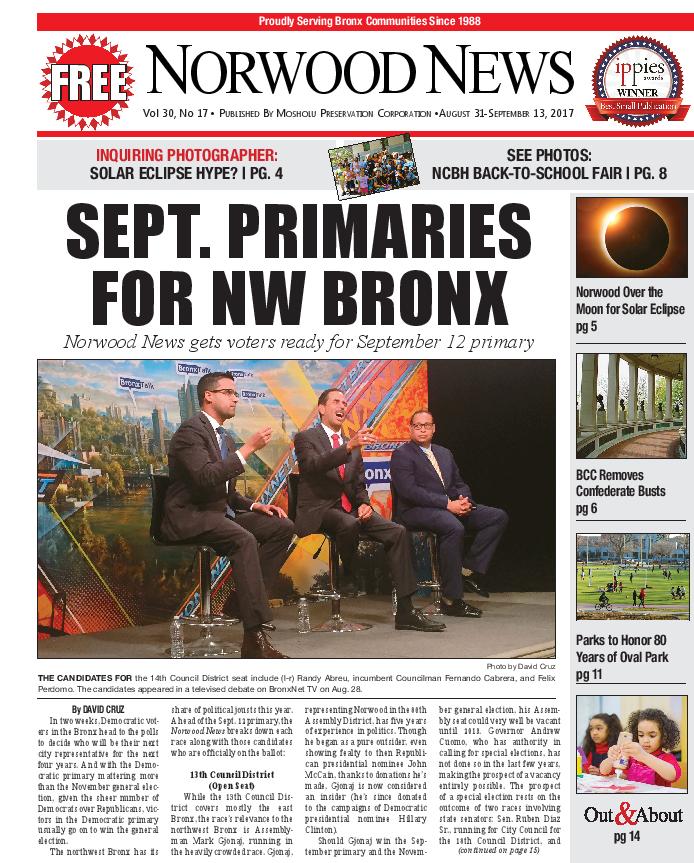 Dear Fellow Readers,
The latest edition of the Norwood News is out with plenty of community news you can use. The paper is packed with 16 pages of information on the happenings in the Bronx, so strap in!
Our page one story focuses on the primaries reaching a fever pitch as we head into the Sept. 12 election. The Norwood News offers a rundown of all the relevant races for the northwest section of the Bronx while giving a breakdown of the mayoral and borough president races that seem to somehow get very little coverage. We put our story at the forefront and hope we can make you make an informed decision come primary day. We complement that story with an editorial that explains why Mayor Bill de Blasio, despite the political baggage he's carrying, will be elected to another term.
Inside the cover stories include part two of The Bronx Develops, part of a collaboration with our paper and WFUV radio and BronxNet Television. Check out the piece from WFUV reporter Andrew Seger who breaks down development happening across the southern tip of the Bronx and what this means for the still inaccessible waterfront.
Back in Norwood, we have a story on the New York City Parks Department set to honor the neighborhood's gem, Williamsbridge Oval Park. The park opened in 1937, and similar to the grand opening of the park, parks officials and Friends of The Williamsbridge Oval will be on hand for a sign dedication on Sept. 9. It's definitely a can't miss event.
The Norwood News also brings you coverage of the solar eclipse that made the Bronx pause during the mid-afternoon of Aug. 21. We also bring you a special video presentation on the event. It's worth a look.
As usual, we have the regular staples: Inquiring Photographer, Neighborhood Notes, Out & About, and another regular feature by the astute folks at Montefiore Health System called Health Check.
So check out the latest edition of our newspaper! As usual, feel free to send thoughts and comments my way to dcruz@norwoodnews.org.
Thanks and keep reading!
David Cruz
Editor in Chief, Norwood News