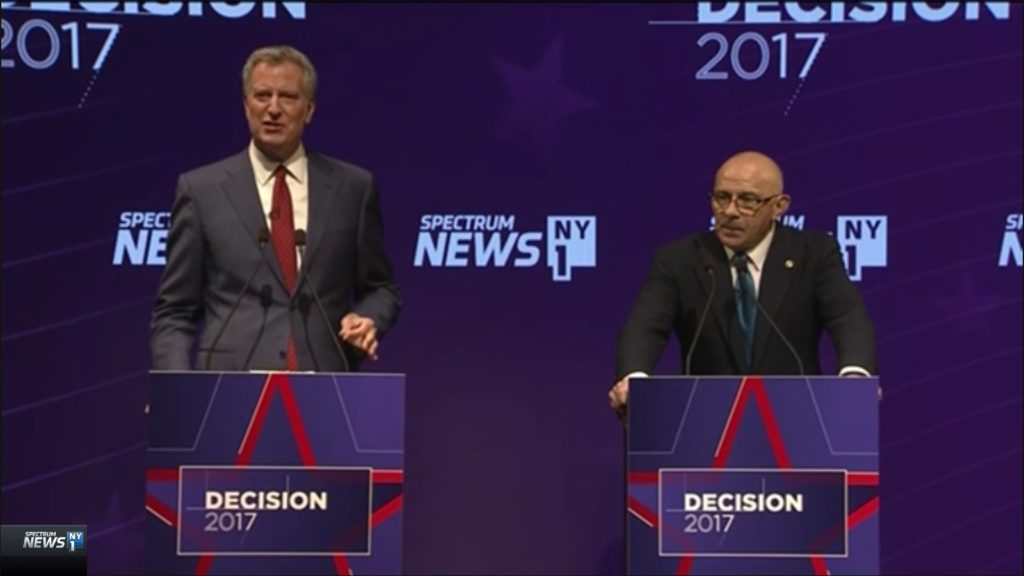 Even in the face of his shady campaign finance practices, alleged pay to play scheme, propensity for exercise during work hours, and now his aggressive plan to place homeless shelters in every neighborhood, there's a strong chance we will have four more years of Mayor Bill de Blasio after the Sept. 12 primary. This year's race is what former politics writer and newsman Bob "Kappy" Kappstatter, now working for a Bronx elected, said to the Norwood News: "It's an election made in heaven for the mayor." Here're a couple of reasons why:
No recognizable challengers vying for the mayoral seat.
He has a serious campaign apparatus that includes staff, fundraisers, etc.
He's managed to lower crime albeit at the expense of de-criminalizing certain offenses.
He's the trumpeter of the anti-Trump movement that's swept New York City.
He's gone in good with the big unions (i.e. UFT, DC37, CWA).
As an incumbent, he's got the mayor's seat to show off his list of accomplishments. Every event is a veiled campaign stop.
Probably Most Important: We'll see one of the lowest voter turnouts in New York City history.
September primaries are kind of anti-climactic if there are no serious challengers. Years before, the current primary showed promise that it would be one to remember, given names like Bronx Borough President Ruben Diaz Jr., City Comptroller Scott Stringer, Brooklyn Congressman Hakeem Jeffries and former New York City Council Speaker Christine Quinn being floated around as possible contenders.
But a critical poll taken by Quinnipiac University in February showed de Blasio would win 43 percent of the vote over Diaz's six percent and Stringer's ten percent, becoming a harbinger that it was not Stringer nor Diaz's time. It also didn't help that Stringer nor Diaz would have to vacate their plum posts to run for mayor. With no certainties, the two stuck to what they thought was a safer bet. It also helped that de Blasio warded off criminal allegations over his campaign finance dealings where he directed monies to Democratic county committees so he can dodge contribution limits during the 2014 state senatorial races.
Now comes his current challengers.
De Blasio's chief Democratic opponent on the ballot, former Brooklyn councilman Sal Albanese, appears to be running a misdirected campaign. Instead of flashing his so-called "deBlahmeter," he should consider espousing more of his agenda. It would make his campaign appear less of a sideshow.
Also, has anyone heard of Brooklyn Community Board 6 member and attorney Richard S. Bashner, community activist Robert Gangi, or entrepreneur Michael Tolkin? We haven't. To their credit, each of the candidates have at least a decent rundown of policies on their campaign websites, which could have been a drag for de Blasio had the three participated in the Aug. 23 debate hosted by NY1.
Then there's the Republican challengers, who stand a remote chance of winning the mayoral seat, though Staten Island Assemblywoman Nicole Malliotakis is giving it her all, touring neighborhoods, taking part in parades, and offering ideas. She faces Richard "Bo" Dietl, a former NYPD detective (he's also dabbled in Hollywood, playing himself in Martin Scorsese's Wolf of Wall Street) who's taken a hardline stance against de Blasio and his policies. Though he's a Republican, technicalities forced Dietl to be an independent. Based on videos seen before and after he announced his run, particularly one where he bashes Asians, Dietl portrays himself to be an unstable legislator.
Malliotakis may pose a serious challenge for de Blasio. But with antagonism against President Donald Trump raging in New York City, it is not Malliotakis' turn to reign City Hall.
So it's de Blasio's race to win, good or bad.
It will be interesting to see the kind of approach de Blasio will take in his next term. Will he mend his relationship with Governor Andrew Cuomo to bring more state funding to the city? Will de Blasio crank up his trips outside New York for the sake of spreading progressive ideals? What new policy will he introduce? Will all his national exposure prompt him to consider higher office?
…..Stay tuned.