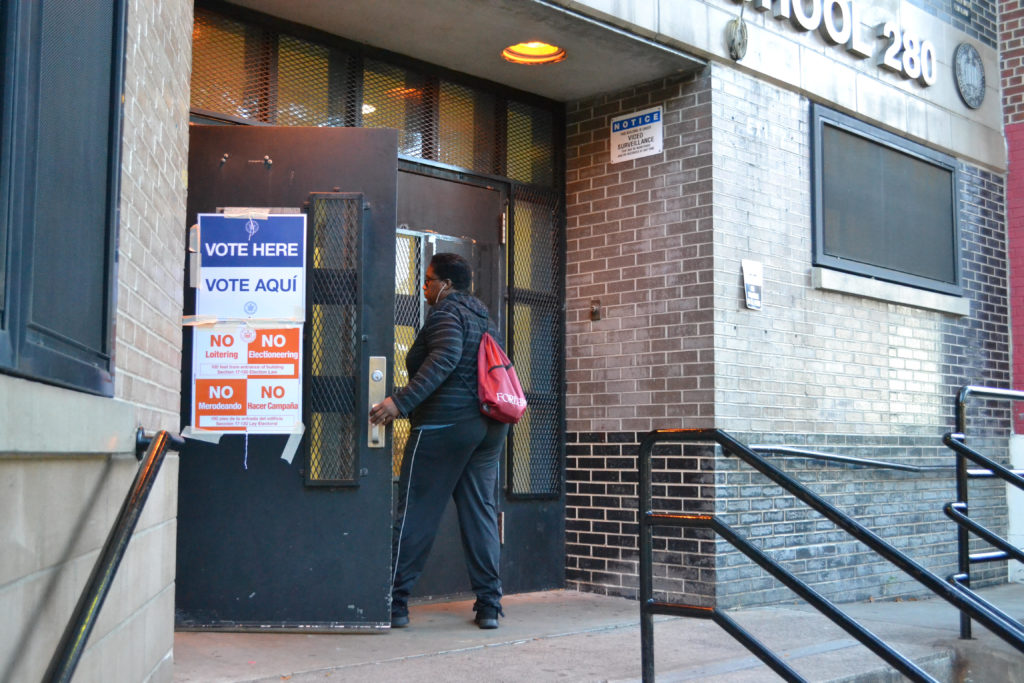 In two weeks, Democratic voters in the Bronx head to the polls to decide who will be their next city representative for the next four years. And with the Democratic primary mattering more than the November general election, given the sheer number of Democrats over Republicans, victors in the Democratic primary usually go on to win the general election.
The northwest Bronx has its share of political jousts this year. Ahead of the Sept. 12 primary, the Norwood News breaks down each race along with those candidates who are officially on the ballot:
13th Council District (Open Seat)
While the 13th Council District covers mostly the east Bronx, the race's relevance to the northwest Bronx is Assemblyman Mark Gjonaj, running in the heavily crowded race. Gjonaj, representing Norwood in the 80th Assembly District, has five years of experience in politics. Though he began as a pure outsider, even showing fealty to then Republican presidential nominee John McCain, thanks to donations he's made, Gjonaj is now considered an insider (he's since donated to the campaigns of Democratic presidential nominee Hillary Clinton).
Should Gjonaj win the September primary and the November general election, his Assembly seat could very well be vacant until 2019. Governor Andrew Cuomo, who has authority in calling for special elections, has not done so in the last few years, making the prospect of a vacancy entirely possible. The prospect of a special election rests on the outcome of two races involving state senators: Sen. Ruben Diaz Sr., running for City Council for the 18th Council District, and Westchester County state senator George Latimer, running for Westchester County executive. With the Senate evenly split between Republicans and Democrats, Cuomo, a Democrat, could be under pressure to call the special election should Diaz and Latimer vacate their seats.
Reginald Johnson, a spokesman for Gjonaj, said in a statement that, "[Gjonaj's] full attention is on listening to needs and concerns of district voters and laying out his plan to deliver results. He is not focused on hypotheticals."
Gjonaj's opponents have not thrown in the towel yet. Among his more formidable rivals are 82nd Assembly District Leader Marjorie Velazquez and community leader John Doyle. As of press time, Velazquez, who has received the endorsement from incumbent and term-limited Councilman James Vacca, has raised more than $100,000. Doyle, whose City Island base has helped drive his campaign (he's often referred to as the "Mayor of City Island") has raised more than $83,000.
Those figures pale to Gjonaj's $600,000, whose allies in the real estate sector have contributed roughly a third of the total funds to his campaign. According to an analysis by the Norwood News (Gjonaj has not participated in the matching funds program). Campaign funds usually help political candidates develop a strong campaign apparatus, with monies usually going towards a campaign office, stationery and media ad buys.
Among those not on the ballot is Alex Gomez, ironically the first candidate to announce a run. Gomez, a Throggs Neck resident who works as a program director for Phipps Neighborhoods, a South Bronx-based social services nonprofit, had only raised $5,912. Gomez has accused Velazquez of underhandedly removing him from the ballot after a Velazquez supporter challenged Gomez's petitions. A court sided with the challenger, making Velazquez the only candidate of Latin descent on the ballot come September.
Whoever wins will take on Republican John Cerini, an accountant whose political stronghold rests in Throggs Neck.
14th Council District
Incumbent Councilman Fernando Cabrera is cleared to run for a third term, thanks to a temporary term-limit expansion that allowed councilmembers in office during 2010 to run a third time. Cabrera's 14th Council District covers the neighborhoods of Kingsbridge Heights, Fordham, University Heights, and Mount Eden. Ongoing issues persist, mainly poverty, poor health outcomes, gentrification fears and a relatively low employment rate.
Cabrera, who is the senior pastor at New Life Outreach International in the Bronx, has been characterized as a conservative Democrat. He has drawn past criticism for appearing on a radio show hosted by the Family Research Council (which is listed as a hate group by the Southern Poverty Law Center) and praising the "godly" Ugandan government (homosexuality is a criminal act in that country). More recently, Cabrera received negative press after a video surfaced in July showing Cabrera saying that it's harder to be rich than poor.
Cabrera faces two challengers: Randy Abreu, a former attorney with the U.S. Department of Energy under President Barack Obama, and Felix Perdomo, a school teacher with limited political experience. In early August, Cabrera skipped a candidates forum held by the Northwest Bronx Community & Clergy Coalition. Gentrification, especially in the face of the proposed Jerome Avenue rezoning and the Kingsbridge Armory project, were among the main issues discussed at the event.
Outside money has kept Abreu afloat, with donations coming from as far away as Houston, Texas. So far, he has raised $48,500 in campaign contributions to Perdomo's $12,691.65, and received endorsements from organizations and unions that include StreetsPAC, 1199SEIU, United Auto Workers and Planned Parenthood. Cabrera, who is backed by the Bronx Democratic County Committee, Local 32BJ, Patrolmen's Benevolent Association, the New York Hotel Trades Council and others, has raised $73,063.04 toward his reelection.
Bronx Borough President
Bronx Borough President Ruben Diaz Jr., who for months flirted with the prospect of running for New York City mayor, is now looking for a third term instead. He faces Camella P. Price, former deputy chief of staff for Diaz Jr., and Avery Selkridge, a Bronx-born resident.
"I'm not saying I'm better than [Diaz Jr.]. I want to run because I have a different vision than him," Price said. "My vision is to work with all people; not just a certain group of people in a certain section of the Bronx. It's working with everyone and trying to help everyone to be productive, and be happy, and stay in the borough."
Price, who had sued Diaz in a racial discrimination suit she ultimately rescinded, looks to encourage job growth, higher paying jobs, and improving the public school system in the borough.
Selkridge, who attended Touro College, told the Norwood News he cares "about the people and the people need someone who is listening and willing to try to help."
The Bronx has been on a climb in recent years, thanks to a uniformly lower crime rate (it still ranks the highest when compared to the five boroughs), and interest from the real estate sector, thanks to the borough's cheap land options.
Political observers have pegged Diaz as a charismatic leader who's swayed legislators at higher offices and real estate developers to give the Bronx some attention. Priming to run for mayor, Diaz Jr. has increased his campaign kitty in the last year, raising more than $1 million. Price has raised less than $6,000. Diaz appears to pay little attention to his rivals—there is presently no campaign material Diaz has prepared for his 2017 run. In an email statement sent by Kalman Yeger, executive director for New Yorkers for Diaz, Diaz said the Bronx is "moving in the right direction."
"We've created jobs, increased wages, improved the health and well-being of our residents, built thousands of units of affordable housing and provided our schools with much-needed capital funding. We are attracting new businesses and new development," Diaz wrote.
New York City Mayor
Mayor Bill de Blasio, the incumbent mayor elected on a progressive platform in 2013, appears to crank up the progressive agenda, thanks to the antagonism New York's political base has given to Republican President Donald Trump.
On the Board of Elections ballot are former City Councilman Sal F. Albanese, Richard S. Bashner, Michael Tolkin, and Robert Gangi. But Albanese and de Blasio were the only ones allowed to take part in a televised debate organized by the New York City Campaign Finance Board since they followed the board's financial stipulations.
Notwithstanding his political scuffles with the NYPD and public opinion over his policies combatting homelessness, de Blasio has warded off any stiff competition from fellow Democrats. Among the lead candidates for the Republican ticket are Staten Island Assemblywoman Nicole Malliotakis and former NYPD detective Richard "Bo" Deitl, though a technicality forced him to run as an independent.
Bronx Progressives
Among the newer political organizations to emerge following the influence of 2016 Democratic presidential hopeful Bernie Sanders is the Bronx Progressives. Like Sanders's liberal views, the Bronx Progressives sees itself as working for "community empowerment and progressive political and electoral reform." Over the last month, the nascent group has backed Abreu in the 14th Council District race and Doyle for the 13th Council District seat.
"Our group is determined to journey along with other groups to guarantee the success of these candidates," Carlos Suarez, coordinator for the Bronx Progressives, said.
Editor's Note: Additional reporting by Wendy Joan Biddlecombe. A list of all the candidates can be found at http://bit.ly/2wF4vbq. Polls will be open from 6 a.m. to 9 p.m. on Sept. 12.