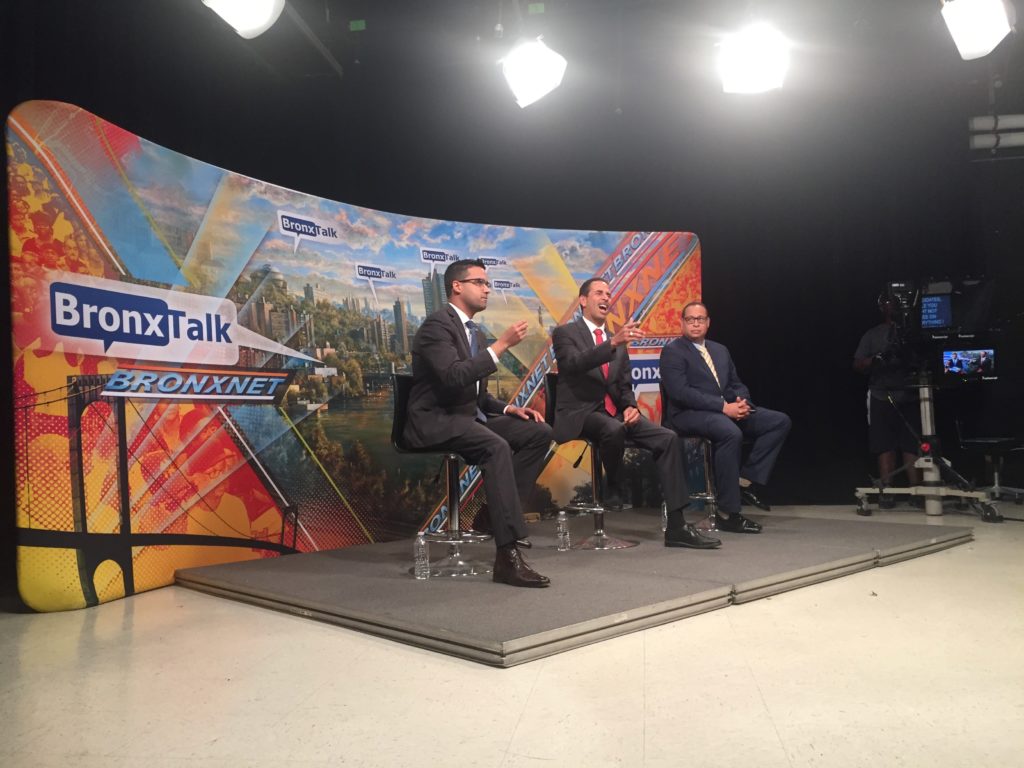 Councilman Fernando Cabrera, the incumbent for the 14th Council District, found himself on the defensive during an hour-long debate, taking on challengers Randy Abreu and Felix Perdomo, who are vying for the northwest Bronx seat in this year's September primary.
In a debate that tested cordiality between Cabrera and Abreu, the two candidates traded barbs over facts, district loyalty and political knowhow. Perdomo, a schoolteacher with no legislative experience, stood above from the fray, sticking to a generic Democratic platform that appeared to throw money at resolving issues but not offering specifics.
The debate, moderated by BronxNet TV's Gary Axelbank, struck a divisive tone, with Abreu and Perdomo advocating for a fresher perspective over Cabrera, a veteran lawmaker who pegged himself as a producer for the district. Notwithstanding the mudslinging, the Democratic candidates did talk on a range of issues including economic development, crime, education and housing.
The 14th Council District covers Kingsbridge, Kingsbridge Heights, Fordham, and Mt. Hope. Cabrera has been the sitting councilman since 2008. Because he was in office when the Council temporarily extended term limits from two to three, Cabrera was allowed to run a third term. Should Cabrera win, it would place him as the most senior legislator in the Bronx Council Delegation. "That would give me the opportunity to have the highest committee and the highest leadership position that will enable me to bring more resources and the more networking power to our district," Cabrera said.
Abreu, an attorney for the Department of Energy during the Obama administration, countered Cabrera's tenure as councilman "has seen our district regress, lose money in terms of income."
"The only thing that seems to go up these days is asthma," Abreu said, later adding that "Fernando has no vision for the next four years in our community, and that's dangerous."
Perdomo echoed Abreu's position, blaming Cabrera for not bringing enough jobs and better education opportunities to the district.
Cabrera, relying on a sheet of statistics he used at one point during the debate, said job creation has been successful post-recession thanks to Council-sponsored initiatives he backed. "I am proud of the track record and the bouncing back that we have in our district that we have not seen even in other prosperous places," said Cabrera.
Abreu challenged Cabrera's numbers, citing the 20,000 undocumented immigrants not counted when compiling job numbers for the 14th Council District. "These are dark income figures that the Councilman doesn't seem to understand are real or doesn't want to acknowledge they are real," Abreu said.
"The picture that Mr. Cabrera is presenting is not correct. We have the higher number of unemployed people in our community," Perdomo said. "The reality is different in our community."
Cabrera shot back at Abreu and Perdomo's anecdotes, saying, "If my students came with this type of presentation, they definitely would not pass."
Housing Matters
When it came to tenant protections, Perdomo praised the New York City Council's recent legislative package strengthening tenants rights including the Right to Counsel for tenants facing eviction proceedings, though he questioned whether they would be enforced. "Eviction in the district is the top [issue] for the district," Perdomo said "We have to stop that. People are suffering so much because there's no help from the City Council."
Abreu used the topic to criticized Cabrera's stance on tenant rights.
"Fernando did not support the majority of these bills," Abreu said. "If there was twelve bills he only supported one of them, and he was absent on the days the City Council voted."
"Wow! Wow!" Cabrera said in exasperation to Abreu's comments. "Again, all you have to do and I welcome everyone to go to the New York City Council website, I'm a co-sponsor of these bills. I'm 100 percent for them."
Cabrera cited his authorship of the tenant bill of rights and funding for affordable housing. Abreu turned directly to Cabrera, telling Cabrera he's been "doing the job he should've been doing" when it comes to engaging with residents about tenant rights.
With tenant rights a major issue, the debate also turned to the rezoning of Jerome Avenue, now under a public review by the city. The plan looks to rezone 73 blocks of Jerome Avenue, largely within Cabrera's district. Abreu once again accused Cabrera of being out of touch with the public by not appearing frequently at hearings or anti-zoning protests by community groups nor being strong on pushing for lower affordable housing rents.
"The no-show person here is Randy and Felix," Cabrera said, referring to the first hearing in the public review. "I was there from 4 o'clock until 12 o'clock."
Perdomo was actually there, a point Cabrera later apologized for making. Perdomo said the plan is not affordable enough for its existing residents.
In a tense exchange over how widely dedicated they are to plan, Cabrera and Abreu criticized each other over approach.
"I don't know what they told you at Liberty University about negotiating, but waiting to the very end to get leverage and bargaining is not how it's done," Abreu said. "You come to the table ahead of time and you make your points heard."
"He's showing how little does he know if you were to talk to any council member who has gone through this process they will tell you that the power is at the end," Cabrera said of Abreu.
The candidates not only sought to preserve affordable housing, but preserving the vestiges of small businesses corridors within the district. While Perdomo and Abreu threw support in extending leases to commercial establishments, Cabrera stood by his stance of funding merchant association causes.
Abreu sought to push for the Small Business Jobs Survival Act, a bill that would give automatic ten-year leases to small businesses. The bill has sat in committee for years. Cabrera was on the fence in support of the bill, adding Council Speaker Melissa Mark-Viverito won't bring the bill to the floor.
Cabrera's Ghosts
Throughout the debate, questions on Cabrera's past comments and conduct while in office surfaced. When it came to Cabrera's personal comments made in a video that appeared to praise the Ugandan government for criminalizing homosexuality, Cabrera said his comments were taken out of context.
"What I was referring to very clearly was about gay marriage, and I was for common law gay marriage, but not for gay marriage," Cabrera said. "And that's a position that I took and I have maintained since I been voted in. And that's representative of the people in my district."
Cabrera also responded to questions he allegedly asked developers of the Kingsbridge National Ice Center for $100,000 steered to his defunct nonprofit in exchange for his support of the project, calling it "fake news." Cabrera's support of the project mattered the most since council members defer their decisions to the local member whose district will be impacted by a project.
"I was trying to get funding from the developer and I was successful in getting $500,00 agreement, terms and conditions, to be able to give protection for our businesses, to be able to get funding for our youth and to be able to get a traffic study," Cabrera said. "I was pushing for that and at the eleventh hour I was able to get what we wanted."
Political gaffes aside, Cabrera has earned the support from the Bronx Democratic County Committee and powerhouse unions for the race. While Perdomo has garnered little financial support, Abreu has generated more than $55,000 in funding, making him a more formidable opponent to those Cabrera has faced in recent years. It's a likely reason why Cabrera, who has been known to skip debates, attended this one.
The primary is scheduled for September 12.