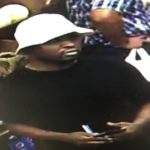 Police need help finding a person caught on video stealing a woman's credit cards from her wallet and using them to buy cigarettes nearby.
The incident happened Aug. 14 just before 10 a.m. inside Montefiore Health System's Greene Medical Arts Pavilion – Henkind Institute at 3400 Bainbridge Ave. Video surveillance showed the suspected thief allegedly using the victim's credit card at Tita's Mini Market at 137 E. Gun Hill Rd., just several blocks away, to buy the cigarettes. The suspect eventually fled and hasn't been seen since.
The suspected thief is described as a black man, around 30 to 35 years of age, and last seen wearing a white fisherman's hat, black short sleeved shirt, and dark colored pants. Anyone with information is encouraged to call NYPD's Crime Stoppers Hotline at (800) 577-TIPS. Calls will be kept private.