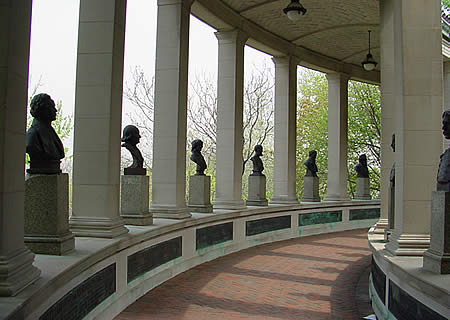 Following the massive condemnation of demonstrations in Charlottesville, Va, Bronx Community College (BCC) plans on removing the sculpture of Confederate generals Robert E. Lee and Thomas "Stonewall" Jackson from its much visited Hall of Fame, school officials announced.
The move comes several days after neo-Nazi and white supremacists converged onto Charlottesville over the removal of a statue bearing Lee's image from public spaces. The violent protests resulted in the death of Heather Hayer, who was killed by a car that appeared to have deliberately run over counter-protesters by alleged driver James Alex Fields, Jr.
"For 60 years, Bronx Community College of The City University of New York has remained committed to reflecting its values of diversity and inclusion in all of its actions and statements,"  Thomas A. Isekenegbe, Ph.D., President of Bronx Community College, said in a statement. "Embracing difference includes creating space where all people feel respected, welcomed, and valued. To that end, we will be removing and replacing the busts of Confederate Generals Robert E. Lee and Stonewall Jackson from the Hall of Fame for Great Americans."
The Hall of Fame opened in 1900 and features some 100 busts of famous historical figures. Lee had been the general of the Confederate Army during the Civil War, which saw the North and South clash over slavery. Statues of Lee can be seen across the southern states to this day, though growing dissent towards the statues on display has grown. Stonewall Jackson was Lee's second in command during the Civil War.
The move also came after fierce condemnation from elected officials who objected to the sculptures alongside other famous Americans that include presidents Abraham Lincoln and George Washington.
"Their inclusion at this location is especially galling: there is nothing great about two men who committed treason against the United States to fight to keep the institution of slavery intact," said Bronx Borough President Ruben Diaz Jr. in a statement. "A more appropriate location for these statues would be a museum, such as the New York State Military Museum in Saratoga Springs, where they could be presented in a historical context rather than venerated. But they should not stay in The Bronx any longer."