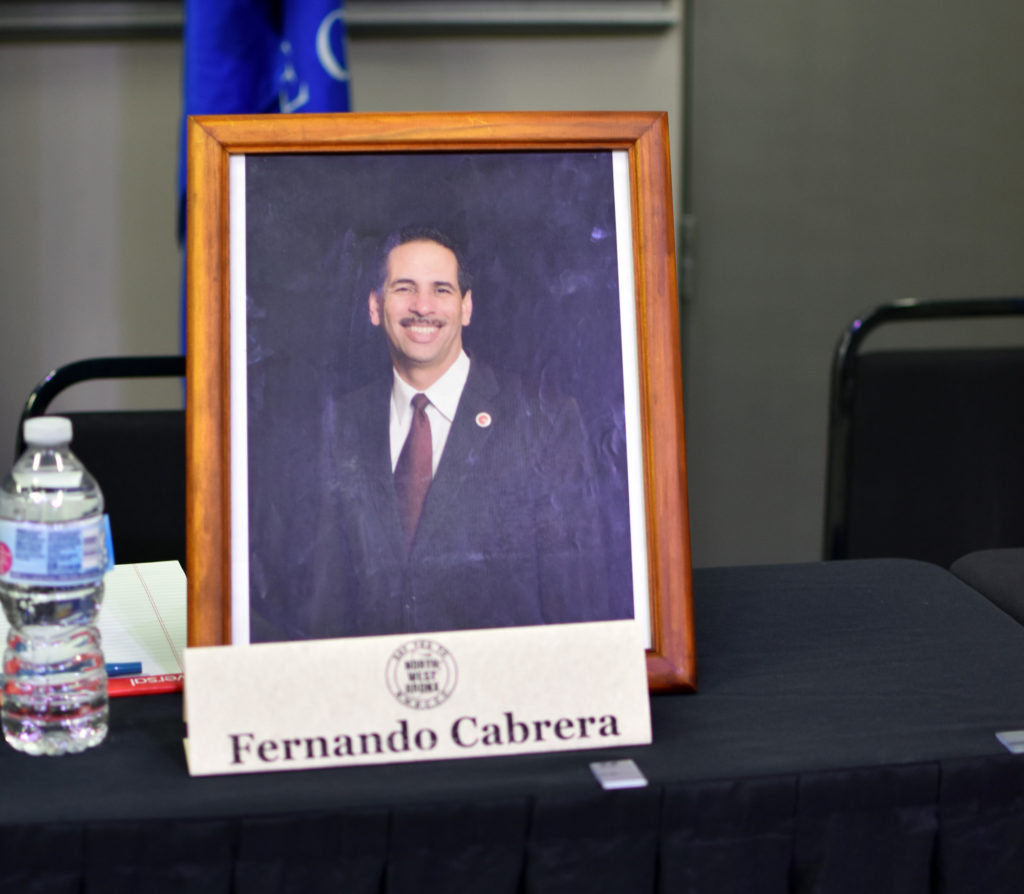 Councilman Fernando Cabrera couldn't make it to a forum that would have seen him defending why he should remain the representative for the 14th Council District. Instead, he was represented by a portrait of him.
The Northwest Bronx Community & Clergy Coalition held the forum at Monroe College, with residents in the district getting better acquainted with the two men challenging the incumbent ahead of the Sept. 12 primary.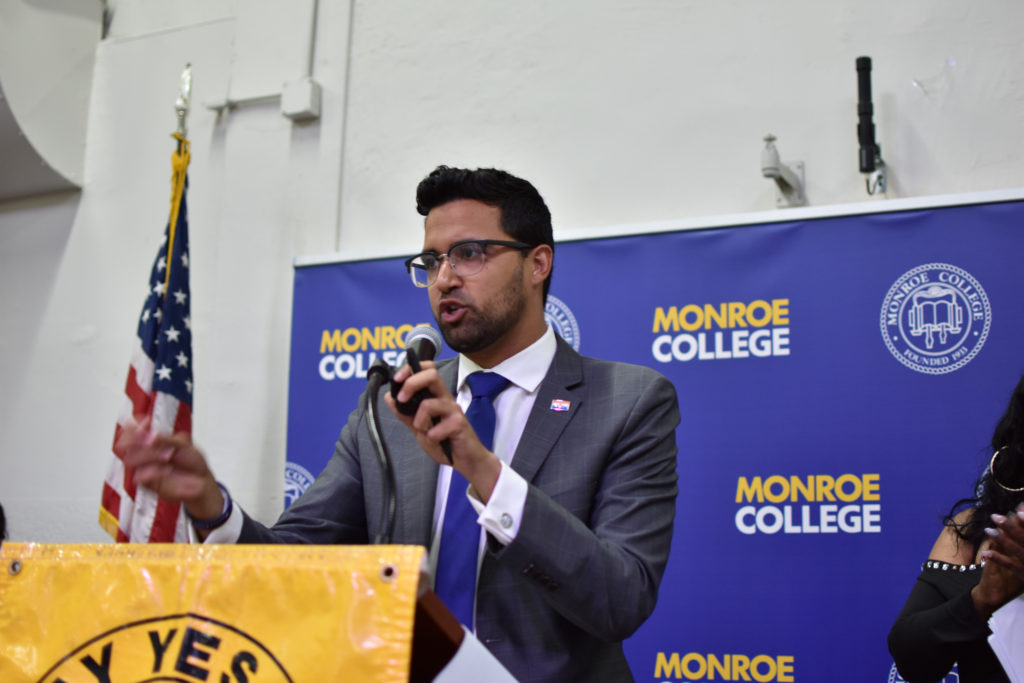 Randy Abreu, a lawyer who briefly worked for the U.S. Department of Energy under former President Barack Obama, and Felix Perdomo, a teacher who was born in the Dominican Republic, are vying for the council seat. The district covers the neighborhoods of University Heights, Kingsbridge Heights, Fordham and Mt. Eden.
While the NWBCCC ensured Cabrera would have an empty seat, the group also reserved a spot for Justin Sanchez, who, according to a Facebook post, withdrew from the race on July 17 to "focus on building a grassroots community dialogue [sic] that promotes equity in resources for the 14th [Council] District."
Claire McLeveign, Cabrera's spokesperson, said the councilman initially agreed to participate, but that his schedule conflicted with National Night Out Against Crime, an event that aims to improve relations between police and communities. McLeveign said Cabrera's attendance to the national event was especially important for Cabrera to attend the event, given the recent shooting death of NYPD Detective Miosotis Familia and the shootings at Bronx-Lebanon Hospital that left one doctor dead and six others injured. Both incidents happened within Cabrera's district. Cabrera has skipped debate-style forums in the past, namely when running against state Senator Gustavo Rivera for the 33rd Senate District seat.
When forum organizers noted they had changed the original forum date to accommodate Cabrera's schedule, the news was met with boos and taunts of "that ain't right." Photos posted on Twitter show that Abreu attended National Night Out before heading over to the candidate event.
During the two-hour event, the hopefuls answered questioned from community members affiliated with local groups and responded to questions submitted by guests.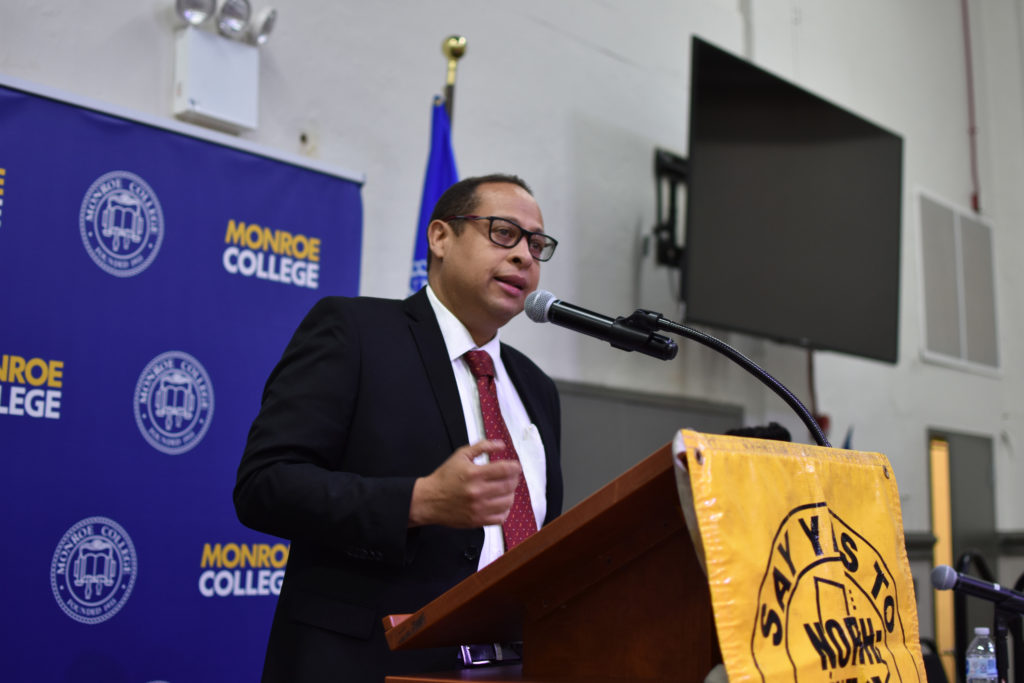 Perdomo stressed his outsider status, saying that he's not a politician, but just a "school teacher, basically," while underscoring the importance of community input in decision making.
"I came to this country without opportunity, without housing, without anything…just the desire to come to this country to make a better life," Perdomo said. "I want to be a City Council member because I know how hard it is to succeed."
Abreu called for a stop to the city's Jerome Avenue rezoning efforts, a move that would see more affordable housing along the corridor. Turning to the Kingsbridge Armory redevelopment project, Abreu added that the project must benefit those already living in the community. He vowed to take bad landlords to task if elected, and expressed a strong interest in chair the Council's Small Business Committee.
"We really only have about four five years to go until…gentrification gets the best of us," Abreu said. "It's my barber on Fordham Road; it's my dry clear on 183rd Street; it's that Mexican restaurant I love over on Burnsive [Avenue]. Everyone, everyone is hurting right now."
Abreu added, "There is no stability in our community because we don't know if we're going to be able to come to work the next day."
Without naming names, Perdomo criticized "another candidate" of accepting campaign funds from developers and landlords. He was likely referencing Cabrera, whose campaign finance report shows he's has more than $73,000 in campaign funds as or press time, with members of the real estate sector contributing a hefty sum.
Campaign finance reports show that Perdomo has raised $12,692 in campaign donations. Abreu has raised $48,000 and received endorsements from several organizations and unions that include 1199SEIU, United Auto Workers, Planned Parenthood and Bronx Progressives.