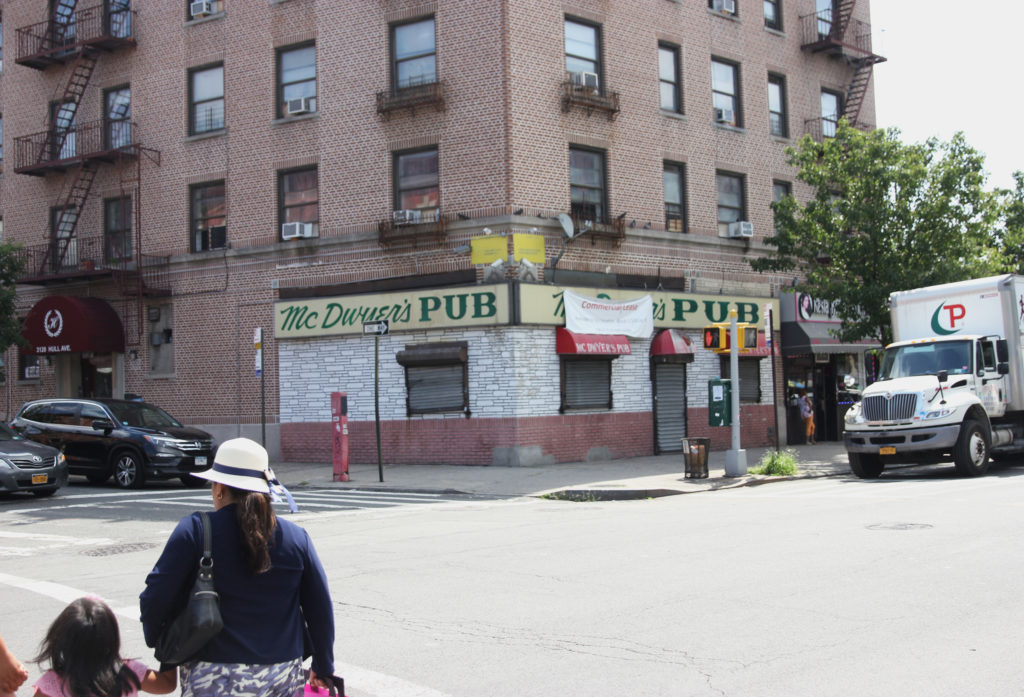 Mickey Burke catered to the once booming Irish population in Norwood with Keltic Connections for 20 years. His business was at 282 E. 204th St. With rent increases and a decline of customers interested in Celtic culture, Burke did not see the point of keeping his brick-and-mortar store open. He became a street vendor.
"The neighborhood population has changed," said Burke. "And businesses can't beat the higher rent. A new store opens up and, two years later, they're out."
In the space of three years, store closures have been something of a norm along East 204th Street and its adjoining street, Bainbridge Avenue. Most recently, V.I.M, a clothing and shoe store at 3083 Bainbridge Ave., closed in June. Outside, a vendor sells clothes and accessories out of boxes. A block and a half down, the popular Beso Lounge nightclub closed in May. Last September, McDwyer's Pub at 331 E. 204th St. closed after five decades of operation, etched in neighborhood history alongside Burke's business.
In the same vein, chains and banks are replacing locally-owned stores like pharmacies and diners, while creating a quick turnover in the area.
Millie Clavell, a resident of Norwood up until last year, has noticed this trend. A longtime manager of the now closed Freilich Jewelers at 312 E. 204th St., Clavell has seen what she calls an apparent change in the last 15 years. "How many barber shops and nail salons do you need?" said Clavell. "It's one after the other. It's going downhill from here."
The former jewelry shop's owner, Allan Freilich, closed the business after he could not reach a renewal lease agreement with his landlord. The store closed after 80 years in business.
Among the turning points on Bainbridge Avenue's commercial landscape, Clavell recalled, was the five-alarm fire at the intersection of Bainbridge Avenue and East 204th Street that destroyed a bakery, fish store, butcher shop, dental clinic and several other stores in October 2009. It was one of three fires that happened on the strip that year, which took several years to rebuild. Longtime residents worried that chains would soon replace the neighborhood stores. It did: the V.I.M. store, which just closed.
Empty Storefronts
According to city data, there are a total of 127 legally operating businesses on East 204th and Bainbridge Avenue, and along the Jerome-Gun Hill Business Improvement District. The large commercial strip runs on Jerome Avenue between Mosholu Parkway and East Gun Hill Road and along East Gun Hill Road between Jerome and Webster avenues. Thirty-three of those storefronts, or roughly 26 percent, are empty, with "For Rent" signs on display.
The empty storefronts at the BID have stood on the mind of Jennifer Tausig, executive director of the BID, who intends to reverse the trend there. "We're going to be doing a community-needs assessment within [Montefiore Hospital] and also in the residential buildings within the BID," said Tausig. "And then we're going to use that data to work with brokers to make sure that we're bringing in retailers that we know that people want to shop at so we can hopefully avoid the high turnover."
Rising Rents
Some business owners and managers along East 204th Street and Bainbridge Avenue, who did not want to disclose their names, put the blame of empty storefronts on high rents. And with increased retail rents on currently open stores, a rolling-snowball effect begins, causing a jump in retail prices, and loyal customers looking for something cheaper elsewhere.
"Even when I go to the store, I ask how much a two-liter bottle of soda is, and they say $3.99," said Michael Martinez of Fordham Heights, who comes to Norwood to visit Williamsbridge Oval Park. "It's too expensive."
"[L]andlords understand that [with] the retail [space] they have, they could be getting a good rent and are looking for higher rents," said Jason Gold, director of investment sales at Ariel Properties, "maybe a three percent bump for the tenants to be paying their proportionate share of expenses."
Gold said these expenses can include water or electric bills and repairs. He believes most commercial tenants and landlords come to an impasse when tenants are unwilling to take on new terms and the two parties cannot move forward with lease negotiations.
In addition to these standstills between tenants and landlords, online shopping sites, such as Amazon, drive shoppers' decision to use the Internet for buying merchandise, given the comparatively cheaper prices.
"You're seeing a lot of these Internet-based, e-commerce companies taking over a lot of retail assets and taking them out of the real estate business," said Gold.
Fighting Back
Outside entities like Take Back NYC, a non-profit that looks to preserve the small business landscape across the city, have enlisted help from lawmakers to forge a stronger small business community. For years the group has unsuccessfully lobbied the New York City Council in passing the Small Business Jobs Survival Act, designed to guarantee a minimum 10-year lease to commercial tenants. Yet the bill has always been buried in committee.
"Nothing is being done," said Kirsten Theodos, a spokesperson for Take Back NYC. "Mom and pop [business] survival is the issue. This is a morality issue, too."