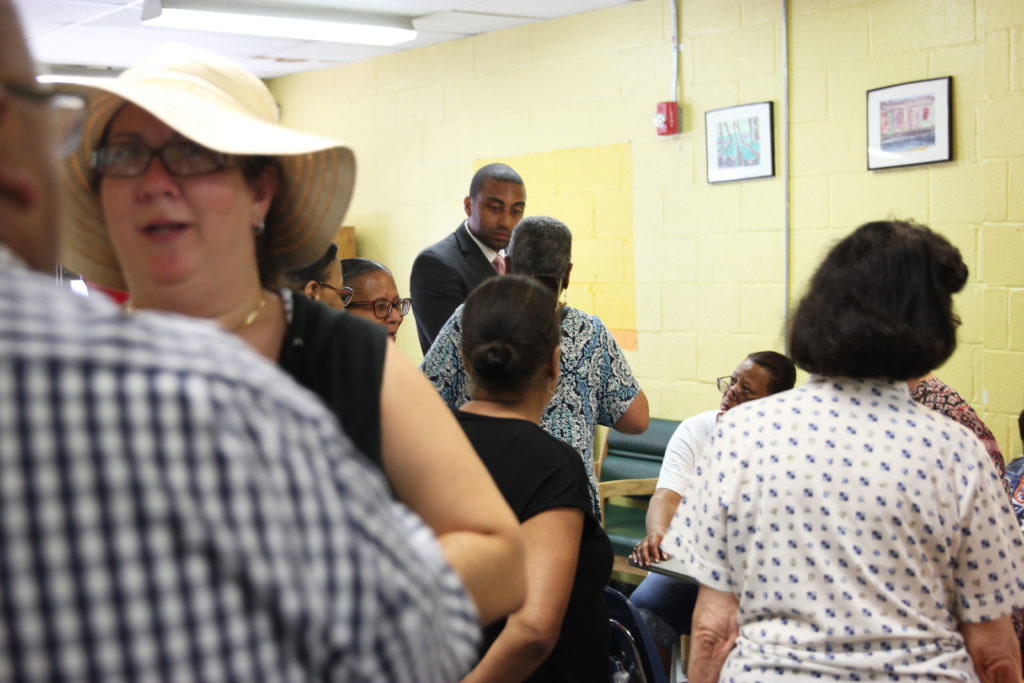 A satellite office for State Senator Jamaal Bailey of the 36th District opened at the Mosholu Montefiore Community Center with a ceremonial red-ribbon cutting to mark the occasion.
The Norwood center will reserve the new office every Wednesday so that constituents may discuss issues they are dealing with to Bailey's staff, namely Kenny Agosto, deputy chief of staff for Bailey. Agosto serves as the community liaison between the senator and locals.
The office, found on the first floor, will be open the first and third Wednesday of the month from 10 a.m. to 1 p.m. and every second and fourth Wednesday 1 to 5 p.m. For Norwood residents, Bailey's new outpost signifies a more available representative when compared his predecessor, former Sen. Ruth Hassell-Thompson, who was criticized by Norwood residents for not being as available as they wanted.
"It's very important to me to insure that communities feel like representation is not just happening in me showing up to events, but in them having a satellite office," said Bailey. "So here at MMCC, we offer services, the same that we would at our main district office at 233rd Street, but you don't have to travel as far."
Bailey represents the large 36th Senate District, which covers Norwood, Bedford Park, Williamsbridge, Co-op City, Wakefield and Baychester neighborhoods. His coverage also extends into Mount Vernon in Westchester County.
The issues within the district vary widely. But Agosto said one of the many issues that local seniors bring up is affordable housing, lack of senior affordable housing, and help with benefits.
"They're either applying for SNAP or they need to find a supplement to pantry. So those are some things we try to help them out with," said Agosto.
Francisco Lopez, a Norwood resident attending the ribbon cutting, thought the new office would be helpful in the future. "I have problems with my landlord," said Lopez, hoping to get solutions.
Keeping cooling centers open longer during severe heat spells is one of Blossom Rhoden Henry's priorities. Henry, who lives on White Plains Road, worried that cooling center facilitators were not staying with guests to engage them during the longer hours. She is also concerned about affordable housing.
"I apply, apply and apply," said Henry. "I don't want senior housing, I want affordable housing because I can afford to pay my rent."
Bailey introduced a new plan for seniors in which they may enter a drawing to apply for a government job. He also addressed one guest's concern about senior safety.
"Seniors are being displaced at an all-time high," Bailey said. "I want to make sure seniors stay in their communities and stay safe."