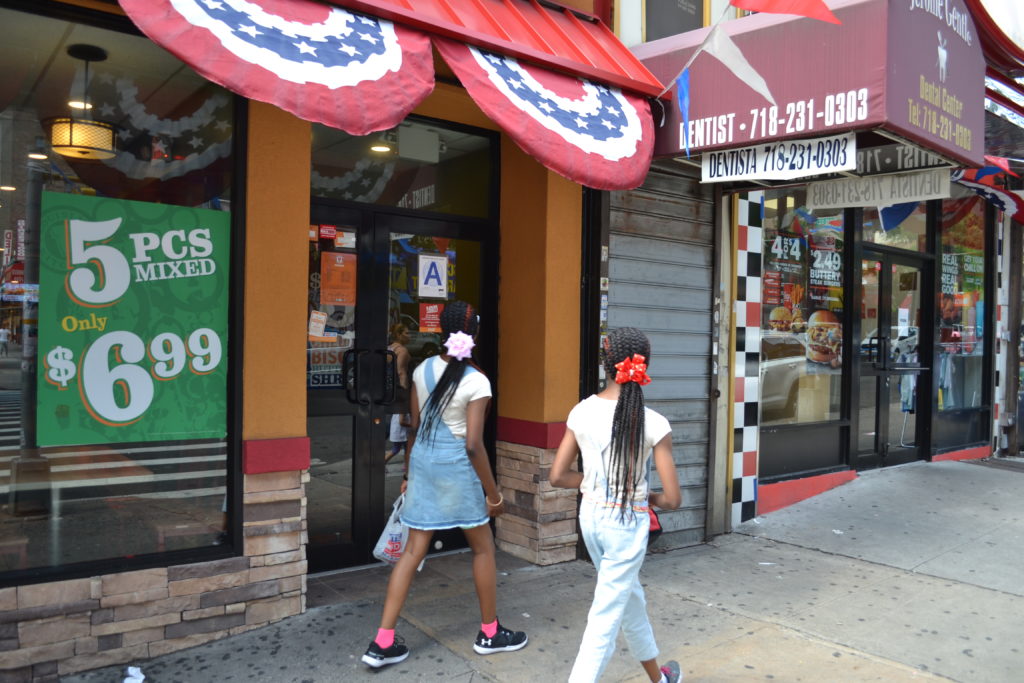 Norwood and Bedford Park Behind in City Average of "A" Restaurant Grades
More restaurants in New York City are earning more A grades than they have since the city Department of Health started issuing restaurants letter grades in 2010, according to numbers released by the city in late May.
But while A grades dominate in key commercial corridors of Norwood and Bedford Park, they still score a percentage point lower than the rest of the city, as of press time.
"Citywide levels are slightly higher [in A grades]," Health Department spokesperson Christopher Miller told Norwood News in an email, adding that the agency continues to help Bronx restaurants achieve or maintain an A through education.
Since the letter grading practice began in 2010, 154 restaurants in the zip codes covering Fordham, Bedford Park, Kingsbridge Heights and Norwood were closed because of unsanitary conditions, Health Department figures show. Last year, 17 eateries were shut down, (by comparison, 42 were shut down in 2010). In late May, Montezuma Restaurant on West Kingsbridge Road, which had previously scored a B, was shut down for a week after inspectors found evidence of mice and roaches, food items stored at improper temperatures, and other issues.
Justin Mashia, who lives in Kingsbridge Heights, says he usually eats out in the Bronx and Manhattan about three times per week.
"I used to pay attention to the grades, but lately it's been seeming as if all of them have good grades," Mashia said. "When I eat out, I'm generally just trusting that the restaurant is clean and my food has been prepared very sanitarily. However, I refuse to eat at a restaurant if it has less than a B grade."
How Scoring Works
Restaurants are graded on a point system. The number of points earned is calculated to a letter grade: A, B or C. There is nothing lower than a C. If a restaurant scores in that range, the Health Department may conduct monthly visits until the restaurant scores better. If things haven't improved, the agency can shut down the restaurant.
Restaurants are evaluated by a number of other factors that include the presence of mice, roaches, "filth flies" and other critters, as well as improper refrigeration, food handling techniques, cross contamination and personal hygiene. But, said Carmen Bermudez, the manager at Tequilaz Restaurant and Lounge on Jerome Avenue near East Gun Hill Road, what a lot of people don't understand is that the Health Department considers things other than food in their score.
"The problem with the grading system is that people think it's just based on food. The grade is based on other things. Say if you had a broken door handle, or a lightbulb went out [when the Health Department was inspecting]," Bermudez said.
"When people see an A, they understand that this is a place where they can be assured is kept clean, and they're following health department procedures," said Bermudez, who said she's been in the foodservice industry for the last 15 years." (Tequilaz was recently cited by the health department for not having a restaurant permit, and does not currently have a letter grade.)
When asked if the uptick in "A's" means that restaurants are cleaner and safer to eat at, or if they are just better at following the Health Department rules, health inspection consultant Leon Lubarsky said it would have to be both.
"There is no way to cheat the system," said Lubarsky, whose company, Letter Grade Consulting, works with restaurants to comply with Health Department regulations. "If an inspector comes in, there's no way to really pretend that someone is wearing a hat when they're not, or wearing gloves when they're not. It's a true combination of restaurants understanding and following the rules better."
Still, restaurants that receive a C score on a follow-up inspection must wait roughly three to six months for another inspection, prolonging the chance of a higher grade.
"We expect restaurants to do better," Lubarsky said. "Restaurants have to fix the violations, but fixing the violations will not fix the grade for that inspection cycle."
What Isn't Graded
Although delis and food carts are still tested and inspected by health inspectors and abide by the same rules and requirements, they don't receive a letter grade that the consumer can see.
That's changing, at least for food carts. In May, the City Council passed a bill that will require food carts to receive a letter grade (the regulation is set to go into effect 270 days from the day the bill is signed).
Those who want to order a chicken and rice meal or sandwich at a neighborhood deli will have to do their own research. Though delis are inspected by the city, they receive a pass/fail grade and are not required to post letter grades in the window because they are regulated by the state Department of Agriculture, not the city Health Department.
"I don't think the letter grade would help us," said Fouad Ahmed, who owns 169 Gourmet Deli on East 205th Street in Norwood. "There are a lot of delis all over the place. When it comes to restaurants, the letter grade helps them a lot because if you like the food, and you think the place is clean and that place is graded an A, you will walk a distance to go to the restaurant. But delis are all over."
Editor's Note: To find out how restaurants score, and to see a list of inspections and violations, visit http://on.nyc.gov/1f43UOp. This article was written as part of the Health Reporting Fellowship of the Center for Community and Ethnic Media and funded by a grant from News Corp.