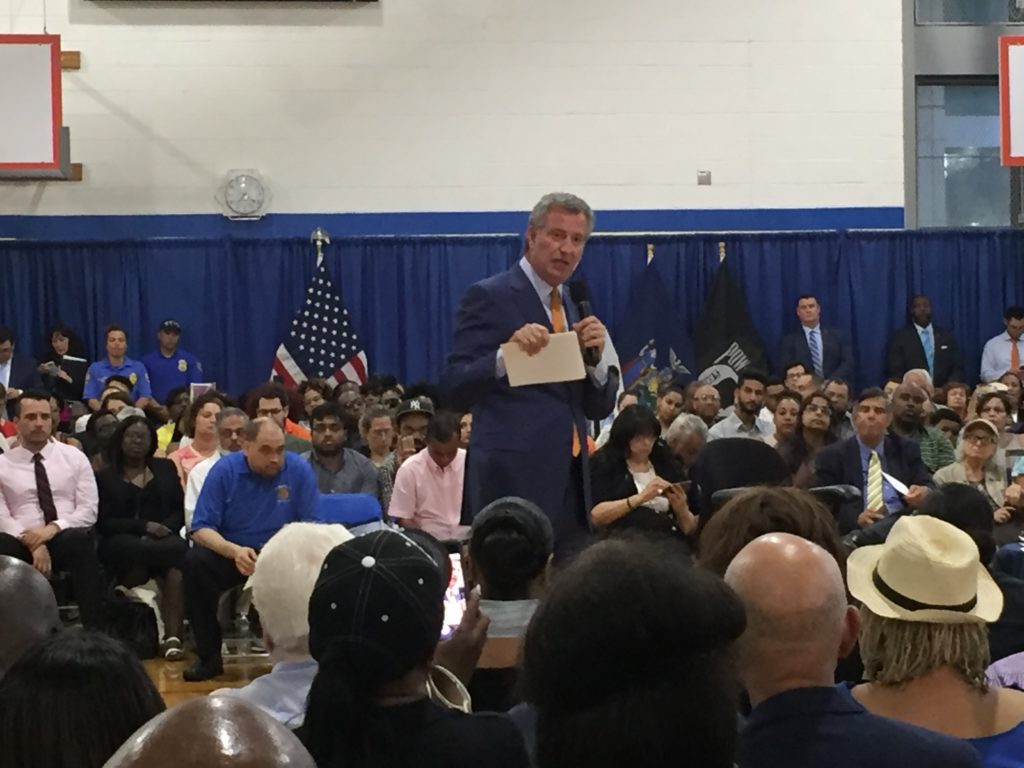 Mayor Bill de Blasio's latest town hall in the Bronx once again saw the mayor bring an impromptu, though somewhat scripted, approach, batting around his ambitions while tackling issues of rats, public housing, and crime.
The issues were on the minds for those living within the 14th Council District, where the town hall was held. Councilman Fernando Cabrera hosted the forum with de Blasio, with commissioners from key city agencies on tap.
The two began the evening offering support for the Bronx community and NYPD following the death of Dr. Tracy Tam in the Bronx-Lebanon Hospital shooting rampage and the fatal shooting of Police Officer Miosotis Familia.
"We go through these tragedies and we get so angry, so pained, we also see a lot of what's so good about this community, and about this city shine through," de Blasio told the crowd inside Creston Academy on July 12.
During the town hall, de Blasio announced "a war against rats," which he claims can unite New Yorkers. "Thank you, Lord," one lady shouted.
"If you're a real New Yorker, you don't like rats," de Blasio quipped.
After outlining plans for the city, guests raised questions on crime, homelessness, and the New York City Housing Authority. The housing authority stood as the most talked about topic from a weary public.
"What are you going to do to stop the privatization of NYCHA, and why are you allowing it?" a guest, a board member of Bailey Houses in the Kingsbridge area, asked.
De Blasio quickly countered, declaring "there is no privatization of NYCHA."
"I'll get even closer to you," de Blasio joked, now face to face with the guest. "People like to say there is privatization but cannot back it up with the facts. Every NYCHA building is publicly owned on public land, and it will remain that way."
Despite the open forum setting, one group attending the town hall criticized Cabrera's handling of it.
"Cabrera called on everyone that he funded and knew by first name, not anyone from the community," said Fordham Heights resident Darney "K. Born" Rivers. "It was a 'friends hall,' not town hall."
Rivers and others had stormed out the town hall without asking questions.
In a statement, Cabrera defended the style of the forum, arguing that "98 percent of people who raised their hands were covered."
Cabrera added, "cards were given to all who came and their issues will be followed up by the mayor's office whether they raised their hands or not, because we are looking to be solution-focused."
Still, residents were grateful de Blasio holding the discussion in their community.
"I appreciate it was even in the Bronx. I feel that the Bronx has been ignored for some time," said Vivian Ortiz of Fordham Manor. "[The mayor] is very attentive to our needs and wants, and having this town hall meant a lot to the Fordham section and Kingsbridge. It was about time; it was overdue."