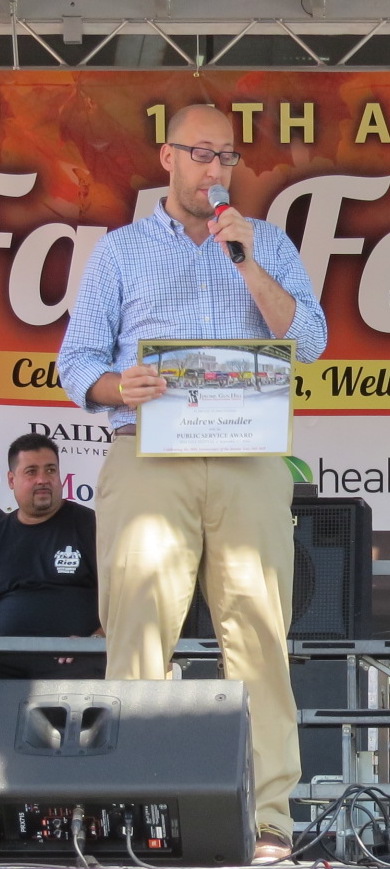 Andrew Sandler, district manager for Community Board 7, handed his resignation to the board less than a month after returning from a half year medical leave. In what's become a recurring theme, the news once again leaves the board without a district manager.
Sandler resigned officially on July 9, less than one month from the time Adaline Walker-Santiago, the board chair, announced his return. Sandler told the Norwood News that Sandler he wants to focus on recuperating from his undisclosed medical condition. Walker-Santiago, board members and director of community boards for the Bronx Borough President's Office, Thomas Lucania, were alerted to his resignation on July 9.
The news also ends the tumultuous relationship between Sandler and Walker-Santiago. Sandler was placed on probation in September 2016 for what board members said was overextending his powers as district manager. Sources had told the Norwood News the probation was really payback against Sandler for alerting the Bronx Borough President's Office of inappropriate actions by Walker-Santiago. A spokesman for the Bronx Borough President's Office said at the time that Walker-Santiago was counseled.
Still, Walker-Santiago told the Norwood News that she is "going to miss [Sandler]."
"I'm going to be praying for him," Walker-Santiago told the Norwood News.
Lucania will assume the duties of CB7, a role he's undergone four times at CB7 in recent years. Sandler is indeed the fourth district manager the board has employed since 2013. He was hired after Dustin Engelken, the previous district manager, resigned in October 2015. Engelken's predecessor was Socrates Caba, who was district manager from June 2013 until his resignation in December of that year. Before Caba's tenure, Fernando Tirado served as district manager until he resigned in 2013. The resignations were unlike what CB7 had seen before. For decades, Rita Kessler served as CB7's district manager before retiring in 2007.
Community Board 7 covers Norwood, Bedford Park, Kingsbridge Heights, Fordham and University Heights.
The vacancy will likely slow response time on constituent matters for those living within CB7's borders. District managers serve as a liaison between the board and New York City. They also hear and attempt to resolve resident complaints as per the duties outlined in a district manager's job description. Sandler had experience on these fronts, serving as the director for constituent services for Councilman Andrew Cohen before landing the role of district manager.
As in each instance before, the board will organize a so-called Personnel Committee to begin the search for a new district manager. With the board in recess until September, the process could begin later that month and run until the end of the year. Typical searches last four to six months. Community boards normally place a help wanted advertisement, then conduct two interviews with candidates before choosing a district manager.
The full board votes on the district manager.
"It's going to take time," Adaline-Walker said.
"