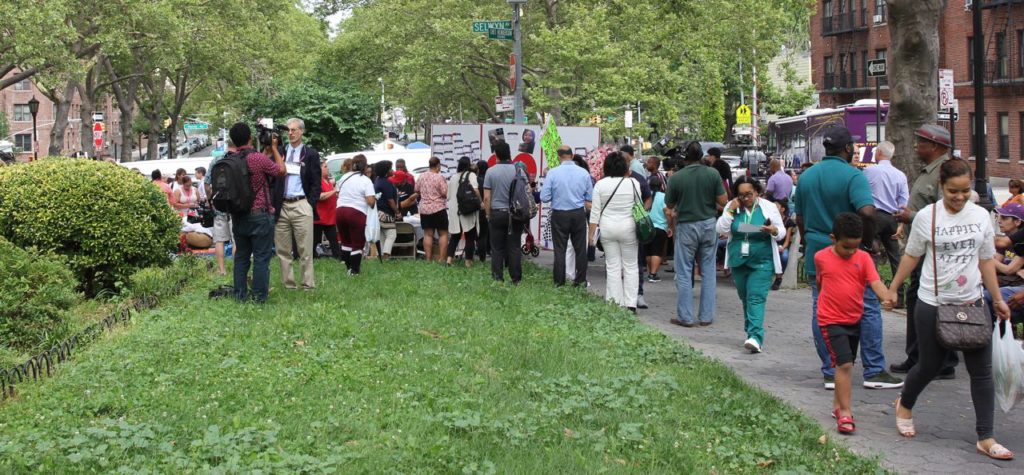 At Mount Eden Malls in the West Bronx, mourners gathered around a table to write comforting messages on sheets that read, "We stand with Bronx-Lebanon," a reference to the hospital at a busy part of Grand Concourse.
It was at the hospital where former employee Henry Bello opened fire on six employees and killing Dr. Tracy Sin-Yee Tam, on June 30. Union and hospital officials paid respect to her and the victims at a vigil hosted on Thursday.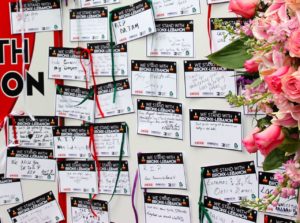 A makeshift memorial was set up complete with pastel pink and yellow flower sprays along with a photo of Dr. Tam hung on the tri-fold board. The vigil doubled for Police Officer Miosotis Familia, who was fatally shot at a separate incident in Fordham Heights.
Israel Galindo wore a white T-shirt splattered in fake blood with buttons and slogans calling for peace and action against gun violence. Galindo, 71, used to work under 1199SEIU, one of the unions present there.
"I am against weapons," said Galindo. "It means the blood is running in the streets."
The scene at the memorial was marked with moments of comfort at a time when hospital employees are slowly getting back to normal. An employee in green scrubs comforted a distressed colleague near the memorial. A few employees and supporters at the vigil prayed before the memorial while others held electric candles.
Various lawmakers and religious leaders spoke to the crowd of almost 200 people at a stage set up on Mount Eden Parkway. "I know in a moment like this, we're always told 'don't say anything political,'" said Congressman Jose Serrano of the 15th District, which covers Bronx-Lebanon Hospital. "But it's not political to talk about the fact that we need to keep weapons out of the hands of people who don't have a right to have those weapons."
The hospital shooting also raised questions on security. Bello was able to sneak in an AM-15 rifle underneath his lab coat without being stopped by security personnel.
Argelia Ortiz, a volunteer with We Stay/Nos Quedamos, a social justice nonprofit based in the Bronx, stressed the importance of preventive medicine and better security measures.
"I don't believe a tragedy should first happen," said Ortiz. "We should take caution before it happens and deter, and that's what didn't happen here."
Osayande Olaye, the director of the hospital's respiratory care services department, was on the ground floor the day of the shooting. He said it was a very chaotic day.
"It wasn't a time to think," said Olaye. "We just worked."
Olaye could not comment on the hospital's current security protocols.
Eric Scherzer, a hospital spokesman, declined to answer questions on hospital security.
Dowaine Clarke, 28, has been working at Bronx-Lebanon for almost seven years. He had just started his shift when the shooting started.
"I was, like, traumatized. I was shocked," said Clarke. "I never expected someone to get shot."
Clarke didn't think the blame could be placed on security because Bello had worn a doctor's lab coat and I.D. when Bello entered the hospital.
"We think this is unacceptable," said John King, a representative from Guns Down, Life Up Community Outreach Team. "We talk about gun violence prevention and the youth, who have lack of education. But what was his excuse? He was totally educated. For him to come here and reduce himself to violence, it just says something about the way our world works."