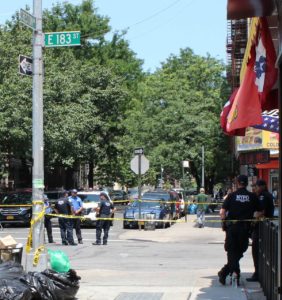 Police have still cordoned off three square blocks, from 183rd to 182nd streets and Grand Concourse down to Jerome Avenue, following the fatal shooting of an on duty police officer.
Officer Miosotis Familia, 48, of the 46th Precinct, was shot in the head early morning hours of July 5 on East 183rd Street and Morris Avenue in Fordham Heights. Familia sat in a marked command truck with her partner when Alexander Bonds approached the vehicle and fired a bullet from his revolver into the window. Police later apprehended Bonds a block from the scene, killing him after he drew his weapon.
Familia was shot in a neighborhood police say has a high presence of gang activity. Residents and bystanders around the blocked off area have conflicting views about the neighborhood.
Jacob Hatcher has lived in the area his whole life. Hatcher, 51, said ever since the NYPD's mobile command center was established off Morris Avenue, the area seemed to have gotten safer.
"I've seen the guy that did it," Hatcher said, referring to Bonds. "He's badass."
Elizabeth Estevez, 25, who lives on Creston Avenue, said she thinks the neighborhood safety is "so-so."
"I was surprised by the shooting," she said. "You don't see that [kind of thing] often."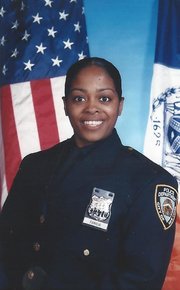 Police officers also patrolled an apartment complex on Sedgwick Avenue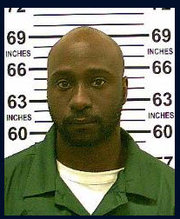 and Giles Place in Kingsbridge, where Familia is believed to have lived. At her precinct, mourners laid flowers and lit candles at a makeshift vigil. Two wreaths were set up while a miniature police vehicle was also placed in front of the precinct.
It is still unclear what motivated Bonds to kill Familia. But NYPD Commissioner James O'Neill said "it is clear this is an unprovoked attack on police officers" at a news conference hours after Familia was shot.
Bonds, a Bronx native, had a record and had been on parole for a robbery in Syracuse. He was diagnosed with paranoid schizophrenia and required medication, and Nancy Kearse, an aunt, told The New York Times that Bonds had been hospitalized for a mental breakdown, in which he threatened to commit murder.
Bonds recently posted a video to Facebook, through which he made threats to cops.
"Don't think every brother, cousin, uncle you got that get killed in jail is because of a Blood or Crip or Latin King killing them. Nah, police be killing them and saying that an inmate killed them," he said in the video.