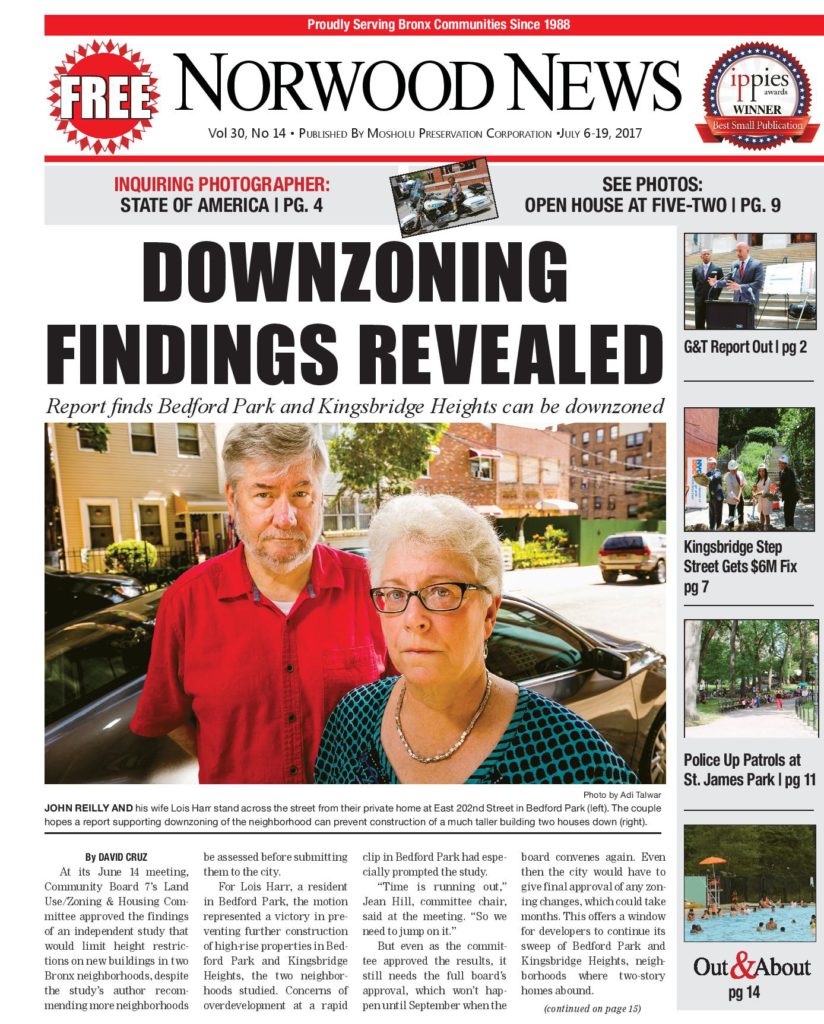 Dear Fellow Readers,
The latest edition of the Norwood News, the award-winning publication covering all things Norwood and its surrounding Bronx communities, is out with plenty of news you can use. We start at the beginning, and on page 1.
There, we have a story on the battle to preserve the character of Bedford Park and Norwood. A report yet finalized by the all Community Board 7 members was approved by the Land Use/Zoning & Housing Committee. What does this mean for the neighborhood? Read to find out more!
Turning to inside-the-cover stories, the Bronx Borough President's Office has released a final report of its own, this time offering recommendations to fix what they find are inequities in the public school system's Gifted and Talented programs. Hear what Bronx Borough President Ruben Diaz Jr. has to say about the program and nine recommendations laid out by the task force he and his Brooklyn counterpart had organized.
We also have full coverage on the Bronx-Lebanon shooting rampage that took the life of a doctor at the hands of another doctor who later committed suicide. Get a sense of the tense moments inside the hospital and what city officials had to say about it. We also have stories on the latest Community Board 7 elections, a piece on leniency offered by city agencies and a nice photo spread of the 52nd Precinct Open House that drew young children.
As usual, we have the regular staples–Inquiring Photographer, Neighborhood Notes, and Out & About–all meant to tickle your brain, its fun and analytical side.
The Norwood News cannot get better at its job without the public. So we welcome comments and advice thrown our way. Email me at dcruz@norwoodnews.org. In the meantime, check out the latest edition of the paper and share it with your friends and family. 
Til next time!
David