Police are trying to find a man wanted for fighting a man that subsequently led to the man's elderly being seriously injured.
Police say the 73-year-old victim fell to the ground and broke her leg during fight between the unidentified man and the victim's 36-year-old son, which happened on July 1 at around 8 p.m. at East 194th Street and Marion Avenue in Bedford Park. The man soon fled while the woman was treated at St. Barnabas Hospital.
The man is described as a heavy set Hispanic man last seen wearing a dark hat, white T-shit, red shorts and sneakers. Anyone with information is encouraged to call the NYPD's Crime Stoppers hotline at (800) 577-TIPS (8477).
Scooter Attack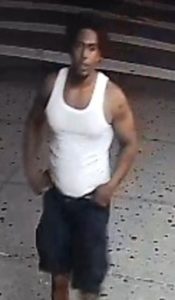 Police in the 52nd Precinct want to locate a suspect (pictured left) wanted for snatching a man's scooter and later hitting him with it.
The June 12 incident happened at East Bedford Park Boulevard and Decatur Avenue at around 7:45 p.m., according to police. That's when the man was approached by the suspect and attacked, causing cuts and bruises to the face. The suspect soon fled.
Police describe the attacker as a black man, around 30-35 years of age, 5'8″, 220lbs, black hair, brown eyes, and medium complex. He was last seen waring a white tank top shirt and black shorts.
Anyone with information is asked to call Crime Stoppers.