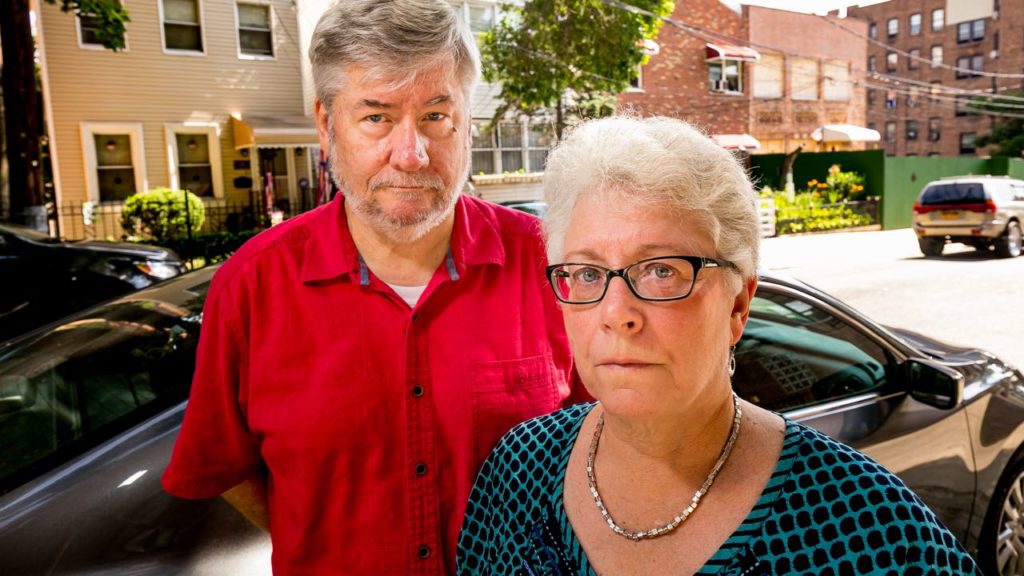 At its June 14 meeting, Community Board 7's Land Use/Zoning & Housing Committee approved the findings of an independent study that would limit height restrictions on new buildings in two Bronx neighborhoods, despite the study's author recommending more neighborhoods be assessed before submitting them to the city.
For Lois Harr, a resident in Bedford Park, the motion represented a victory in preventing further construction of high-rise properties in Bedford Park and Kingsbridge Heights, the two neighborhoods studied. Concerns of overdevelopment at a rapid clip in Bedford Park had especially prompted the study.
"Time is running out," Jean Hill, committee chair, said at the meeting. "So we need to jump on it."
But even as the committee approved the results, it still needs the full board's approval, which won't happen until September when the board convenes again. Even then the city would have to give final approval of any zoning changes, which could take months. This offers a window for developers to continue its sweep of Bedford Park and Kingsbridge Heights, neighborhoods where two-story homes abound.
For now, the committee plans to submit the study's final results to various city and state housing agencies that partly finance any high-rise projects primed for the two communities. The committee is now looking to meet with the New York City Department of City Planning, which regulates the character of neighborhoods.
Harr, who has lived in her Bedford Park home for 37 years, has closely tracked the board's progress in downzoning the neighborhood with her husband John Reilly, who ironically enough has a background in housing. Together, the pair found the study worth promoting, notwithstanding the full board's input. The report, she said, "sends a message that public money and zoning shouldn't displace people from existing affordable housing. Such outsized projects should have to prove that they will not have adverse impacts on the people who currently live here." CB7 members usually honor the recommendations made by its committees.
In Bedford Park, concerns of overdevelopment are powered by the infusion of new development projects which have enveloped the neighborhood since 2011 when portions of Webster Avenue in Bedford Park were rezoned for new, taller properties. Between the arrival of new residences in Bedford Park, and impending projects for Kingsbridge Heights, the committee has been kept busy hearing about new residential or commercial properties arriving to the neighborhood. In its capacity, the committee either supports or rejects those projects.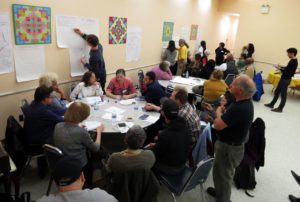 The streets assessed in Kingsbridge Heights lie just in the shadow of the Kingsbridge Armory, expected to house the world's largest ice hockey center. This has sparked fears of gentrification and displacement of its current stock of two- and three-family homes near the armory.
That displacement, in the case of both neighborhoods, oftentimes come in the form of buyouts developers present to homeowners, at rates higher than the home's actual value. It's a cost of doing business for developers, and a tactic frowned upon by residents hoping to preserve a neighborhood's identity. 
The study into whether the two neighborhoods could hamper developers from building taller properties, a process called downzoning, was prepared by Collective for Community, Culture, and Environment (CCCE) with an official report drafted by Paula Caplan, the group's CEO.
Bedford Park
CCCE's study of Bedford Park focused on a collection of suburban-like streets off the Grand Concourse, between East 201st and East 204th streets, extending east toward Mosholu Parkway South's service road. CCCE's findings, based on analysis and input from residents at a hearing in November last year, found that the neighborhood could downzone the property to allow a maximum of four- or five-story properties, translating to R5B and R5D zoning distinctions. The current zoning is an R8, allowing for eight- to 10-story buildings.
CCCE's study also concluded that the commercial area included in the Bedford Park study, concentrated at the Grand Concourse and East 204th Street, could use more commercial properties. In her outline, CCCE recommended changing the commercial zoning distinction to a C2-3, allowing for commercial properties as tall as nine stories.
Kingsbridge Heights
Kingsbridge Heights also has the potential for small-scale properties, according to CCCE's report. The study focused on Kingsbridge Road between Sedgwick and Creston avenues, and the streets between West Kingsbridge Road and East 190th Street. The area is currently zoned as an R6, R8, and C1-2, allowing for a mix of detached homes, six-story residences, and low-rise businesses.
In its findings, CCCE found that the residential blocks between West Kingsbridge Road and East 190th Street should only see four-story properties, revising the zoning rules from an R6 to an R5B or R5D respectively. CCCE made concessions for the neighborhood's commercial strip, recommending that taller commercial properties be built along the area of East Kingsbridge Road between Jerome and Creston avenues. West Kingsbridge Road between University and Jerome avenues should include even taller commercial properties, according to the report.
Conclusions
Though the committee accepted the findings, CCCE concluded the study should expand to Jerome Avenue between Mosholu Parkway and Bedford Park Boulevard, to make for a powerful argument of downzoning Bedford Park to the city.
"Pairing zoning actions to protect low scale neighborhood blocks with measures that allow more development on wider streets and transit corridors constitutes sound planning policy, and also tends to improve the likelihood of approval," the report read.
Kingsbridge Heights, for instance, had little input from its residents, with CCCE suggesting another visioning session take place in that neighborhood (the only visioning session to take place was in Bedford Park).
Though the results leaned favorably for residents yearning to keep their neighborhoods as suburban-esque as possible, the speed at which results will become official city policy is too slow to stop the potential construction of a high-rise apartment building at 267 E. 202nd St. a narrow neighborhood in Bedford Park. The property houses a two-story building once occupied by six families that were displaced last year when a devastating fire ripped through the property. The tenants were in the middle of a court battle with the new building owner, Peter Fine, who sought to evict the tenants shortly after he purchased the property in early 2016.
Fine was issued a permit by the New York City Department of Buildings in May to place a wooden perimeter fence around the property. There are no other building permits on record to indicate what type of housing he intends to build. Fine has been in the real estate business for some years, most recently opening a luxury apartment building in Miami, Florida.
With the lot falling in an R8 district, Fine can build any property without any approvals so long as it falls within the zoning restriction of 10 stories or less. Harr, who lives two houses from the fenced off property, is now bracing for changes.
"My whole life is about to be turned upside-down by some guy in Florida who has nothing to do with this area," Harr said.