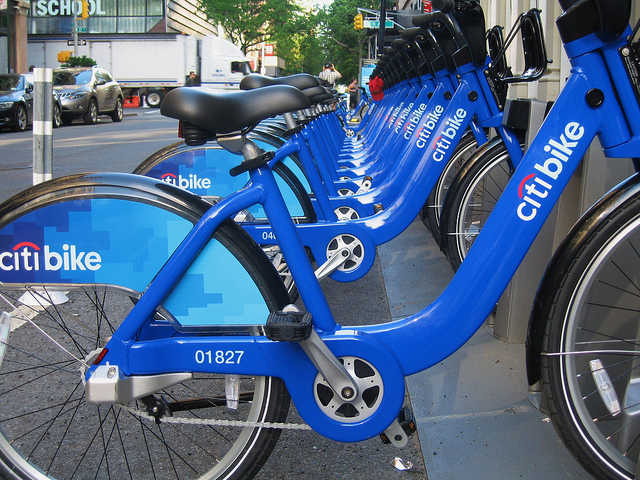 Bring Citi Bike to the Bronx!
That's the call from supporters and organizers who've proposed a $12 million expansion plan to include the rental bikes to the Bronx and other low-income neighborhoods in New York City.
The price tag accounts for .01 percent of the city's 2018-19 Fiscal Year budget and could mean transportation availability for more than six million New Yorkers, according to organizers. The daily rental price is $12 while a three-day pass runs $24.
The prospect of the bikes coming to the Bronx sparked logistical questions from Norwood resident Edward Aucay, who suspected that "lack of space that might be required to have Citi Bike transportation to even be available" in Norwood could hamper any of the blue-colored bikes to come to the neighborhood.
George Laing, a Norwood resident who routinely exercises at Williamsbridge Oval Park, said the bikes could inspire Bronx residents to "exercise more and give them that other option."
Meantime, Byron Young, who works in the neighborhood, thinks it's unfair  there bikes were not here to begin with. "I hope they bring it to everyone and hopefully they give discounted rates to people in under-resourced communities," Young said.
Transportation Alternatives, a group of activists committed to improving New York City's public transportation infrastructure, says the expansion would bring 2,000 cycles to the Bronx, mostly in the South Bronx, Highbridge, Mott Haven and along the Grand Concourse.
"Look at public transportation, the buses are slow and subways are infrequent. This is good given the needs for transportation," said Transportation Alternatives Bronx organizer Erwin Sigueroa. "You also have to look at the health aspect, too, and getting people active. The city has been ranked last seven years in a row in that category."
The groups have also called for expanding the service to Staten Island. In all, the proposed plan would expand the program from 6,000 bikes and 332 stations to 12,000 bikes and 700 stations, respectively, and serves over 60,000 trips a day during peak season and has over 126,000 annual members.
Statistics show that Citi Bike provides more daily transportation than the green-colored taxicabs.
"We believe everyone's ability in access for all New Yorkers to a conservancy of open spaces, especially in low-income neighborhoods and having an infrastructure in place," said Deborah Martin, executive director of the New York Restoration Project (NYRP), a non-profit organization providing and preserving open community spaces. It serves as the city's only citywide conservancy.
Safety issues now become paramount, as the influx of a larger bike-sharing program would call for more bike lanes. On June 12, Dan Hanegby of Brooklyn was fatally hit by a bus while using a Citi Bike. His death was the first in the history of the bike share program since it began in 2013.
But Laing of Norwood remains confident. With the city having already carved out 170 miles of bike lanes, greenways, and paths across the Bronx, Laing thinks the new bikes won't "cause too much traffic."
A citywide petition started by Transportation Alternatives urging for Citi Bike expansion has collected more than 5,500 signatures and will be delivered to Mayor Bill de Blasio when the it reaches its goal of 10,000.