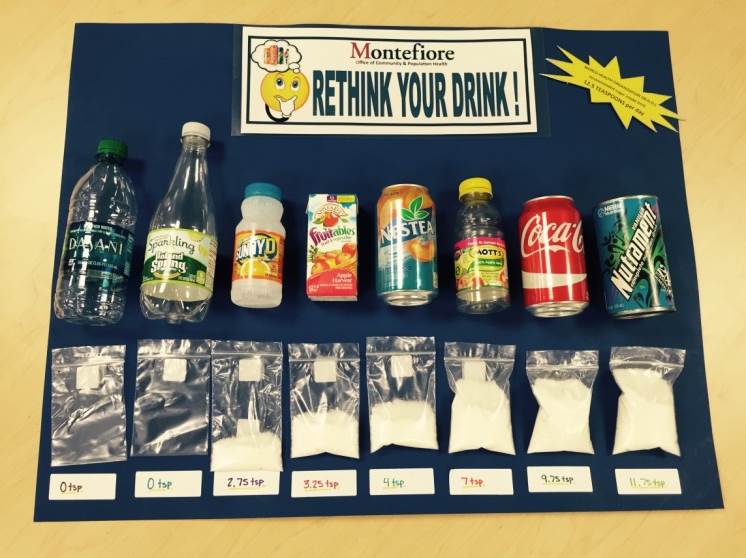 Trying to beat the heat in the hot summer months can be hard work, but staying hydrated doesn't have to be. Hydration is one of the easiest and most effective ways to stay cool, and making healthy beverage choices is important. It's one reason why Montefiore Health System's Office of Community & Population Health launched "Rethink Your Drink" to help you make better drinking choices. Here are some easy thirst-quenching tips to help you stay hydrated while avoiding sugary drinks that can lead to weight gain and tooth decay:
Reusable water bottles are the latest fashion trend, especially for the summer. Whether you have a desk job, or are always on the go, it's good to keep one within arm's reach.  This way you're more likely to take sips throughout the day without too much effort. Remember: every sip counts!
Feeling hazy or frazzled and want to feel more alert? Grab a cold glass of water; it's a simple healthy way to snap out of that midday slump.
Want to add some flavor to your water? Try adding slices of fruits (oranges, lemon/lime, cucumbers, or even a splash of 100 percent fruit juice).
Unsweetened teas are also a refreshing way to cool off in the summer. Add a few drops of honey if you prefer some sweetness.
Seltzer, club soda, or sparkling water with a splash of 100 percent juice makes a great bubbly treat for beating the heat.
Your body depends on water to survive. Every cell, tissue, and organ in your body needs water to work properly. Staying hydrated is key for a safe summer.  Whatever you do, take water with you!
For more information on how you can Rethink Your Drink and stay hydrated this summer, contact Aneka Wynter at MHSI@montefiore.org or call (347) 418-4738.
Source: Montefiore Health System's Office of Community & Population Health