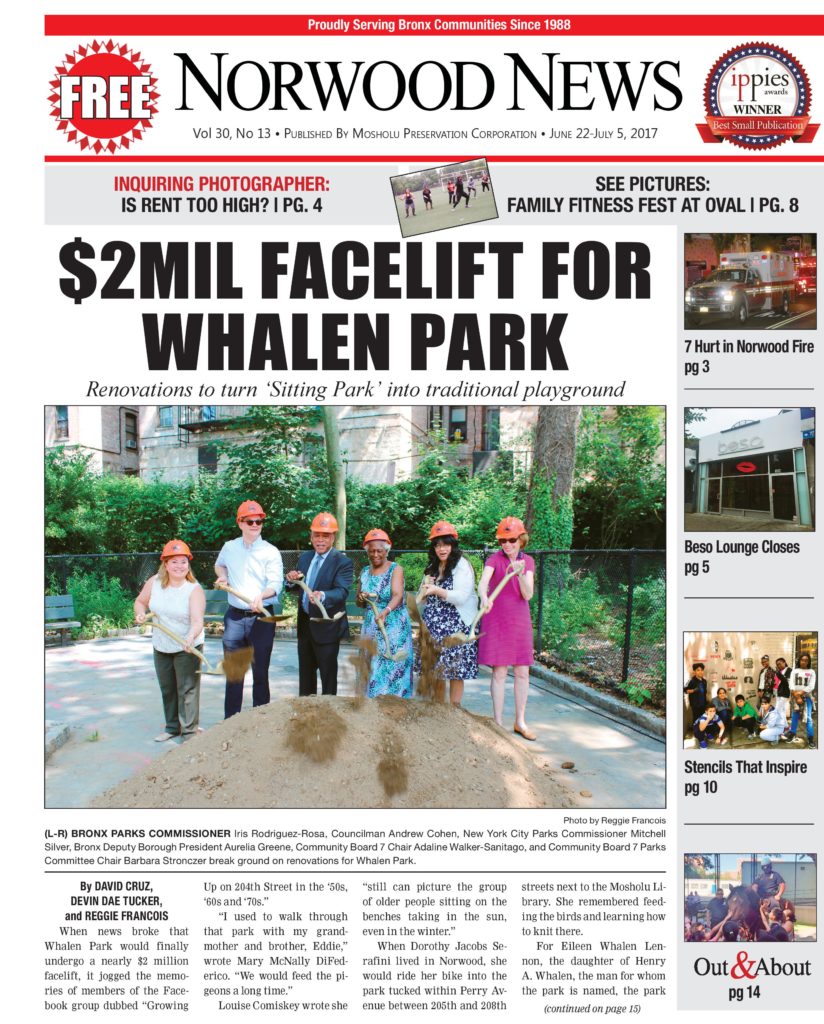 Dear Fellow Readers!
The latest edition of Norwood News, covering community news in the Bronx, is out with plenty of stories that will get you talking. We can start with the beginning, with page 1 and a local story on Whalen Park receiving a $2 million upgrade.
We go back in time to the days that Henry Whalen, the civic activists named after the eponymous park, was alive and making a positive contribution to Norwood in the 1960s and 70s. Read what his daughter had to say about him and the pending renovations for the park.
Norwood News would also like to welcome Reggie Francois and Devin Dae Tucker, reporting fellows with the CUNY School of Journalism. The pair have done some outstanding work within the last week and a half they've been with us. Check out Reggie's story on plans to keep the small business community of Kingsbridge Heights active amid changes within New York City's business scene. Devin took a look at Bronx Community Charter School's stencil project intended to inspire. The pair and yours truly collaborated on what's becoming a staple in the paper, Crime File.
Speaking of staple, regular contributor David Greene has a story on a two-alarm fire in Norwood that displaced families and injured seven. Thankfully, there were no injuries. Meantime, Fordham Road has a new farmers market opened every Wednesday. Find out how the Fordham Road Business Improvement District is involved, and what the future holds for the farmers market.
We also bring you a photo spread of the Family Fitness Festival which, while ending in a soaker, did bring a handful of residents out to Williamsbridge Oval Park.
As usual, the regular features can be found in the paper–Inquiring Photographer, Neighborhood Notes, and Out & About–all intended to get you talking.
So pick up your free copy of Norwood News. You can always share thoughts with me, David Cruz, at dcruz@norwoodnews.org.
Til next time!
David