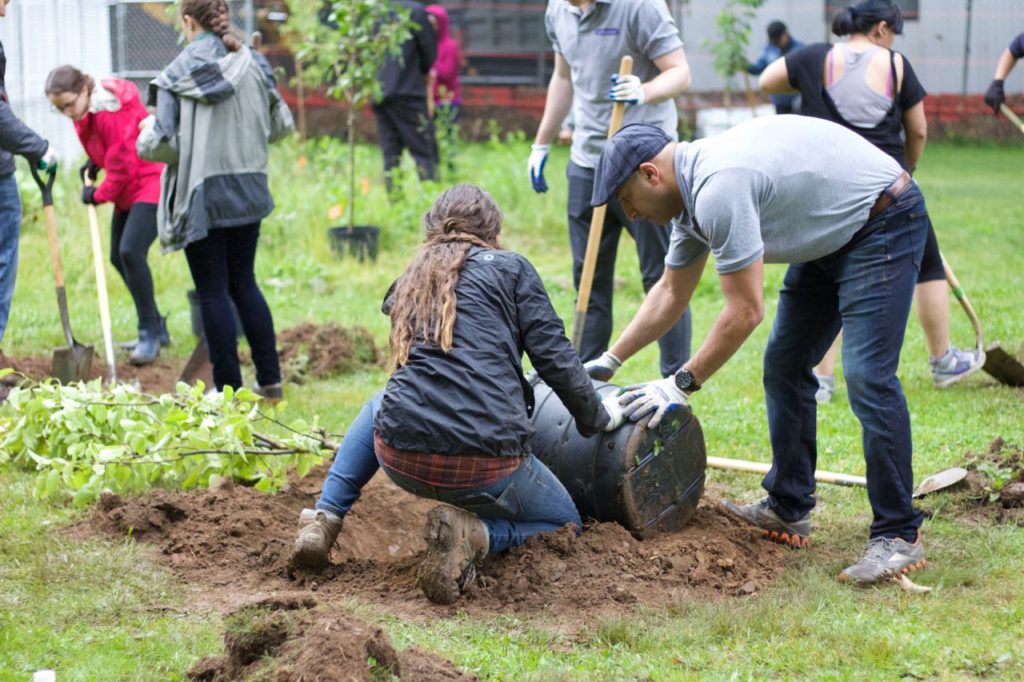 The rainy weather could not keep students from DeWitt Clinton High School and volunteers to venture out and plant 35 fruit trees along the high school's garden as part of a project to broaden healthier lifestyles in Norwood.
Raymond Pultinas, the teacher and coordinator of the daylong event, applied for a grant from The Fruit Tree Planting Foundation three years ago. This year they were awarded a grant through Vitafusion to begin the massive planting. The initiative is part of a broader effort to encourage healthier lifestyles in a borough that's still struggling in reversing the unhealthy trend.
Pultinas, who's taught at the Norwood school for 25 years, characterized the new trees as part of an "edible forest." "[W]e expect to grow food on a number of levels," said Pultinas.
He added, "We see this as a part of a bigger vision," referring to the planned trail around the perimeter of the campus. The school received a grant from the National Endowment of the Arts to make it happen. The project will create a half-mile trail across the campus, connecting them to the impending James Baldwin Outdoor Learning Center.
While this is the first year this particular project is being done, there have been different projects around the school that support a healthier and greener community. "Vitafusion is the corporate side of it, but the fruit tree planting foundation were the ones who gave us the trees and we got a number of community members out here," said Pultinas, pointing to the dozens of volunteers who came out to support the project.
Partnering with The Fruit Tree Planting Foundation, Vitafusion launched the "Fruit Tree Project," which aims to plant 10,000 fruit trees domestically and internationally in underserved communities to promote a healthy lifestyle.
"We have already started here as well as Uganda, we have a commitment to plant 10,000 trees each year," said Laurie Kirschner, director of marketing for Vitafusion. "Everywhere we go we plant a whole food tree orchard. Two trees together actually provides enough oxygen for one person to live of off."
"In about eight to ten years there will be whole fruit production, so this is a long term investment, not just for the kids but also for their kids," said Rico Montenegro, chief arborist for The Fruit Tree Planting Foundation.
Amongst the planted trees and light drizzle, Arianna, a student from Pultinas' class, helped dig a hole big enough to plant a small tree. "Before this class I didn't know much about this," said Arianna, 17, a senior, who was laying out compost around a few apple trees. "This is a lot of hard work, but it's so worth it," said Arianna.