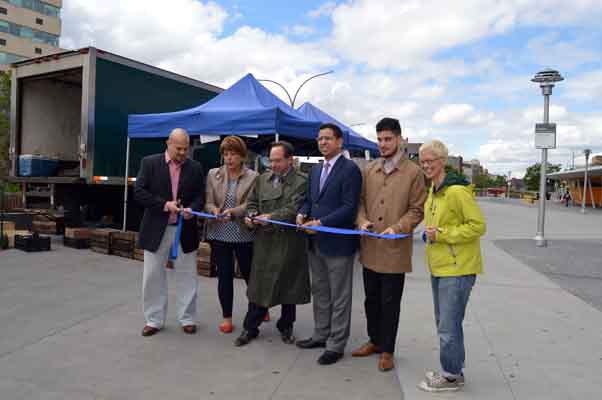 Freshly grown vegetables and baked goods from as far away as Goshen, New York are up for sale at Fordham Plaza, part of the newly opened farmer's market along the Fordham Road Business Improvement District (BID).
And if the 29-week trial run works out, the greenmarket will be managed by BID managers. It's a model similar to the robust greenmarket established in Manhattan's Union Square.
"We like the Union Square concept. That's what we like to build here," Wilma Alonso, the BID's co-executive director, said.
For now, the BID will co-manage the 1.7-acre mall with the New York City Department of Transportation. "This is going to be one of the premier public spaces in New York City," Nivardo Lopez, DOT Commissioner for the Bronx, declared.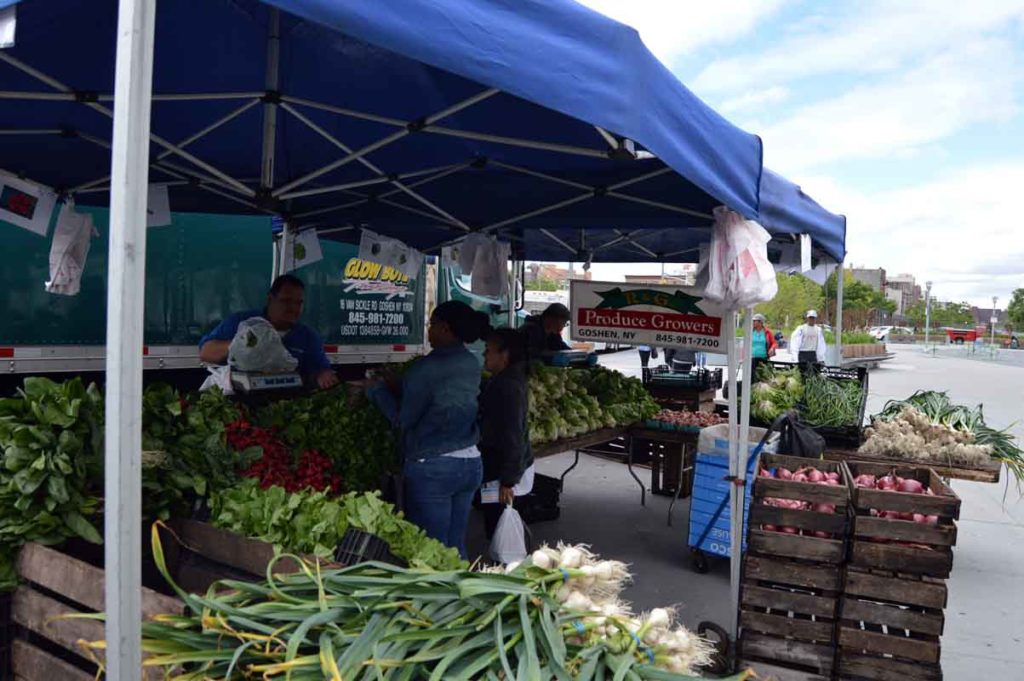 A handful of vendors were on hand on the market's inaugural day on June 7, which also saw a ribbon cutting. The greenmarket signifies the unofficial reopening of Fordham Plaza, which was reconstructed by DOT in partnership with the city Department of Design and Construction. It also responds to the neighborhood's needs for fresher produce to a neighborhood where locally grown fruits and vegetables are lacking.
Ground broke in 2015, with crews erecting a café building on the plaza facing Fordham Road, among other features. A swath of empty concrete space was rebuilt, accommodating an estimated 20 vendors. Three kiosks, currently vacant, were also built. The reconstruction of the plaza was part of a $34 million facelift, which also saw the city create new bus loops to ease congestion in a heavily clogged Bronx artery.
The project also saw the Fordham Road BID taking a more hands on role in the plaza. Though it's on city property, the city DOT intends to award the BID a one-year contract to manage the plaza, leaving it in charge to decide with concessionaire will occupy the permanent stands. For Alonso, the ideas of what to do are just flowing.
"We want to do some food, probably something seasonal just to add some flavors, so we can have different stuff in different seasons. But also we were thinking about doing something like a gift shop so we promote the Bronx, work with Bronx Beer Hall, they have a gift shop there. Put some items that promote Fordham Road," Alonso said.
The BID and DOT partnered with the nonprofit GrowNYC, which manages the Union Square greenmarket, to bring vendors to Fordham Plaza. Participating vendors are part of GrowNYC's network of farmers who grow their goods from as far away as Pennsylvania. With the Bronx considered a food desert lacking a significant number of nearby supermarkets, GrowNYC hopes to fill in the gap.
"People love the transformation of cement into vibrant centers of activity," Michael Hurwitz, director of GrowNYC's greenmarket programs, said.
Editor's Note: The farmer's market is open every Wednesday through Dec. 27. Hours of operation are 8 a.m. to 4 p.m.