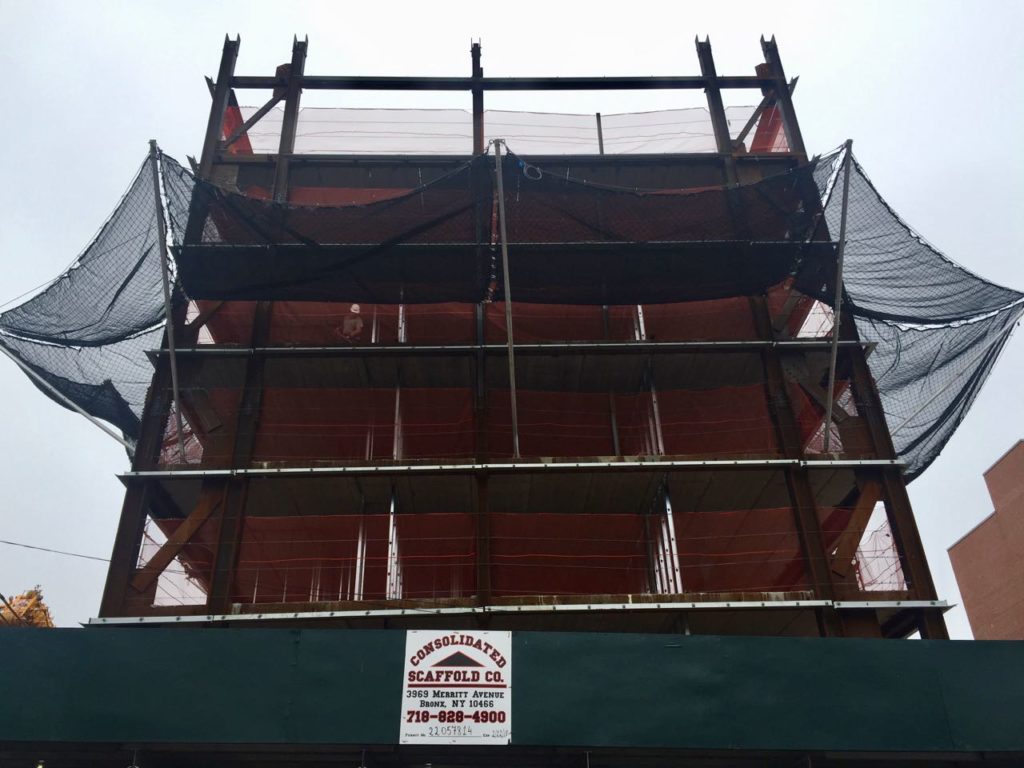 For more than a decade, The Stagg Group, a family-owned real estate and construction firm, has been a powerhouse in building hundreds of units of affordable housing across the Bronx, becoming a saving grace to many low-income New Yorkers.
But an incident at one of its Norwood sites in late April, which exposed some deviations from approved construction work, represented some setbacks for the omnipresent construction group. Meantime, residents have some environmental questions for one of the group's other properties slated to be built in Norwood.
"I think we still need to keep asking questions. We're not making accusations, but questions are warranted," said Jean Hill, chair of Community Board 7's Land Use/Housing Committee, whose advisory role includes vetting construction projects in the neighborhood. "We expect to get answers back."
Documents from the New York City Department of Buildings (DOB) show the agency ordered all work to stop at 3084 Webster Ave. at the corner of East 203rd Street following the April 28 accident that resulted in no injuries. FDNY reported that a concrete block carried by a crane suddenly fell, crashing three stories down from the eighth floor. A partial work order has been lifted to allow crews to repair damage to the fifth, sixth and seventh floors.
DOB investigators determined that the required site safety coordinator was absent. A DOB spokesman could not explain why the company-hired coordinator, who was hit with a violation, was not there. The spokesman did point out it was the second time a site safety coordinator was absent at the site, the first being on March 9.
The incident revealed The Stagg Group veering from approved DOB work plans it submitted to the agency. Among them is concrete work, which is not part of the approved work.
The site is one of two residences The Stagg Group is currently building within Norwood. At the other end of Norwood is Mosholu Gardens, Stagg's property it looks to build at 150 Van Cortlandt Ave., a 13-story, 153-unit residence. It's also planning a small 10-story, 62-unit residence at St. George's Crescent, abutting the Van Cortlandt Avenue property.
Mark Stagg, the head of The Stagg Group, and his executive vice president and former Bronx Borough President Adolfo Carrion, presented the plans to Community Board 7 in March. On April 26, DOB officials denied building permits to The Stagg Group after seeing it filed incomplete paperwork. Among the pending items is the soil report intended to determine the environmental safety of the ground. A DOB spokesman said it is not uncommon for paperwork to be refiled after it's been submitted.
Members of Community Board 7, whose Land Use/Housing Committee have consistently badgered developers with questions on what their intentions are within Norwood, have inquired about the state of the soil.
Decades ago, the property was once a gas station and auto body shop. Despite its past history, The Stagg Group is not required to conduct an environmental assessment review, a more aggressive screening of a particular property. Exempting them is the fact that the gas station's tanks were removed some 20 years ago.
The property rests diagonally across the former PS 51, which in 2012 was discovered to contain hazardous toxic fumes that were later removed. It's since been turned into a school for autistic children after the state Department of Environmental Conservation cleared the property for occupancy again.
"[H]opefully, we should have learned our lesson," Helene Hartman-Kutnowsky, who chairs the Community Board 7's Environmental Committee. "We're talking about the health of a good community."
With city agencies giving her the runaround, Hartman-Kutnowsky still plans on requesting an environmental impact study, seeking support from elected officials.
In a phone interview, a representative for the Stagg Group, Javier Monroy, said the soil is fine. "Absolutely the soil is safe. Yes, all the borings have been done and we're in good shape there," Monroy said.
As for the Webster Avenue site, Monroy maintains there was a site safety coordinator on site, adding any assertion that there was no coordinator at the site "couldn't be anything farther from the truth."
"Nobody got hurt, nobody got injured," Monroy said. "That's a positive thing. Just a couple of pieces of concrete got damaged and cleaned up and we've moved on."
Additional reporting by David Greene