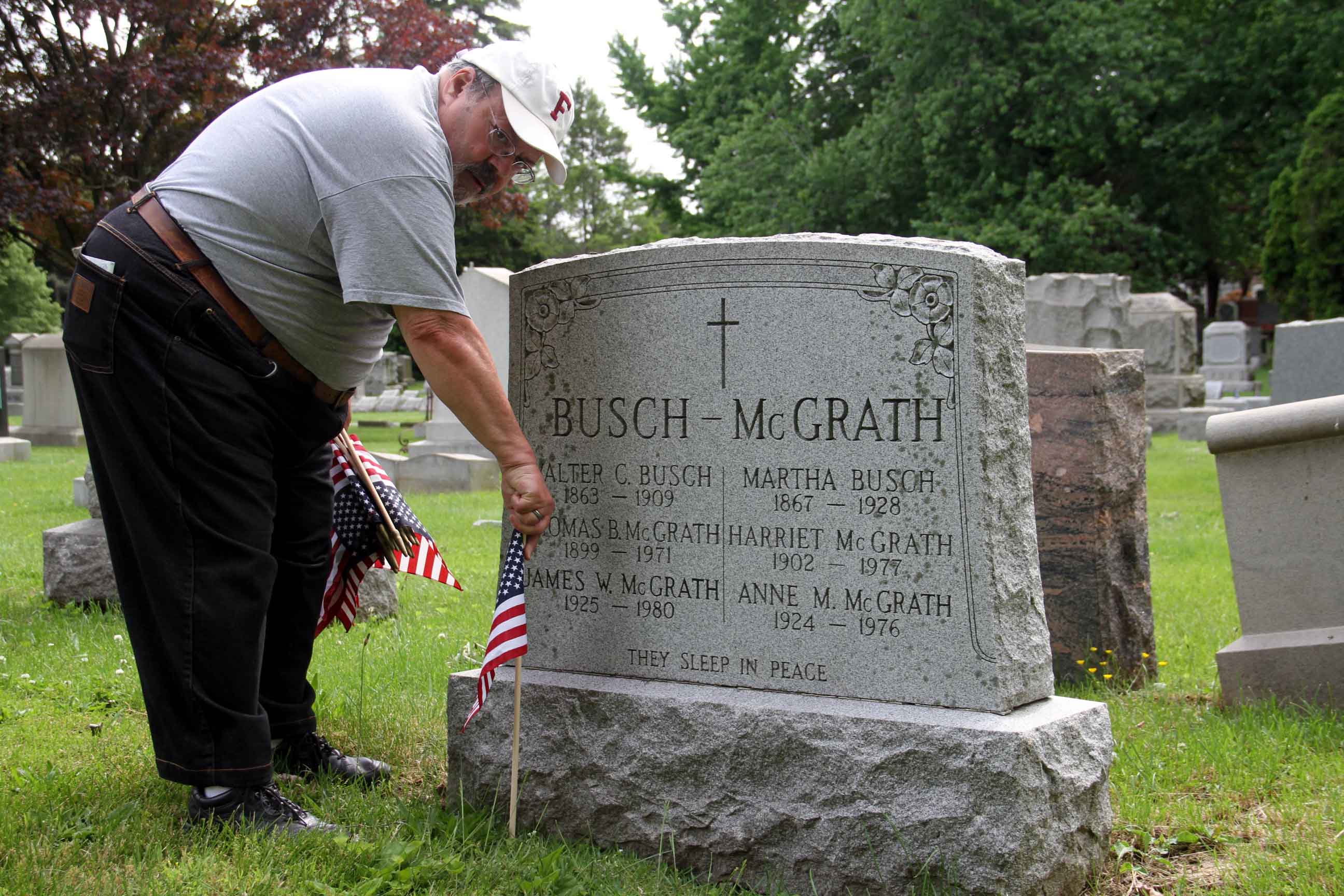 More than 350 volunteers spent the last two weekends at Woodlawn Cemetery, placing American flags at the graves of members of the U.S. military in honor of Memorial Day.
According to Lynn Radke and Bruce Campbell of the non-profit group Woodlawn Conservancy, members of the Boy Scouts, Girls Scouts, the Washington Grey Cadets, employees of Mellon Bank and other groups were handed a map of the cemetery and located about 7,000 known members of the military. For each servicemember's grave, an American flag was placed, considered "flagged."
Capmbell, a 32-year resident of Norwood where part of the massive cemetery is situated, says this year they have identified nearly 200 veterans for next year's flagging ceremony.
Campbell explains, "You have to realize this day in age the World War ll vets are dying in large numbers, and for a long time Woodlawn didn't ask when they came and purchased a grave, they didn't ask if a person was a veteran or not and now they do."
The pair have been coordinating the flagging event for the last 14 years.
Campbell adds, "When we started we just had a few hundred that we knew about and each year we've gotten more and more by doing research online." The Woodlawn Cemetery now asks if a person was a member of the military.
By next year the pair hopes to identify more than 8,000 members of the U.S. military out of the more than 300,000 buried at the cemetery.
Radke, a New Jersey resident believes the tradition "gives families a warm feeling to come to the cemetery and see a flag on the grave, knowing that a loved one was remembered for their service."
The Woodlawn Conservancy hosts tours throughout the year, works to organize and update cemetery records and is currently conducting a biography project on notable figures buried at Woodlawn.
For more information on the group and upcoming events, visit their website at: www.woodlawnconservancy.org.