A street renaming in the memory of a dead man was unveiled on his birthday.
"To Kalief, I want to say happy birthday to him. My brother would've been 24 today," Dion Browder said of his late brother, Kalief Browder.
With a blue tent shielding him from punishing rain, Dion was joined at the street renaming by Kalief's friends and family, and lawmakers who've used Kalief's death as an example of the effects a flawed criminal justice system on an individual. A large black and white portrait of Kalief, staring stoically off camera, was propped up alongside the Browder family and lawmakers.
Events such as a street renaming offer a kind of bittersweet tenor and tribute. They usually go for New Yorkers who've lived a long fruitful life. But the renaming of the corner of 181st Street and Prospect Avenue to Kalief Browder Way, the block where Kalief and his family lived, doubles as a cautionary tale.
"Whether it be the criminalization of poverty for bail, or the systemic failure to guarantee a speedy trial, or the human toll of solitary confinement, or the correctional culture of violence, the story of Kalief Browder exposes everything that is corrupt and cruel and callous and complacent within the criminal justice system," Councilman Ritchie Torres, who passed a bill officiating the street renaming, said shortly before the unveiling.
Browder, the youngest of four, committed suicide in June 2015. It happened two years after spending three years at the notorious Rikers Island prison while awaiting trial. He was alleged to have stolen a backpack at age 16. At Rikers Island, Browder endured attacks from inmates, food deprivation from guards, and weeks in solitary confinement, exposing deep-seated problems within a brutal penitentiary.
Council Speaker Melissa Mark-Viverito, who's trumpeted major criminal justice reforms that include the closing of Rikers Island by 2027, said Kalief's death has "altered history."
"[W]e are now arriving at a place where we are going to see that institution shut down and create a more just criminal justice system," Mark-Viverito said. "And we have Kalief to thank for that."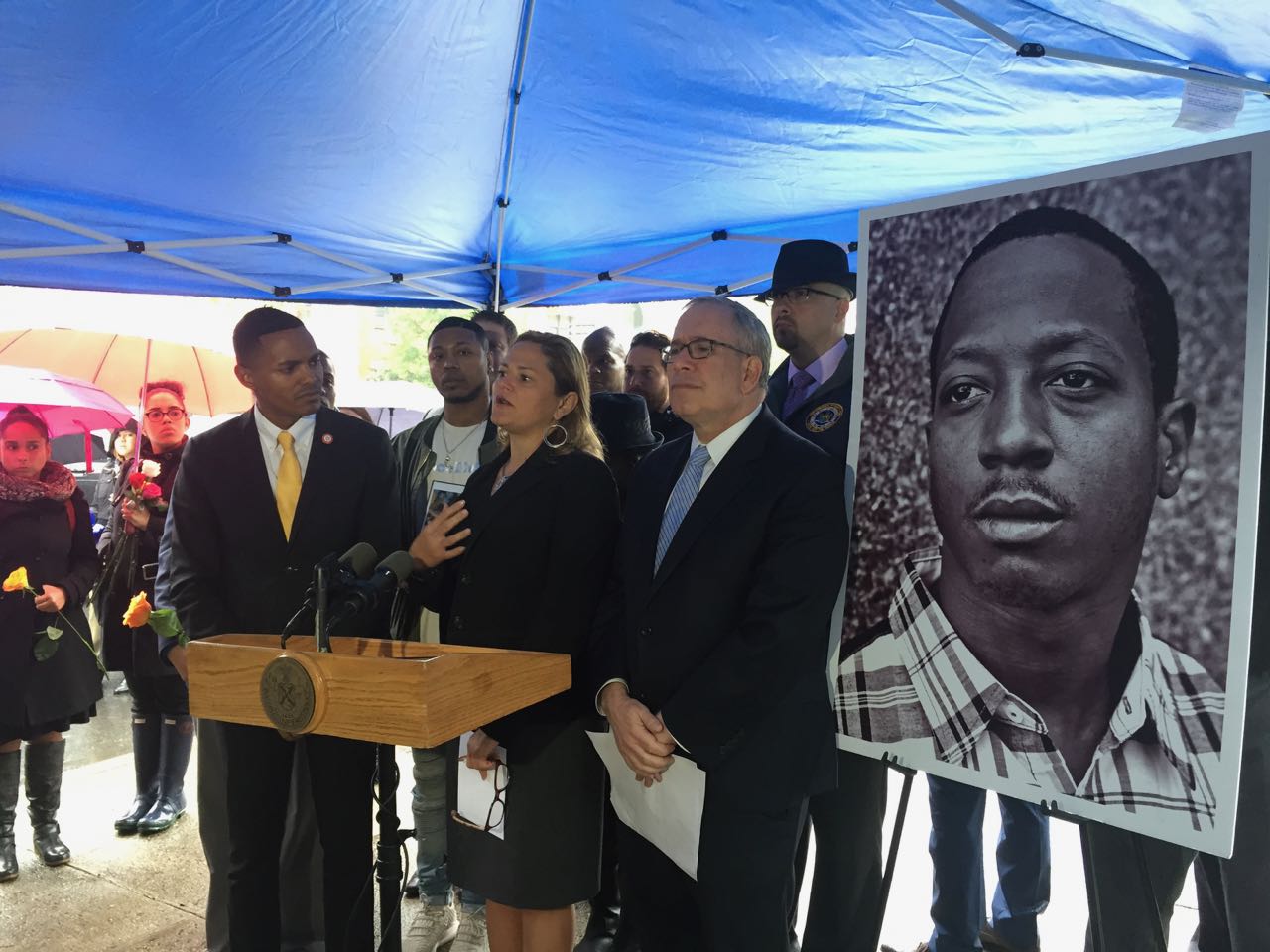 Browder spent his life living in the Crotona section with his mother, Venida, brothers Dion and Akeem, and sister Nicole. When he left Rikers, Browder earned a GED and later enrolled at Bronx Community College to study business management.
As kids, Kalief and Dion would spend hours playing "tree to tree," as his mother Venida wanted it. Other times it was the classic game of "Mother May I," with Venida playing along, that kept them occupied. His mother died in October. The house where Kalief lived and killed himself in is now up for sale.
"This is my first time since October coming back to this area, so it's bittersweet, especially standing across the street from where I lived, and seeing the 'For Sale' sign. It's kind of hard." Dion said. "But I think this is more of an inspiration to come back to this block now."
Media reports pegged Kalief as mentally ill, which Browder sister's Nicole disputes, arguing the system and his time spent in solitary confinement caused him to go "stir crazy."
"There's no such thing as mental illness when it came to Kalief. Kalief was a normal kid that was thrown into a grown up situation and was thrown into a cage and was left to rot and sit there and try to figure it out for himself," Nicole said. "Being in a cage for approximately, I would say two years, would make anybody go stir crazy. And being mistreated by the guards and nobody helping him and reaching out, only made it worse."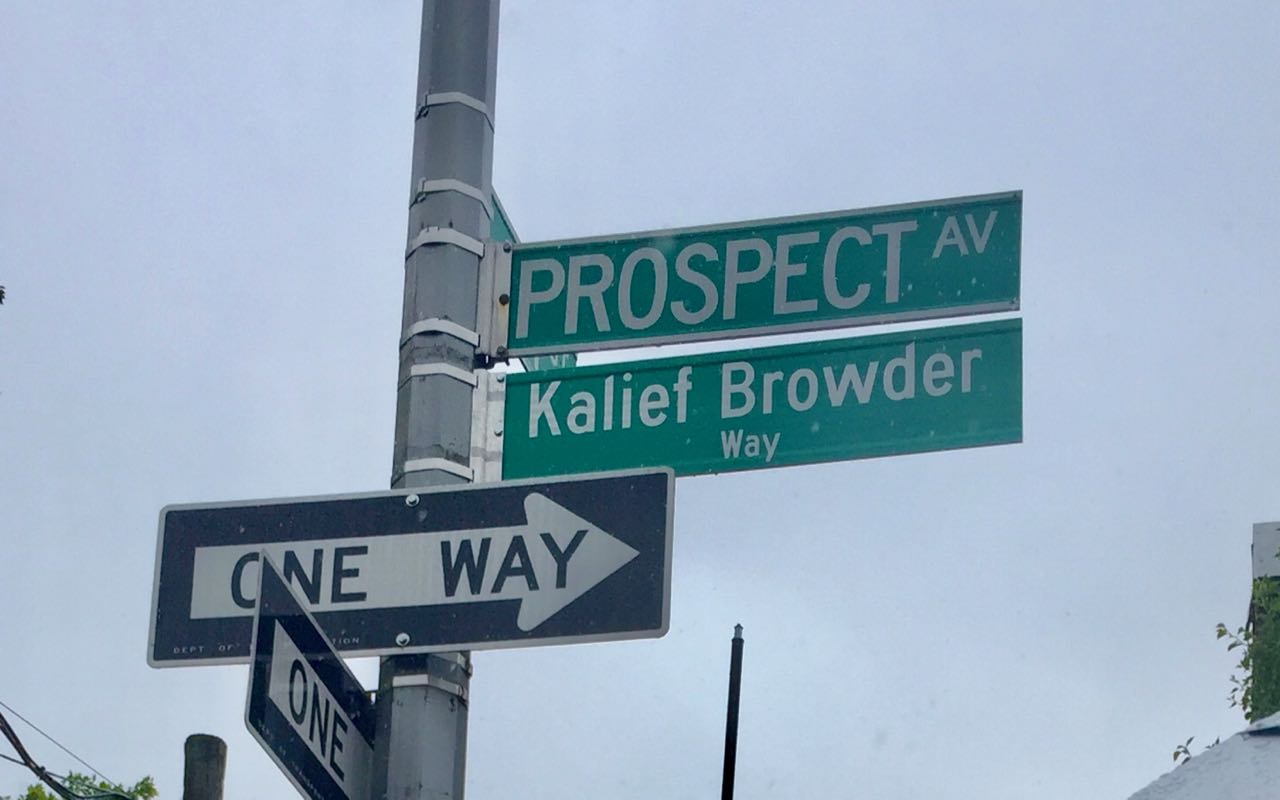 Like the Browder's playtime, the renaming came with levity. After eagerly pulling the string attached to the street cover, the string came off with the cover still atop the sign.
But residents who knew the Browder family cautiously hope the gesture is full of promise. At the corner across from the renamed street, Joseph James and Jamel McCoy, want real results.
"There's kids going through worst things than Kalief," James said. "We're gonna have to wait for another tragedy to happen to get out here and throw up another sign?"
"[W]e gonna have a whole bunch of signs on every area of the Bronx?" asked McCoy. "After a while we ain't gonna have anymore street signs."