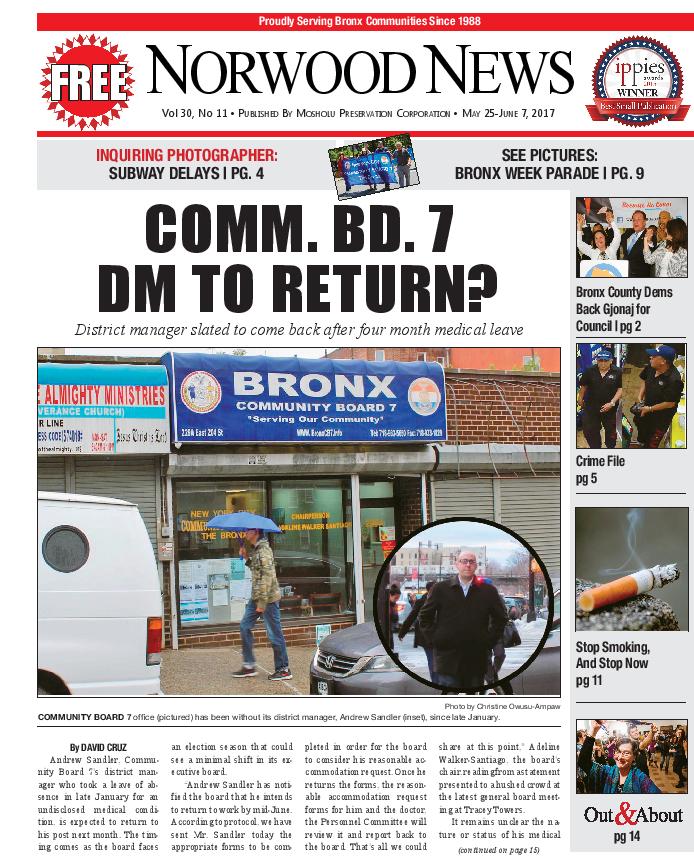 Dear Fellow Readers,
It's that time again! The latest edition of the Norwood News, covering the Bronx, is out with plenty of community news you can use. We begin with the front page and the story that impacts you the most.
We're talking about the impending return of the Community Board 7's district manager. If you live in the neighborhoods of Norwood, Bedford Park, Fordham, Kingsbridge Heights, and University Heights, then the return could affect you. Read the story about Andrew Sandler, who's been on medical leave for four months.
Politics is on the mind of the Norwood News and we have a story on Assemblyman Mark Gjonaj and his endorsement from the Bronx Democratic County Committee for City Council. One challenger is not happy with it. Read up who, and what Gjonaj's supporters say about his political stance.
The edition also brings you two great photo pages: Norwood News Snapshots and a beautiful photo spread from Adi Talwar on this year's Bronx Week Parade held on Mosholu Parkway. Check out some of the awesome photos including one from Norwood native and now Bronx Walk of Fame inductee Selenis Leyva. Great stuff. The paper also takes a pause to acknowledge itself as it won various awards by the Ippies and the New York Press Club. Very proud moment for us.
As usual, we have the insightful Inquiring Photographer, the informative Neighborhood Notes, and Out & About to satisfy your cultural palette.
So check out the latest edition of the Norwood News and never hesitate to send comments my way, dcruz@norwoodnews.org. Always want to hear from readers!
Till next time!
David Cruz
Editor-in-Chief
Norwood News