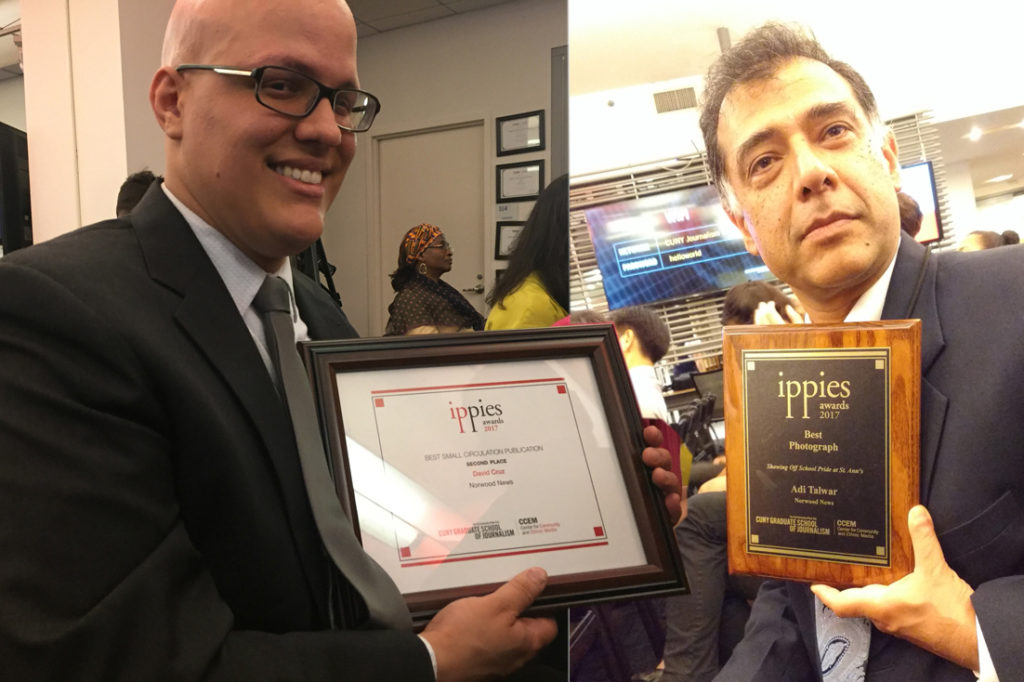 The Norwood News was recognized for several awards, continuing its streak in producing award-winning community journalism.
The paper was recognized on May 18 at the Independent Press awards, commonly known as the "Ippies." There, the paper took home a second place prize for Best Small Circulation Publication, adding to the first place prizes it received for the category in 2015 and 2016, a veritable 3-peat.
"This feisty little bi-weekly produces an impressive variety of original stories with just one full-time staffer," read Tom Robbins, lead judge and investigative journalist in residence for the CUNY School of Journalism, which sponsors the Ippies through the Center for Community & Ethnic Media.
Its editor-in-chief, David Cruz, also won a second place prize for Best Investigative/In-Depth Story, his second consecutive prize in the category (he had won first place last year). The award went for his work on the ongoing culture of noise in the Bronx.
"New York is generally a noisy place and how to make that subject into a good news story is a tough sell both to the editors and reporters, not to mention to readers," read Robbins. "But this reporter did just that, taking a long hard look at what north Bronx neighbors say about their urban war around them. And he found that while police and other authorities rarely respond to citizen complaints, some residents cite a ding loud enough as one long suffering Bronxite put it in the story, 'To raise the dead in Woodlawn Cemetery.' In a vivid and comprehensive story that included statistics and explanations from law enforcement and officials about why they can't do anything about noise problems and why it's so hard to fix, the Norwood News demonstrated that no story is too basic to tell."
Meantime, regular freelance photographer Adi Talwar took home a first place prize for Best Photograph. He was recognized for a photo he took at St. Ann Catholic School's recruitment pep rally on March 18, 2016. "This energized image illustrates a community flair. Near perfect timing and an unusual angle of view," Randall Pinkston, host of the Ippies awards, said of the photo.
"I'm so proud of all my colleagues who share in the prize," Cruz said. "They include my proofreader Judy Noy, freelance designer Mauro DeLuca, and freelance photographers/reporters David Greene, Miriam Quinones, Deborah Cruz, Tatyana Turner, and Wendy Joan Biddlecombe. I also want to recognize my former reporter and colleague Daniela Beasley (former reporter), and supervisors Melissa Cebollero and Jennifer Tausig. Other colleagues who deserve name dropping include Dawn McEvoy, Cid Rivera, Jason Caraballo, Mariela Salazar, and Luz Martinez."
The paper received an inaugural award for Community Coverage by the New York Press Club, the oldest journalism club in New York City. The award recognized David Cruz, Daniela Beasley, Deborah Cruz, and Adi Talwar for their continuing coverage on efforts to downzone parts of Bedford Park in the Bronx following major real estate interest for the neighborhood generated over the last few years. The stories looked at how city policy impacts a community on a micro level, talking to residents who prefer a suburban-like setting over massive development.
The awards take place on June 5.