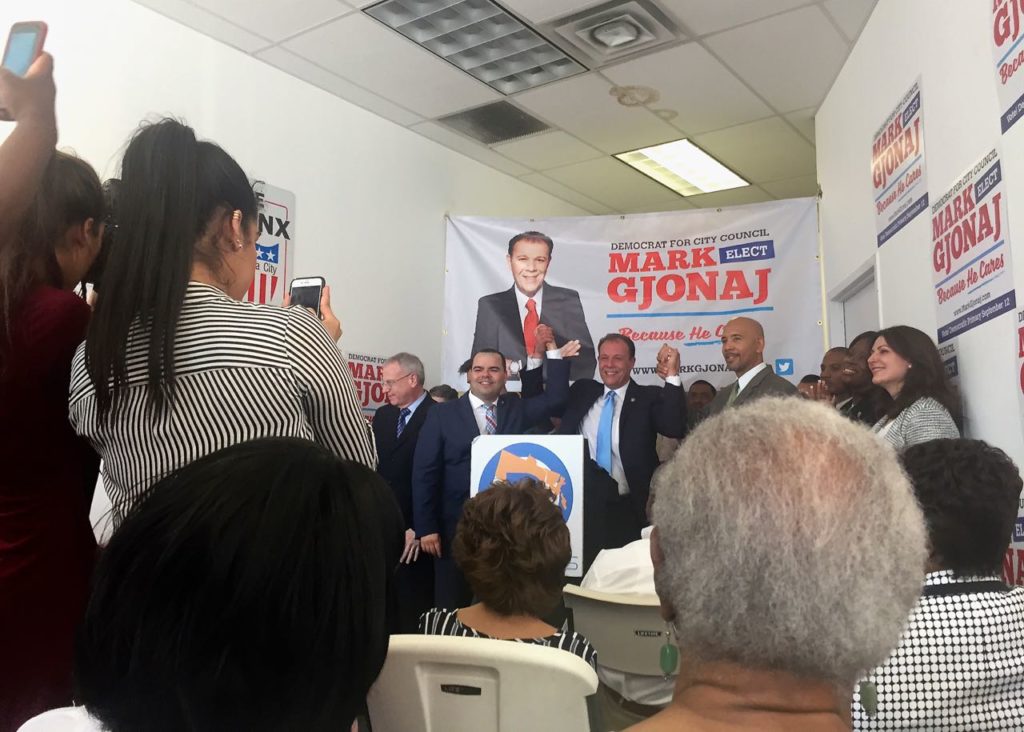 With signs backing Assemblyman Mark Gjonaj for the 13th Council District wallpapered around the Bronx Democratic County Committee's headquarters, the endorsement was clear well before a bevy of legislators officially threw support to the Norwood legislator.
"We work really hard at judging people by the body of work they put out. We work really hard to listen to the people in those communities. And we listen to each other as colleagues, 'who do we believe is going to bring that commitment to the job," Assemblyman and BDCC chair Marcos Crespo said at an endorsement "And make no mistake about it. We are standing here as a united coalition of Democratic leaders in the Bronx, as the Bronx Democratic Party to unequivocally support who we believe is the best candidate in the race. And who we believe will be the best Council Member for the 13th District…"
The official backing strengthens Gjonaj's chances at winning the seat for the 13th Council District, which blankets most of the East Bronx. It could also see a boost to his already robust campaign coffer, which now stands at $352,000. The race is crowded, with the Democratic candidates including Marjorie Velazaquez, John Marano, Victor Ortiz, John Doyle, Alex Gomez, and Muhammad Abuhaikal joining the race. This could very well split the Democratic vote, hurting their chances at coming out on top. Running on the Republican ticket is John Cerini.
Should Gjonaj win, it leaves his Assembly seat, which covers Norwood, open. It remains too early to know whether Governor Andrew Cuomo will call for a special election.
Social Conservative Bloc
His win would also add another social conservative to the Bronx Council delegation, with Councilman Fernando Cabrera labeled so. Gjonaj's also received political contributions from mainly right-leaning political action committees organized by the Rent Stabilization Association and Renew New York PAC, which is linked to Republican and former US Senator for New York Alfonse D'Amato. His right-leaning contributions have been balanced by largely pro-Democrats PACs including 32BJ.
Strengthening that conservative tone further is State Senator Ruben Diaz Sr., a social conservative minister vying for the 18th Council District seat currently held by the term-limited Councilwoman Annabel Palma.
The social conservative legislators would remain a minority when compared to Council members who peg themselves as progressive Democrats.
Gjonaj's Republican past prompted another Doyle, a rival candidate, to label Gjonaj a "closet Republican" in a statement sent to the Norwood News. Doyle, who had worked for Gjonaj's key ally and supporter, State Senator Jeff Klein, framed himself as a politico who will not go along to get along. "Our neighbors know my record of standing up to party bosses and working in their best interest. If that means standing up to the powerful and the politically connected then that is what I will do." Doyle also pointed out Gjonaj's $7,000 political contribution to the 2008 presidential campaign of Republican John McCain.
At the endorsement, Gjonaj said, "I know who I am. I work hard for this district."
"If being a strong advocate for middle class families, hard working families, including small business is defined by a party, then so be it," Gjonaj added.
In a statement shortly after the story ran, a spokesperson for Gjonaj sent a statement defending his Democratic stance.
"John McCain is a great American and a friend of mine. Today, under President Trump, I say we need more Republicans like him. I never cared about politics much until I saw President Obama and the Democrats try to pass healthcare. It was clear to me then which party cares about our families and my neighbors here in the Bronx. I not only proudly supported President Obama for reelection, but Hillary Clinton as well. I was proud to host former President Bill Clinton at the College of Mount Saint Vincent where, together, we led a rally for Hillary for America," Gjonaj said in a statement. "I am committed to progressive issues. This year's budget ensured that one in every six dollars was committed to public education. That's just one way I've helped deliver for these communities. This race is about addressing the quality of life issues that affect every resident in every neighborhood, and that's why so many of my fellow proud Democratic elected officials and the Bronx Democratic County Committee endorsed me today."
But Councilwoman Vanessa Gibson countered that Gjonaj's social conservatives mirror the 13th Council District's term-limited Councilman Jimmy Vacca.
"I see Mark and Jimmy having a lot of similarities and a lot of the issues that Jimmy championed before I believe Mark will champion as well," Gibson said. "Even the candidate, Senator Diaz; while he is conservative on certain issues I would argue he is progressive on every other issue."
Like Gjonaj, Gibson was an Assembly Member for the 77th District until she eyed a seat in the 16th Council District and won it. Indeed, it's common for an Albany legislator to make the shift to city government. The long hours driving to Albany, the comparatively paltry salary, and no member items can be a burden to legislators. Crespo said Gjonaj's case is different. "If Mark is interested in money he would've stayed in his private business and made a whole lot more than what he now makes as a public servant. So it is absurd for somebody to suggest that he's doing this for money," Crespo.
Councilman Rafael Salamanca, who attended the endorsement, seemed to underscore the Council body's stronger influence on neighborhoods when compared to the Assembly. "You get member items where you can really make a change respectively in your communities," Salamanca said.
"Listening to Raf, I may have to reconsider what I'll do next," Crespo jokingly said.
The 13th Council District represents a larger swath of the Bronx, covering the neighborhoods of Morris Park, Throggs Neck, Edgewater Park, Silver Beach, City Island, and Pelham Parkway. The area has a high concentration of registered Republicans.
Vacca, who's held the seat since 2006, has opted to back Velazquez, district leader for the 82nd Assembly District. The two have a close relationship thanks to Jeff Lynch, Vacca's former chief of staff and Velazquez's husband.
One political insider pegged Gjonaj to be the winner. "Obviously, he is steamrolling with his campaign. He's bringing in big bucks. He's got County, including [Bronx Borough President] Ruben Diaz Jr. It's his race to lose."
The primary is scheduled for September 12.