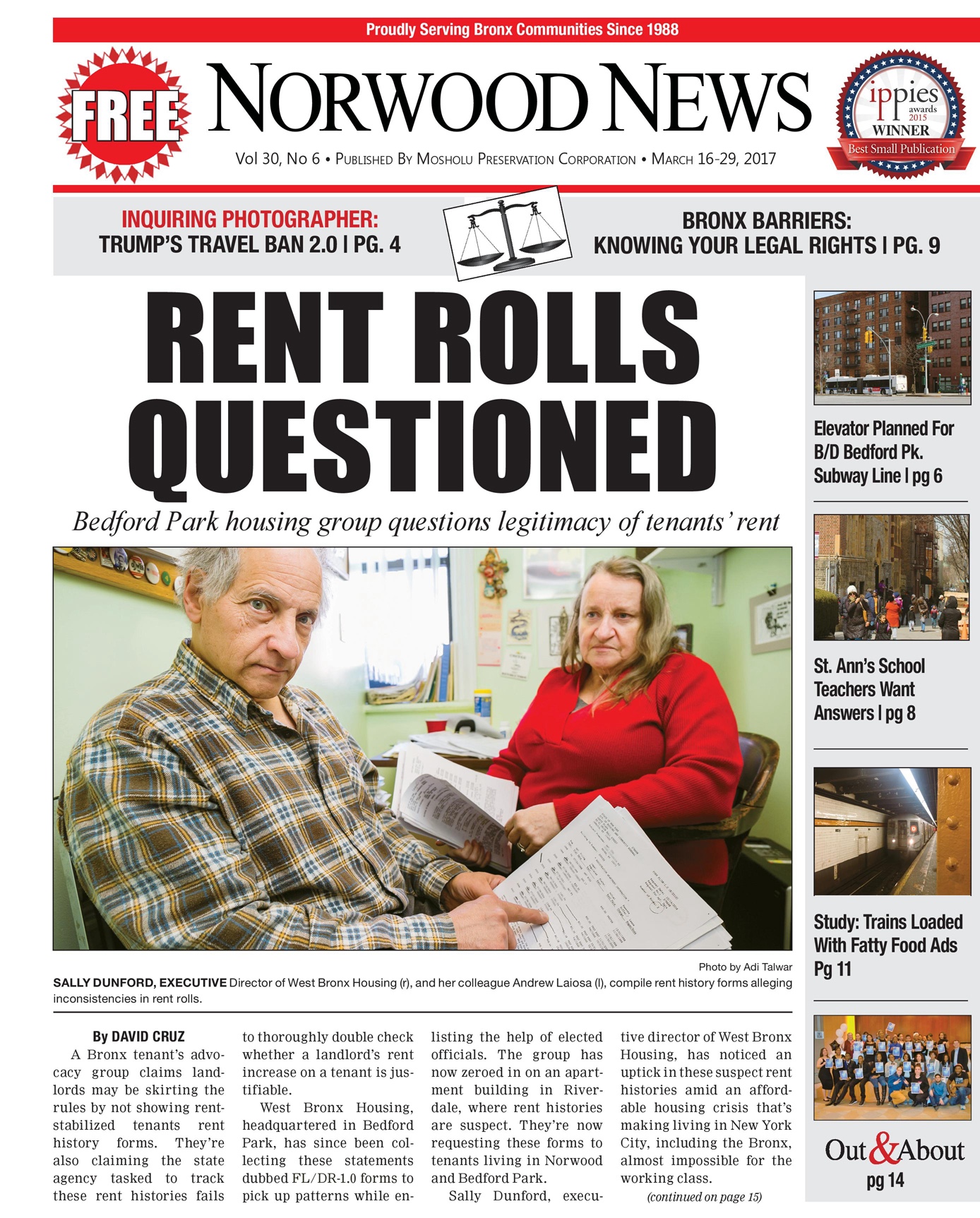 Dear Fellow Readers,
The latest edition of the Norwood News, covering the northwest Bronx, with dropoff locations at 300 places, is out with plenty of community news you can use. We begin, of course, with page one, and some mea culpas.
The front page story focuses on West Bronx Housing's attempt to shed light on what they believe is a nagging issue across the Bronx–landlords using deceptive tactics to pump up rents on unsuspecting new tenants. Read why the group's executive director take on these rent registration forms and the state agency tasked to keep track of them. Before going into the inside the cover, a more succinct version of this article will be posted in the coming hours. We apologize if there was any confusion with this article.
Moving on to some inside the cover stories: reporter Dylan Croll takes a look at a Twitter account that could be the bane to the NYPD. Read about Placard Corruption and why its creator wants to stay anonymous for as long as they can. We then bring you a feature story on teachers outraged over plans to close the local St. Ann's Catholic School. Speaking to the paper, a group of teachers is simply demanding answers.
We continue our series with WFUV entitled Bronx Barriers, where part three of this five-part series focuses on the benefits to knowing your judicial rights. WFUV reporter Rebecca Lewis takes a deep dive into the issue.
Finally, we have your usual staples–Out & About, Neighborhood Notes, and Inquiring Photographer–all intended to tickle your senses. So take a look at the latest edition of the Norwood News. We hope you enjoy the content. As usual, reach out to me at dcruz@norwoodnews.org for comments or questions.
Til' Next Time!
David Cruz
Editor-in-Chief, Norwood News