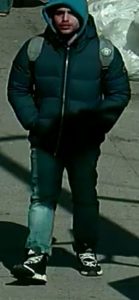 Elderly Man Attacked
An 88-year-old man was attacked on a Bedford Park street on March 6. Police say the victim was walking at the intersection of Briggs Avenue and East 196th Street when a young man between the ages of 15 and 20 randomly attacked him, hitting the victim in the face and taking off on foot. Nothing was stolen and the victim turned down any medical attention at the scene. The suspect is described as a male Hispanic with a medium complexion, brown eyes and black hair. He was last seen wearing a dark blue jacket, blue hooded sweatshirt, blue jeans and black and white sneakers.

Stray Bullet Hits Five-Two
Police are scratching their heads over who fired a bullet into the back of the local 52nd Precinct stationhouse during the overnight hours of March 2. Deputy Inspector Peter Fiorillo, the precinct's commanding officer, said no one was hurt. Police are still investigating.
Book Bag Thieves Wanted
A pair of thieves (pictured) are on the run after police say they attacked and robbed a young person. The robbery happened in front of 138 W. Fordham Rd. around 3:45 p.m. on March 3, according to police. The victim was hit in the face and shoved to the ground where the suspects robbed him of the book bag. One of the thieves was seen wearing a face mask.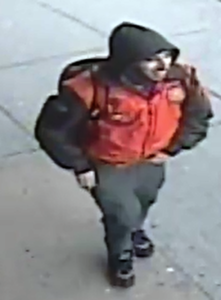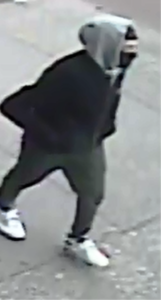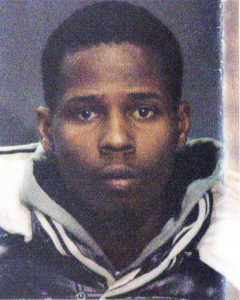 Cops Hunt Shooting Accomplice
A person in connection to a shooting that happened on Feb. 8 in front of 240 E. 194th St. in Bedford Park remains on the run, and police are looking for him. Marcos Figueroa (pictured) is described as a black Hispanic, standing at 6' 2", weighing roughly 190 pounds and has black hair. He hasn't been seen since the shooting.
Knife Wielder
Police continue their search for a man wanted for stabbing an 18-year-old inside a bodega during the overnight hours of Feb. 21. Police say the suspect entered the bodega at 77 E. Kingsbridge Rd. and made threatening gestures to the clerk. He was captured in surveillance video showing off two knives, then turning to the victim, who was off screen, and stabbing him. The suspect (pictured) is described as black, and last seen wearing a black jacket, and a red baseball cap.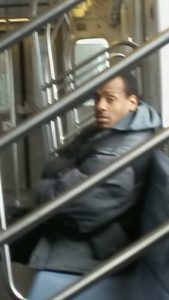 Subway Perv Wanted
A man captured on video is suspected of exposing himself to a woman on board a #4 northbound train. Police say it happened on Feb. 19 just after 11 a.m. just as the train was approaching the Mosholu Parkway train station. The man is described as black between the age of 40 and 50 years old, and last seen wearing a black winter jacket, gray hooded sweatshirt underneath, dark pants, and sneakers.
Anyone with information with regard to any of these incidents is asked to call the NYPD's Crime Stoppers Hotline at 800-577-TIPS or for Spanish 1-888-57-PISTA (74782). The public can also submit their tips by logging on to the Crime Stoppers Website at WWW.NYPDCRIMESTOPPERS.COM or texting their tips to 274637(CRIMES) then enter TIP577.