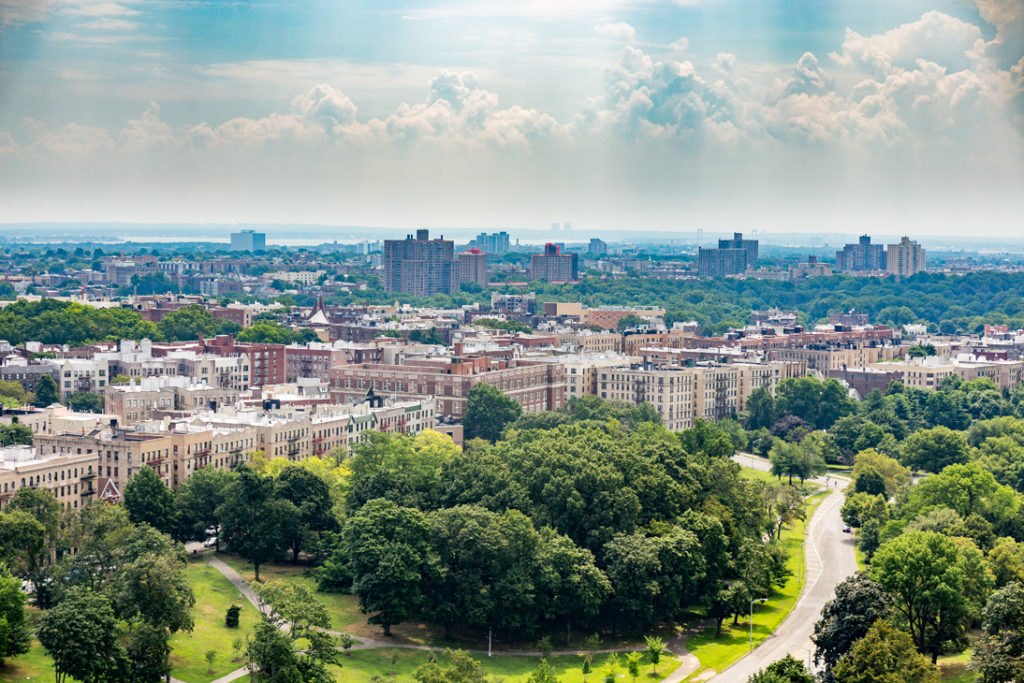 A grassroots effort to limit height restrictions for new buildings along Mosholu Parkway crossed another hurdle as city officials agreed to consider examining downzoning efforts along the parkway next year. The move comes amid Community Board 7's independent zoning study of two neighborhoods within its borders as a way to preserve its character while stemming further development.
The group won a victory at the latest CB7 Land Use/Housing Committee meeting on Feb. 15 when the New York City Department of City Planning (DCP), charged with determining the character of neighborhoods across the five boroughs, assured the community it will assess the look of the neighborhood. A motion presented before the full board at its Feb. 28 meeting was passed, with board members agreeing to revisit the proposal by the fall. The board first needs to finalize another separate independent study it had commissioned last November.
"In five months it's been turned from what some called a nonstarter to a mayoral issue," civil activist Anthony Rivieccio, who proposed the idea for a blanket rezoning of Mosholu Parkway and its immediate side streets, told the Norwood News.
The plan, backed by local legislators and residents, looks to prevent overdevelopment by changing current zoning distinctions. Mosholu Parkway, the tree-lined roadway that divides Norwood and Bedford Park, presently holds R5, R5B, R6B, R7B, and R8 zoning distinctions, allowing buildings to go as high as 10 stories on side streets and upwards to 17 stories on main roads. Rivieccio has lobbied the city to mandate construction of any new buildings to conform to an R5 zoning distinction, or buildings that only go as high as four stories, keeping the look of the neighborhoods intact.
With Bedford Park and Norwood piquing the interests of developers, residents have sought to maintain its overall character by limiting the height. In some cases, as community activist Samelys Lopez sees it, the community should "make a concerted effort to protect the character of our neighborhoods and should consider cataloging buildings and structures in our community that should be granted historic preservation landmark status to ensure that they will not be displaced by market forces."
So far, interest in the neighborhoods has increased, with developers working their way into Bedford Park's intricate network of streets. Along East 202nd Street near Briggs Avenue, for instance, developer Peter Fine purchased a two-story property with interest in building a much taller building within a narrow street. The news prompted residents to convince Community Board 7 to hire a consultant to conduct a study of the neighborhood and nearby Kingsbridge Heights, hoping a formal report delivered to DCP can convince them to lower the zoning codes.
Homes at Stake
An analysis by the Norwood News found there to be 233 two- to three-story homes that occupy land on or around Mosholu Parkway, between East Gun Hill Road and Webster Avenue, and several side streets that include East 201st Street, Perry Avenue, Bainbridge Avenue, and Decatur Avenue on each side of Mosholu Parkway.
East 201st Street, west of Mosholu Parkway, stands as the most suburban-esque portion of Bedford Park, given its line of two- to three-story homes that occupy the neighborhood. That portion, with pockets of the neighborhood deemed an R7B and R8 zoning district, which allow for seven- to 17-story buildings, could see the most drastic changes should current zoning remain. Proponents of downzoning fear developers will offer homeowners hefty buyouts to vacate the property, clearing developers to build taller apartment buildings, thus altering the look of the neighborhood and congesting it.
Mayor's Town Hall
A week after the committee meeting, Community Board 7 took their message to Mayor Bill de Blasio at a town hall meeting organized by Councilman Andrew Cohen. Adaline Walker-Santiago, the Board's chair, pressed upon de Blasio to endorse the downzoning.
"Our board is like Candy Land to the developers," Walker-Santiago told the mayor. "Every time we have a meeting, once a month in Land Use [Committee], it's filled with developers coming in telling us what plans they're taking."
De Blasio's response offered little in the way of whether he would back the proposal come next year. Sidestepping a response specific to the downzoning question, de Blasio focused instead on development that would place schools in newly built developments. "Sometimes that works," de Blasio said. "Right across from City Hall, there's a big tall skyscraper with a school in it."
Whether he backs the proposal or not, de Blasio needs to first win re-election this year should he back the proposal.
So does Cohen, whose district covers Norwood and Bedford Park. Though he's left it up to residents to determine the neighborhoods' future, Cohen would be the deciding factor should the downzoning proposal advance to the Uniform Land Use Review Procedure (ULURP) since Council Members usually honor the position of its local members.
Through a spokesperson, Cohen remained passionate about preserving the eclectic nature of streets surrounding Mosholu Parkway, though he didn't elaborate further.
Additional reporting by Wendy Joan Biddlecombe. Research by Adeline Hanssen.