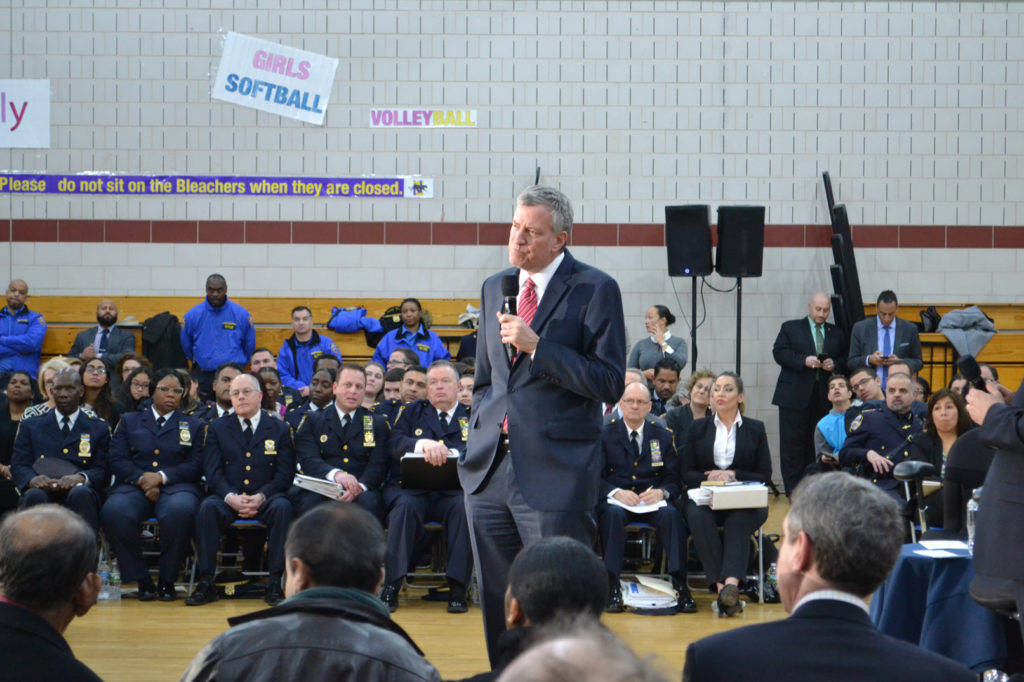 Although Mayor Bill de Blasio's town hall meeting was held in the Kingsbridge neighborhood of the Bronx, the mayor heard from Norwood residents, who brought issues of parking and overcrowding to his attention.
Throughout the event, held at In Tech Academy on Tibbett Avenue and moderated by Councilman Andrew Cohen, the mayor addressed Bronxites' questions on national issues as well as local concerns, including immigration, healthcare and education.
"This is a city where we're passionate people. When you look at the tabloids, you look at the news, there's a lot of feeling, a lot of emotion. And I think we can safely say good news doesn't travel as fast as bad news. But we have a lot to be proud of," the mayor said in his opening remarks.
De Blasio touted key issues of his administration, including record-high graduation rates, expanded pre-K enrollment and neighborhood policing, and Vision Zero efforts to decrease traffic-related fatalities. De Blasio then fielded questions for the next two hours and 20 minutes.
Community Board 7 Member Lowell Green, who chairs the parking and transportation committee, used her question to the mayor to instead make a statement on the district's congested streets.
"I've lived in this neighborhood 30 years," Green said. "When I moved in, I was the only woman in my building who had a driver's license. Now everyone in this room has a driver's license, and if you have kids you probably have two cars, or three. Parking is impossible in this neighborhood."
Green worried that while construction of new housing is under way in Community Board 7, particularly Bedford Park and Norwood, parking lots are not being planned, an issue that the mayor noted he was not previously familiar with.
De Blasio commiserated with Green, telling her that he watched the same problem develop in his Brooklyn neighborhood over the years. The mayor said it's important to expand and "keep mass transit appealing as possible" as more people move into an area.  De Blasio mentioned the city-wide ferry service that is set to launch later in 2017 (which will connect to Soundview in the southeast Bronx), a proposed light rail line that will run from Astoria, Queens, to Sunset Park in Brooklyn, CitiBike expansion (which is not available in the Bronx), and expanded Select Bus Service.
"I don't have the perfect answer," de Blasio said.
Meantime, Community Board 7 Chair Adeline Walker-Santiago urged de Blasio to commit to downzoning Mosholu Parkway as a way to preserve the green corridor and combat an area that she called "candy land" to developers. The mayor did not directly respond to her request (see front page story for more information).
The town hall was far less contentious than other town-hall style gatherings held across the country last week as federal lawmakers visited their home districts during a recess. The audience clapped as the mayor plugged his successes and were enthusiastic when one audience member asked the mayor to commit to a Bronx greenway, and when another asked the mayor to divest from any other institution that lends to the now revived Dakota Access Pipeline plan.
The mayor also reiterated New York City's commitment to being a safe haven for those who immigrate illegally or overstay their visas.
"When you hear those words ["sanctuary city"] a lot of people interpret them different ways. I interpret them through the perspective of the NYPD," de Blasio said. "This city made a decision long ago … that said if you've got a city with a proud immigrant tradition and millions of people are here from other countries, including as many as half a million that are undocumented … we have to find a way to communicate and all work together."
De Blasio added that the goal of his administration is to not make New Yorkers fearful of going to the police or other city agencies because of their legal status.
"The NYPD is not going to be turned into immigrant enforcement agents, we refuse to do it," De Blasio said later in the evening. "We know what we will do, and what we won't do."