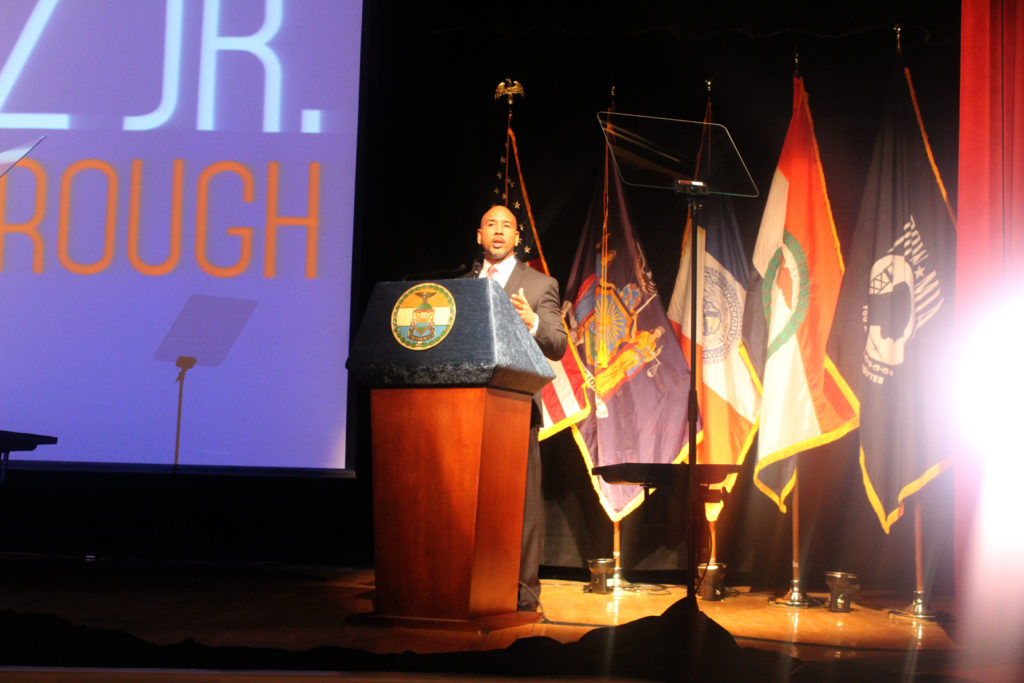 Borough President Ruben Diaz Jr. once again lightly dabbled with the prospect of becoming mayor of New York City in his latest annual State of the Borough Address.
Discussing citywide issues, he took aim at both Mayor Bill de Blasio and President Donald Trump.
Diaz's eighth annual speech, delivered at JFK High School in Marble Hill, drew 89 rounds of applause during his 47-minute delivery, as he summed up a number of the borough's achievements, while it was light on new, lofty initiatives.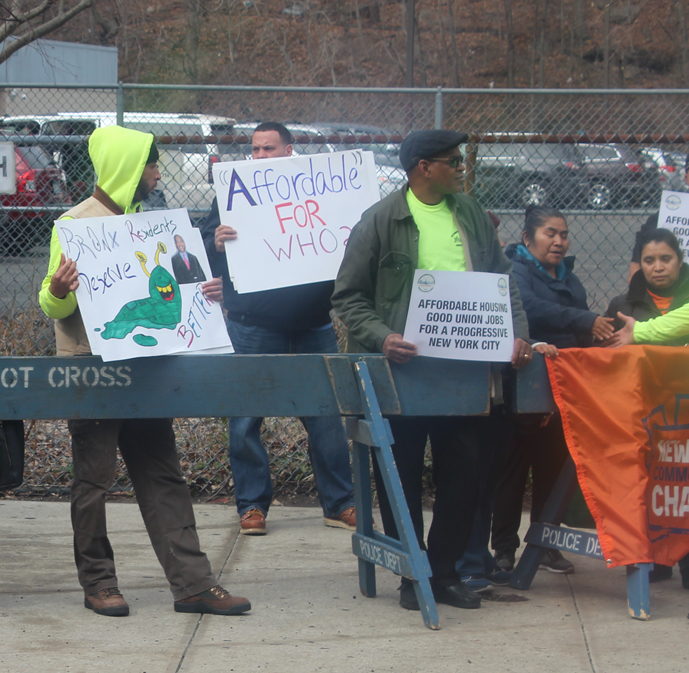 Diaz was short on new proposals, while adding to previously announced proposals, which had included installing a deck atop a 13-acre train yard in the South Bronx for redevelopment, and a $50 million infusion of capital monies for the rebuilding of the Orchard Beach pavilion.
Diaz soon went on the offensive, attacking the city's response to the homelessness crisis, poor quality of life at city housing project, and attempts to rezone a large swath of Jerome Avenue with little input from its working poor residents.
On the upside, Diaz noted some of his own accomplishments, including the rollout of an online grocery program for food stamp recipients, and the introduction of an HIV/AIDS education and training program called "HIV and Me."
As in previous speeches, Diaz played his role as borough booster, mixing development with progress, stressing the creation of new jobs, new properties, and a renewed interest in living in the Bronx. He conceded that "life is certainly not perfect in our borough and our city."
He struck a less conciliatory tone towards the city, chiefly aiming at Mayor de Blasio, who is running for reelection.
A January poll by Quinnipiac University showed 35 percent of supporters approve of de Blasio's run for mayor compared to Diaz's five percent showing. And unlike last year's speech, where he hinted at a run for mayor, Diaz sidestepped the prospect this time, leaving it unclear whether he is not ready with citywide recognition or campaign cash to run this year. Waiting it out, however, could see him facing a large field of candidates for the 2021 election.
Still, Diaz didn't let de Blasio off the hook. Diaz directly criticized the mayor for ignoring the need for increased seats at city high schools. "We still await his response," Diaz said in his speech, noting he had personally written to him about the problem.
The borough president did praise the mayor's wife, First Lady Chirlane McCray, for her work in expanding services for the mentally ill.
Name dropping, a key tactic in Diaz's prior speeches, remained a hallmark in this speech. He once again praised his Albany ally, Governor Andrew Cuomo, who last month approved a $108 million to developers of the Kingsbridge National Ice Center, a mega project that would cast Diaz as an influential politico should it advance. The project, which was approved by the Council in December 2013, has faced a number of setbacks in the years since then.
"Let's hurry up and let's get it done," Diaz said, earning a loud round of applause.
Diaz did not spare President Trump, blasting his immigration policies that have instilled fears among undocumented immigrants.
"Forty percent of all Bronx residents were born in another country, and we embrace this diversity wholeheartedly," said Diaz. "Without our amazing immigrant population, we would not be what we are today."
Diaz was not spared criticism from union officials outside the school by union officials, claiming he's done little to convince construction firms to hire union members to do the work at a new affordable housing project affiliated with St. Barnabas Hospital.
"We're hoping he supports us," John Cumberland, a union officer from the Local 580 Ironworkers union, said. "Saying and doing are two different things."
"Maybe he could sit down with these developers and try to help them create careers for these people instead of jobs that last until the building's open," Patrick Bonici, a member of Local 7 Tile, Marble and Terrazzo, said.
Diaz was unavailable to speak to the press shortly after his speech.