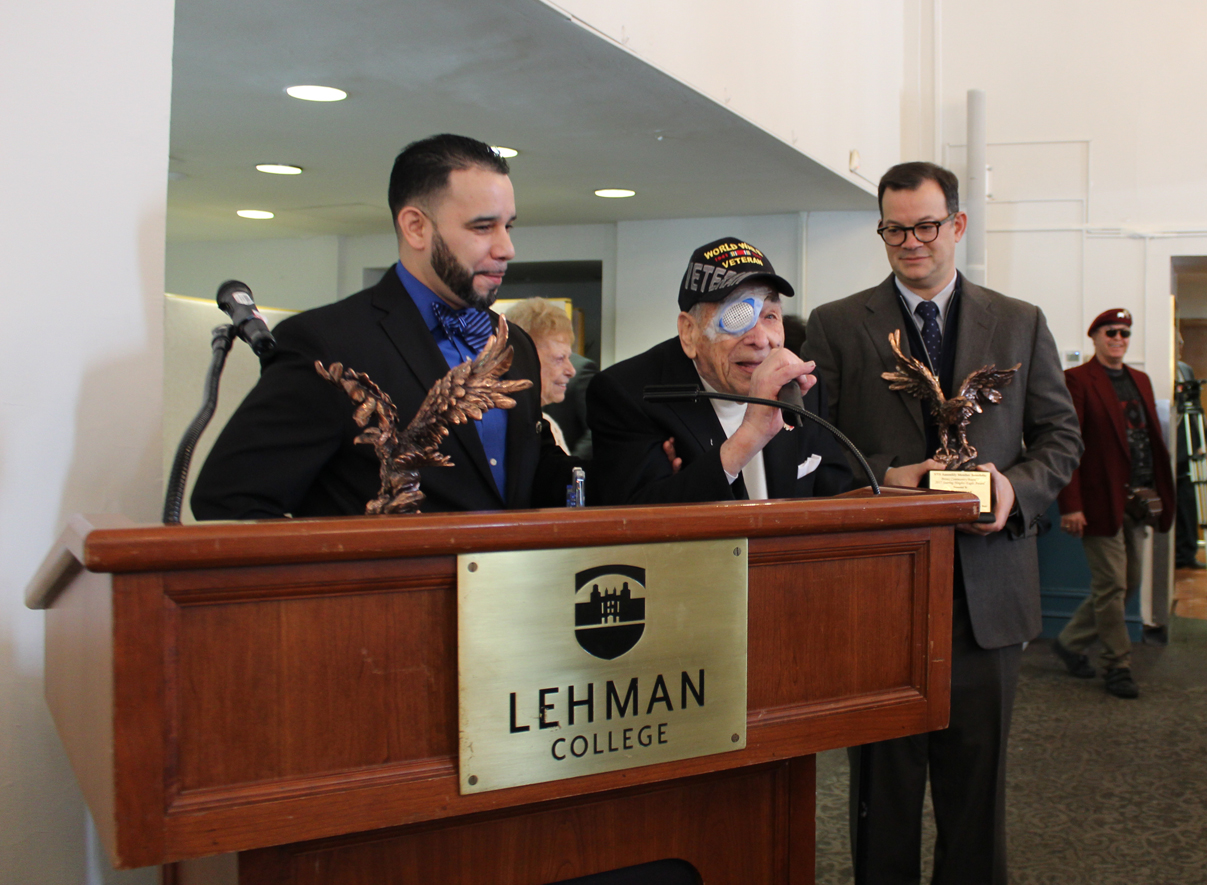 For Community Board 7's Robyn Saunders, you can't salute a veteran enough. The scion of a family of veterans, Saunders sees service to country as a crucible that should never be overlooked.
"I just don't want us to forget," Saunders told the Norwood News midway through a recognition breakfast honoring veterans whose service to country goes back to World War II. "They protect us even when we're unaware they're protecting us."
Saunders and CB7 organized the breakfast on Feb. 10 at Lehman College, with the school's Office of Veterans and Military Affairs sharing hosting duties. The ceremony saw 19 living veterans from around the borough honored, while also drawing a large chunk of elected officials stopping by to thank them. And for most of the recognized, the awards were presented by a loved one or a friend.
Joseph Binder, a Navy veteran who served during World War II, stood among those being honored. A resident at Providence Rest nursing home in the Country Club section of the Bronx, Binder surprised guests and veterans alike when they learned he was 106 years old.
"I've worked very hard since I was eight years old and when I went into the Navy, I worked just as hard. I did a good job, and the captain told me he kept me from shipping out because he didn't want to lose a good man," Binder, who served as a cook, said. His longevity and service earned him major applause from guests.
The event drew career military veterans, including Retired Brigadier General, Dr. Loree Sutton, currently the commissioner for the New York City Department of Veterans Services, an agency created under the de Blasio Administration. The agency is intended to "improve the lives of all veterans and their families, regardless of discharge status," according to its web page. In November, the agency built and found homes for 16 homeless veterans in the Concourse section of the Bronx.
Local veterans were honored, including Anthony Rivieccio, a Navy veteran who spent part of his tour of duty in a submarine. Rivieccio is known in the Norwood and Bedford Park communities as a neighborhood activist.
Other honorees included Latisha Russaw, Tiffany N. Barker, and Ayana Ahmand of the Air Force, Stanley Scriven of the Marines, Marco A. Bongianni, Joseph A. Bello Robert Eppich Jr. of the Navy, Johnnie R. Brooks, Johnnie H. Williams Jr. and Irvin Queens of the Army, and Michael C. Alford whose military branch was not disclosed. Shawn C. Kingston of the James J. Peters Veterans Administration Medical Center was the only honoree not to have officially served in the military, according to the program.
Community Board 7 stands as the city's first civic panel to have created an official veterans committee, which formed in 2015 to address issues for military veterans. The board's boundaries include Kingsbridge Heights, home to the James J. Peters Veterans Administration Medical Center. Overall, some 35,000 veterans live in the Bronx with 5,000 of them living within Community Board 7's boundaries, according to U.S. Census figures.
The program showed the ceremony to be the first annual, signaling perhaps a return of the ceremony next year. For Saunders, holidays or events should not signal the sense of gratitude veterans deserve for only one day. "It's not just about Veterans Day or Memorial Day; it's about every day," Saunders said.