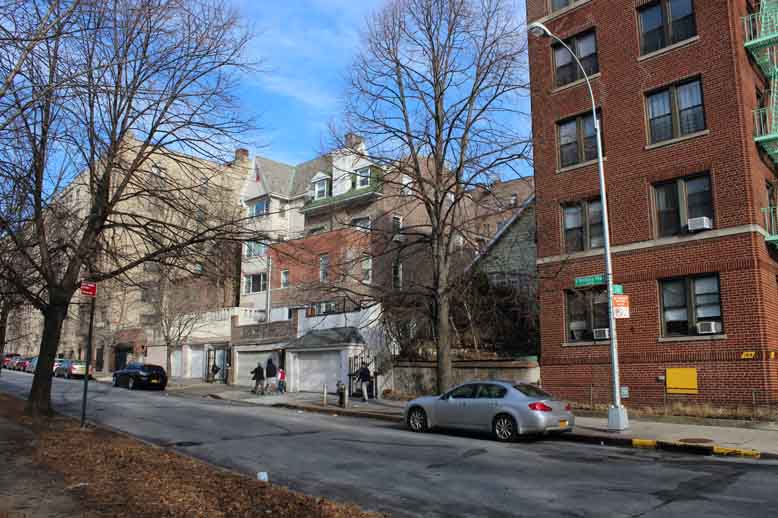 Anthony Rivieccio, a community activist known to harangue developers chipping away at Bedford Park's past and present, has a surefire way to stem development: restricting building size.
That idea is already being examined by Community Board 7, which hired an urban planning consultant to gather testimonials on neighborhood needs, which appear to trend towards a more suburban-like setting. Her hiring was intended to follow up on a promise the New York City Department of City Planning made to the community in 2011, ensuring that it would revisit a proposal to downzone parts of Bedford Park, which include Mosholu Parkway, the stretch of road lined by narrow streets.
But Rivieccio wants to take it a step further by asking that all of Mosholu Parkway be zoned an R5, including side streets linked to the roadway. So far he's received support from the community via letters that will be presented to CB7 to formally request the Board's hired urban planning consultant, Paula Caplan, to include all of Mosholu Parkway in the study. The proposal comes amid the city's plan to drive up building activity across the five boroughs.
"I'm hoping within that decision she will consider all of the draft letters she'll be receiving," Rivieccio said, referring to Caplan, who's currently reviewing zoning feasibility for parts of Bedford Park and Kingsbridge Heights.
Mosholu Parkway, and its adjacent streets, are already built out and given various zoning distinctions that allow for a maximum of 14-story buildings. Rivieccio's proposal would grandfather existing buildings but force new buildings to conform to an R5 distinction, or buildings with four stories maximum, retreating back to a time when Mosholu Parkway stood dominated by six-story apartment buildings circa 1920s. 
"This is a hope for what I call future protection of the Mosholu area," Rivieccio said.
Over the last few years, the neighborhood has attracted developers, thanks to a comparatively low crime rate and abundance of public transportation. The area still remains rent burdened, with 36.7 percent of residents setting aside more than 30 percent of their take home pay on rent, according to figures compiled by the NYU Furman Center, an urban housing research group.
Rivieccio's taken to Facebook to get his message out. Among supporters favoring his proposal is the Bedford Mosholu Community Association. Its president, Barbara Stronczer, who doubles as a CB7 member, justified the support.
Along the parkway, residents supported more building. While James Sasser said as long as developers "don't mess with" Mosholu Parkway's green spaces, a resident who only went by Michael called more building a "necessary thing." Meantime, Angie Perez, another resident walking to her home on Mosholu Parkway asked, "Why build two" when you can "build a building that's high enough" for everyone?
Councilman Andrew Cohen, the district legislator who favored the zoning study, is deferring to CB7 to decide whether it wants to expand the study, hoping the end result will "strike the right balance" and allow for "reasonable downzoning that will still permit development but will also try and preserve the character and the mobility of the neighborhood."
Community Board 7 is expected to take up the measure on Jan. 18 by its Land Use/Zoning Committee.
Editor's Note: Rivieccio authors online personal finance articles for the Norwood News. The Land Use/Zoning Committee meeting is open to the public, with residents encouraged to offer input on the proposal.