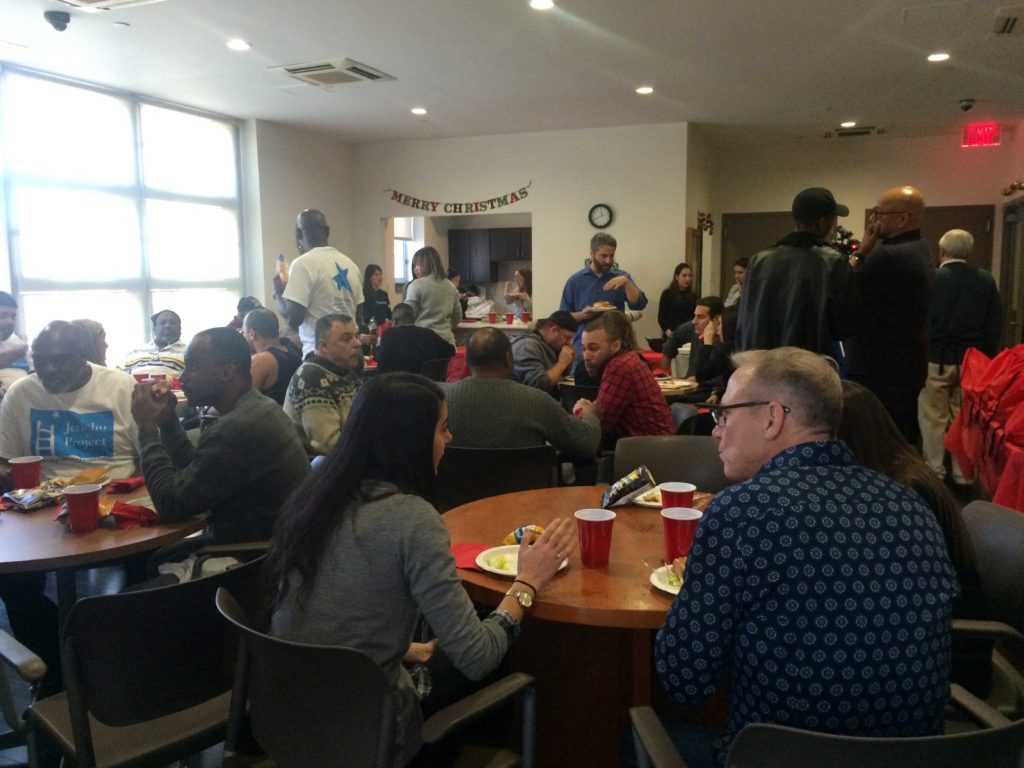 An abundance of red gift bags were spread out on a table surrounded by gold, red, and green stars that decorated the walls of Kingsbridge Terrace, a home for formerly homeless veterans operated by The Jericho Project.
Chairs and tables abutted a brightly lit and decorated Christmas tree with a sign that read, "Merry Christmas." The front of the room filled with volunteers placing plates of sandwiches, cookies, soft drinks, and finger food on the tables. And Tori Lyon, CEO of The Jericho Project, oversaw the room, mingling with staffers at the First Annual Day of Action happening at six other of its supportive housing sites.
The Jericho Project is a service that helps youth, veterans, and families who have suffered with homelessness. "The most important thing that we want is to raise awareness about homelessness that I think a lot of New Yorkers see," said Lyon. "It's such a visible problem and people feel like there's nothing they can do about it."
A study by the Coalition for the Homeless released in October shows there were 62,306 homeless people in New York City, the highest number in decades. Those homeless included families and children.
Darold Cox and Reginald William are among those calling Kingsbridge Terrace home. "I was in the streets homeless, trying to survive," said Cox, "having the support of the staff here, knowing that if I do need something I can come to them and they will help me in any way they can." Cox left the struggling with substance abuse.
William became homeless after losing his job at Brooklyn Hospital while battling depression. "After the second month at my job my brother passed away, 30 days to the day my mother passed away, and I was destroyed. I didn't realize I was falling into depression," said William. Six months after the death of his mother William could not function at his job in Brooklyn Hospital and lost his job. Spiraling downward he went from shelter to shelter looking for a permanent housing unit. He ran into The Jericho Project in 2012.
"The change was dramatic, just the fact that I could stick a key in my door, it was fascinating," said William joyfully.
The 33-year-old non-profit emphasized the importance of their new event since it gives the group's corporate sponsors the chance to volunteer and give back.
Proskauer, a major attorneys firm, is among the companies partnering with The Jericho Project and attending the event.
"We have what we call Pro Bono work, corporate social responsibility, so we do free legal work for organizations and individuals, community service projects and we also do charitable giving," said Bill Silverman, partner at Proskauer. "The veterans are one of our priorities."