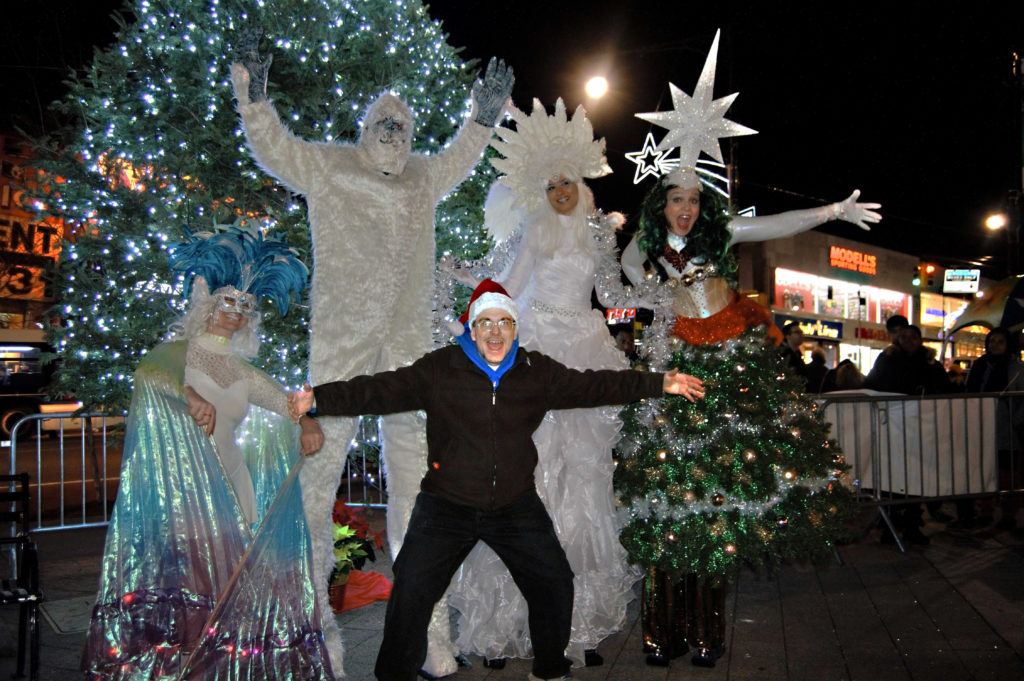 After a successful year of outdoor movie nights, sidewalk sales, family events, and a huge street fair, the Fordham Road Business Improvement District (BID) wrapped up a terrific year with its 12th Annual Sparkling the Heart of Fordham holiday event on Friday, Dec. 2 at Bryan Park. Over 2,500 people attended and enjoyed live music, free raffles with prizes and 600 free toys distributed by Santa Claus. This year's presenting sponsors included Macy's Backstage, Monroe College, local New York City Council Member Ritchie Torres and WellCare.
The BID's 2016 Summer Film Festival was its most successful to date. The festival featured classic films of the '60s, '70s, and '80s, concluding with a screening of "West Side Story" in Fordham Plaza and "E.T." in Bryan Park. "West Side Story" drew an attendance of more than 700 people, which included hundreds of students from nearby Fordham University. Denizens of Fordham Road are looking forward to a new series of classic films in the summer of 2017.
This year also saw the BID hosting eight sidewalk sales, giving merchants the opportunity to show off their wares to the thousands of shoppers visiting Fordham Road every day. The final sidewalk sale of 2016 took place on Nov. 26 to honor "Small Business Saturday."
This was not, of course, the last opportunity to get a good deal on Fordham Road. Currently shoppers can receive a 10 percent discount at nearly 60 of Fordham Road's hottest shopping destinations when they present either a program advertisement/coupon/invitation or a MetroCard. Additionally, to ensure shoppers can enjoy the holiday season safely, the BID is providing uniformed security patrols along Fordham Road through New Year's Eve.
The BID is gearing up for a busy 2017. To stay connected with the BID, visit www.fordhamroad.nyc or download the Fordham Road app, available in the Apple Store and on Google Play. You can also follow the BID on social media: @FordhamRoadNYC and #FordhamRoadNYC. The website, social media pages and free app give you access to information about programs and events hosted by the BID along Fordham Road all year round.