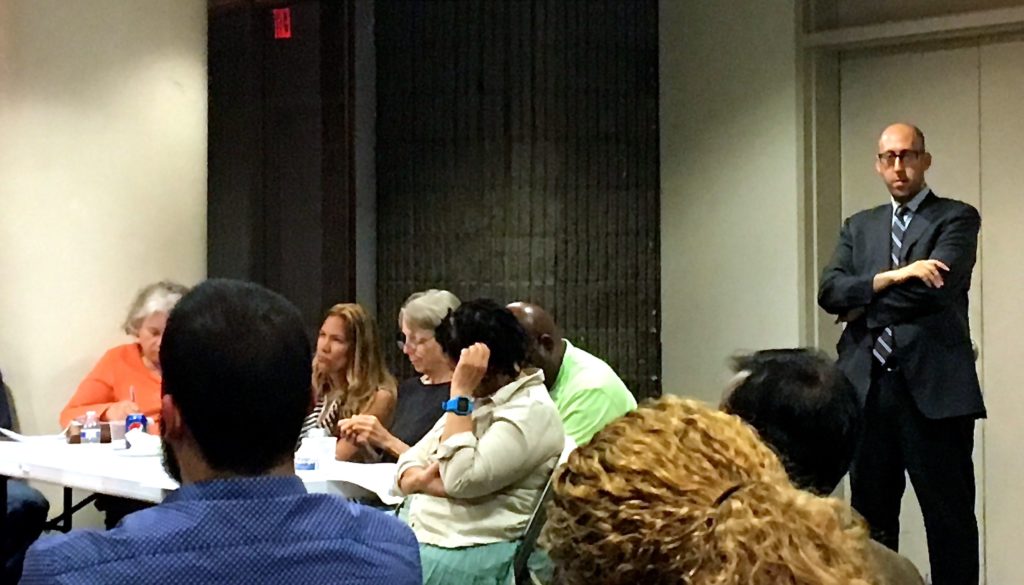 It was the kind of crucible Andrew Sandler thought he passed, only by the end of the night he realized he had more to go.
Eight months after Sandler, Community Board 7's District Manager, was hired, members voted on Oct. 18 to extend his probationary period into February 2017, continuing the fractious relations members have had with the rotation of its district managers in the last four years.
Prior to the vote at the community board meeting, several people defended Sandler, criticizing the board's experience with Sandler's predecessors. Since 2013, CB7, which covers Norwood, Bedford Park, Kingsbridge Heights, Fordham, and University Heights has seen three DMs leave their posts, an unusual turnover rate when compared to other boards.
"I don't think he should have a probation period. I think he's an excellent worker and we should leave him alone," said Elizabeth Thompson, representing Kingsbridge Heights Neighborhood Improvement, a community group, garnering applause from people in agreement.
"As I have seen this board now with four district managers," said Robert Press, a Bronx resident and blogger of Bronx news, "I think this board will be making a big mistake if they don't give him a permanent [position]."
Alina Dowe, a mother and Bronx resident, listed Sandler alongside CB7 chair Adeline Walker-Santiago and board member Robyn Saunders as she conveyed that "If we're [CB7] going to be looking for people to stick around, then these are my go to people."
The motion to extend Sandler's probation back in September was said to be the result of a staff decision Sandler made without the board's approval. However, to some, it implied possible animosity between Sandler and Walker-Santiago.
Charges of Retaliation
Sandler was caught in the crosshairs of CB7 after he allegedly allowed an office employee to use a city-owned computer to handle tasks from home while they took care of a personal matter. Sandler was also reprimanded for granting vacation time to a second community assistant while the first was still away on personal business.
But sources told the Norwood News that the charges was retaliation against Sandler after he reported to the Borough President's Office that Walker-Santiago had used company stationery to persuade an employer into hiring a friend of hers, a violation of the city's Conflicts of Interest.
"Andrew went to them [BP office] and said here's this thing you need to take care of this. Then they talked to her and then that was it," said a source familiar with the infighting, but asked not to be named.  "Now, Adaline is being retaliatory for Andrew speaking up on things that should have been spoken up on."
In a statement, a spokesman for Bronx Borough President Ruben Diaz Jr. acknowledged the "issue was brought to our attention," though he didn't elaborate. "It was resolved, and we've moved on," said John DeSio, communications director for Diaz.
Walker-Santiago said it was nothing more than a mistake and the letter was switched over to her own stationery the same day, after being made aware that using the CB7 letterhead in this way was inappropriate.
"There was no retaliation to anyone," Walker-Santiago said of accusations of having an ulterior motive in prolonging Sandler's probation. "We're trying to help him with leadership coaching."
Sandler declined to comment for this story.
A Balancing Act
The district manager's position is described as a liaison between the community and city agencies, but, unlike board member or the chair, is a paid city employee. The City Charter of the City of New York states that district managers serve at the pleasure of the board, creating a system of checks and balances between those the all-volunteer board and DM. DMs do not receive any training.
"It's not an easy job," explained Jeremy Warneke, DM for Community Board 11, representing the east Bronx. "There's a lot of internal politics that people aren't aware of.  Andrew probably didn't know what he was getting into either."
Sandler replaced Dustin Engelken who resigned back in September of 2015, followed by talk of a testy relationship between him and Walker-Santiago. Sources have told the Norwood News his relationship with Walker-Santiago was the real reason he left his position, using the cover of his wife's new job overseas as reason for his departure.
"Adaline has a track record already. She's going to go through two DMs. If Andrew is her third, I think that reflects poorly on the board," said George Torres, DM of Community Board 12.
The board will revisit the terms of Sandler's probation come February.
Additional reporting David Cruz.