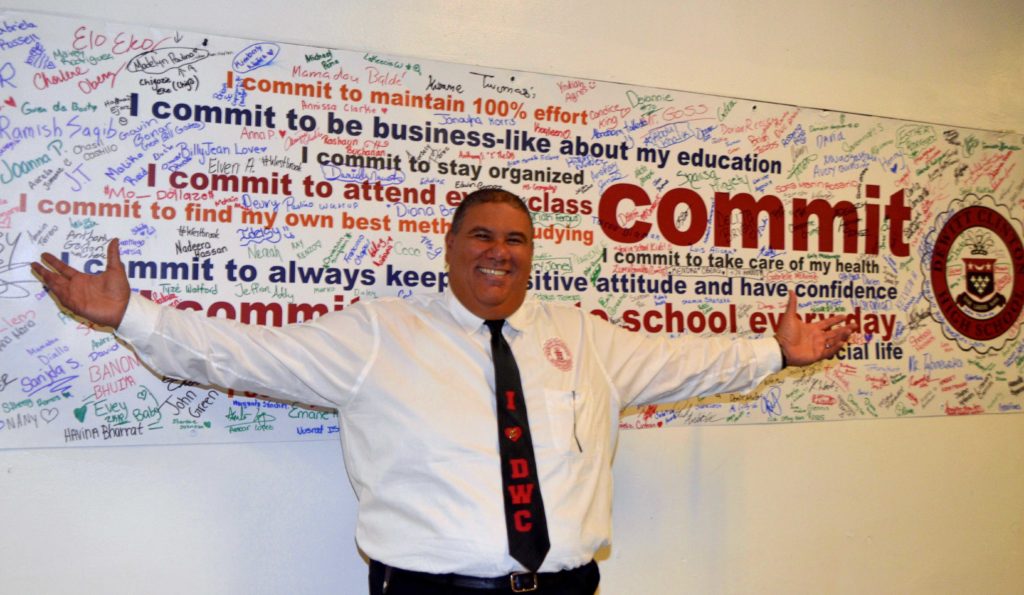 DeWitt Clinton High School held its first annual "Commit to Graduate" event to increase student motivation by emphasizing the value of a high school diploma and the steps needed to complete their secondary studies, all in a major effort to reverse low graduation rates.
"Every single day we make decisions," Principal Santiago Taveras told his students at the pep rally-style announcement. "And when you make decisions, they have consequences."
During the campaign launch on Sept. 23, students spent the majority of their school day learning about graduation requirements, the college application process, and the importance of school attendance. "Commit to Graduate" was capped off with a school assembly in which students received inspirational messages from Taveras and faculty members who encouraged them to commit to finishing high school as it is essentially a springboard that will determine the next stage of life.
"I try to always do things that are fun for the students because I don't remember liking school when I was in school," Taveras told Norwood News. "So you have to continue to motivate them, inspire them, engage them, show them what they can do if they succeed and celebrate their accomplishments."
Taveras was inspired to launch Commit to Graduate after seeing the success of a similar initiative, "Commit to Complete," that was implemented at Monroe College in 2015. Like Monroe College, Clinton students also signed a "Commit to Graduate" banner signifying that they've made a commitment to attain their high school diploma.
"One of the things that I've witnessed today, that we've seen also at [Monroe College], is that a student came back and said 'ooh I want to remember where my name is [on the banner] because when I graduate I want to come back here and look at that and say I completed my goal.'" Gary Axelbank, community relations director for Monroe College told Norwood News. "That is a tremendous notion to put in a high schooler's head who's never had the idea that there was any continuity to what they do as a freshman, as a senior and ultimately in college and in life."
Nicknamed the "Castle on Mosholu Parkway," for its size and proximity to Mosholu Parkway, the 21-acre high school has an illustrious history producing influential and pioneering graduates that included Congressman Charles Rangel, comic book icon Stan Lee, and fashion designer Ralph Lauren. But in recent years, the school has garnered a reputation of being one of the lowest-performing schools in the city.
Although high school dropout rates in New York City have plummeted–with just 9.7 percent of people dropping out of school in 2014 compared to 18.8 percent in 2005, according to Citizens Committee for Children of New York–DeWitt Clinton High School touts a four-year graduation rate of only 46 percent. Meantime, the Bronx's high school dropout rate is higher than the citywide average at 14.4 percent. But Taveras believes this initiative will help DeWitt Clinton achieve the goal of becoming "the high school of choice for all families in the Bronx."