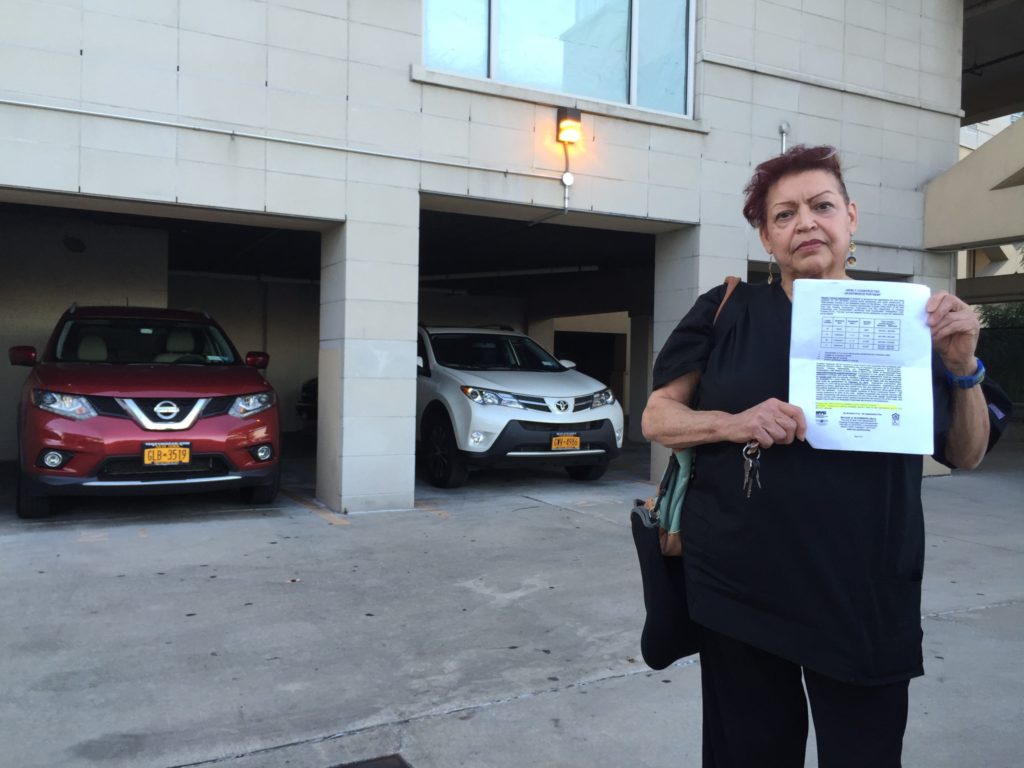 Emily Flores' conviction is so strong she's willing to take on injustices all on her own.
So when she saw that her building management company initially stood ready to jack up her monthly parking bill 84 percent with not much notice or discussion, she mobilized…herself.
"I gotta take the bull by the horns because I'm not having it," Flores said.
It took management some convincing to bring the rate down from its original monthly charge of $280, a fee Flores thought was just way too high for Norwood's working class. It was a good thing then that the management company found a middle ground, bringing the rate down to $235. This came after Flores harangued the management companies, Wavecrest Management and White Plains Realty, distributed fliers for drivers unaware of the increase, and attending the latest Community Board 7 meeting to share her plight.
The building at 3322 Decatur Ave. off East Gun Hill Road, a spacious 13-story residence partly financed through the New York City Department of Housing Preservation and Development (HPD) and the New York City Housing Development Corporation, opened six years ago. When Flores first moved in, the parking fee was a modest $150, manageable for the lower middle-income families carving a life there. Now, the rate will be $235 for drivers in good standing and $250 for non-residents or delinquent accounts. Carolina Geronimo, a building resident, still considered the rates too high.
"We barely can afford what we're paying right now because the prices, I think, are upscale for this neighborhood," Geronimo said.
"More like Riverdale, right?" Flores asked Geronimo.
"Riverdale is not that bad. I know people who pay $185," Geronimo said.
Rates at other neighboring garages by Norwood are slightly cheaper. The one owned by the New York City Botanical Garden, for instance, charges a monthly $200 fee for drivers ($225 for the first month), while the garage near Community Board 7's office at East 204th Street charges $230.
As it stands, building owners, even those sponsoring affordable housing units, can unilaterally raise garage fees without HPD's approval. In the case of Flores' building, the parking fee, considered non-residential income, had been underwritten to help keep the units affordable.
It wasn't long before Flores attracted attention from managers. A representative for the building owner told the Norwood News that the company came to a compromise on the rate change. "People reach out and you have to come to the middle," said the rep. The existing rate had been in place since 2013. New revenue from parking fees is expected to cover the building's operational costs.
But Flores, despite claiming some victory, is still thrown off by the rules of a city-funded property.
"It still doesn't make sense how they could raise the rate at will," she said.
The rate hike takes effect Nov. 1.