Inspector Nilda Hofmann of the 52nd Precinct announced a reassignment from the Five-Two precinct after more than two years on the job.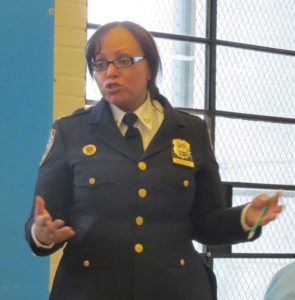 "It's bittersweet," said Hofmann, making her announcement at Community Board 7's general board meeting April 21. Her news was met with loud sighs and a resounding "no" from CB7 chair, Adaline Walker-Santiago.
"It's been two plus years but I wanted to thank everybody here," continued Hofmann, who was given a standing ovation from attendees at the meeting.
Hofmann began her tour at the 52nd Precinct in 2013, having replaced the previous inspector, Joseph Dowling. Hofmann began her career with the New York City Police Department in October 1990, and since then has served several precincts including the Bronx's 42nd, 43rd, and 44th precincts.
Her latest promotion will be taking her to the NYPD headquarters in downtown Manhattan. "There's a promotional spot so I soon will be a chief so I'm very grateful for this opportunity," said Hofmann.
Hofmann reassured everyone she will visit the neighborhood in the future. "I'm sad because as you know this is where I grew up. This is my community and I'm gonna be back," she said.