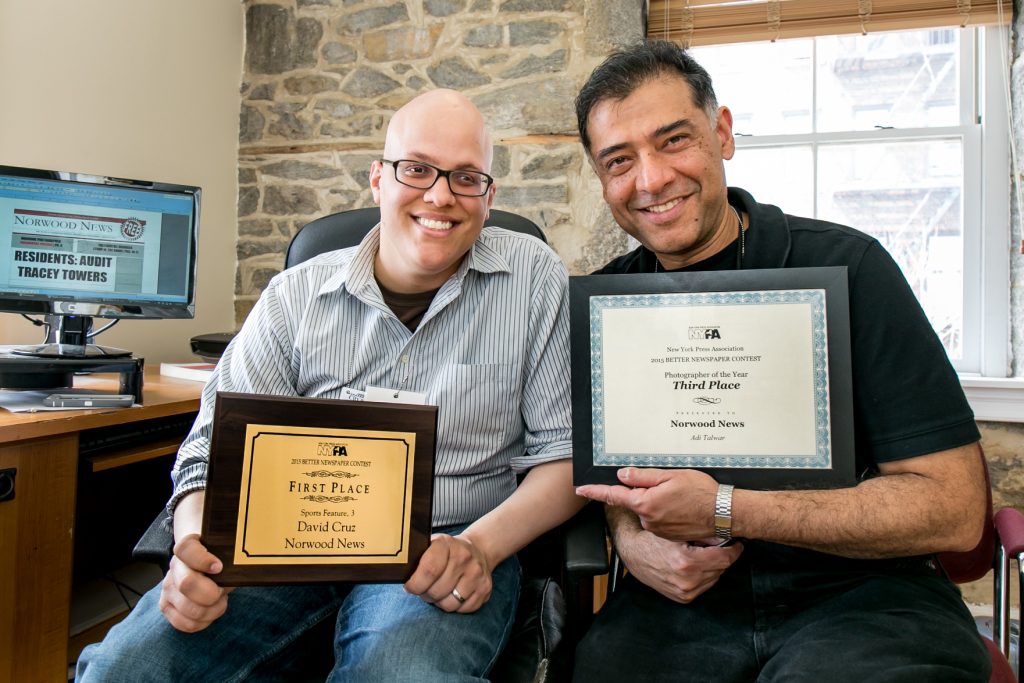 The Norwood News won three prizes at the annual New York Press Association's Better Newspaper Contest, including a first-place prize for Sports Feature to the paper's editor-in-chief, David Cruz. He was recognized for his story on a peewee football team practicing without appropriate lights at Williamsbridge Oval Park. The story was published in November 2015.
"[The story] tells the tale that so many programs have to deal with, just much better than most ever do," wrote the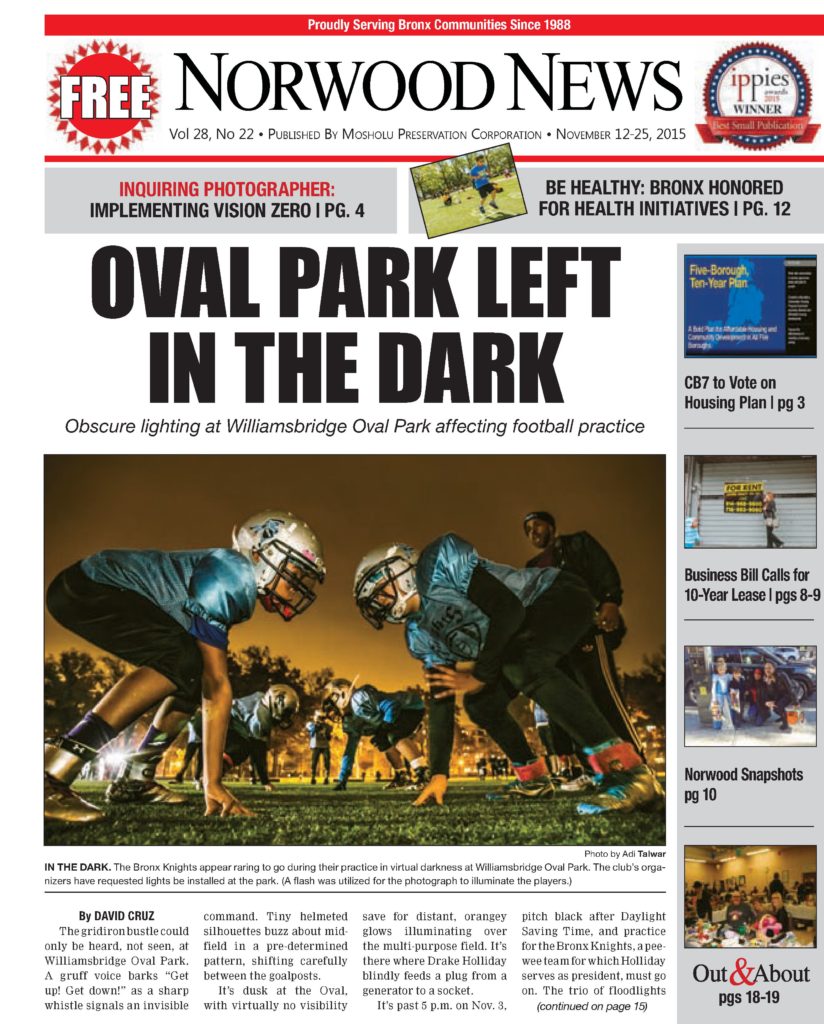 judges. "Multiple sources, such as players and adults, made the story pop, as did wordsman-like descriptions of the action. Similar to a sports radio broadcaster, the writer made the reader feel as if they were at the practice."
Cruz also took home a third place prize for Best Headline Writing, edging out several newspapers across the state for what judges called "biting" headlines that he crafted. Judges notably singled out "Smoking Out Oval Firebugs," published in December 2015, as a catchy, attention-grabbing headline.
"We are extremely proud to have received this honor by our peers," said Cruz. "These prizes were earned through collaboration; that's why I want to publicly thank Judy Noy, Vivian Carter, Jasmine Gomez, Mauro DeLuca, Adi Talwar, David Greene, Melissa Cebollero, Dawn McEvoy, and Jane Corbett for lending their talents to the newsroom."
Cruz has been in the news industry for nearly 12 years, having worked at News 12 The Bronx, WCBS 880AM, The Larchmont Gazette, and The Bronx Times Reporter. He was honored by NYPA last year, taking home a third place prize for Coverage of Business, Financial, and Economic News.
There was also an honor awarded to the paper's top-notch photographer, Adi Talwar, who picked up a third place prize for Photographer of the Year. A native of Dehli, India, Talwar has a background as a designer and an architectural model maker. He's been published at The New York Daily News, The New York Times, and City Limits Magazine, among others.
Judges said, "Adi's submissions show that he is willing to seek out unique perspectives and is capable of producing sharp, well-exposed photographs. His work appears to rely on wider-angle lenses, which are often ideal in news photography. When Adi gets close to his subjects, his photographs are capable of grabbing the viewer with a dominant subject while also conveying their environment. His work clearly goes beyond solid photography to tell the stories of and provide a window into the communities he covers. At this rate, and with a continued effort to make unique images, he stands to be named [first place] Photographer of the Year in the very near future."
Some of his photographs were featured in a tribute newspaper distributed to guests at the NYPA Awards ceremony.
"Adi is one of the sharpest photojournalists in the State," said Cruz. "He has this uncanny eye in turning an ordinary shot into pure gold. We really hope Adi captures first place next year."
The Norwood News has been published by Mosholu Preservation Corporation since 1988, first starting as a monthly publication that's turned into a full-color bi-weekly with a 15,000 copy circulation. The paper covers the neighborhoods of Norwood, Bedford Park, Kingsbridge Heights, Fordham and University Heights.