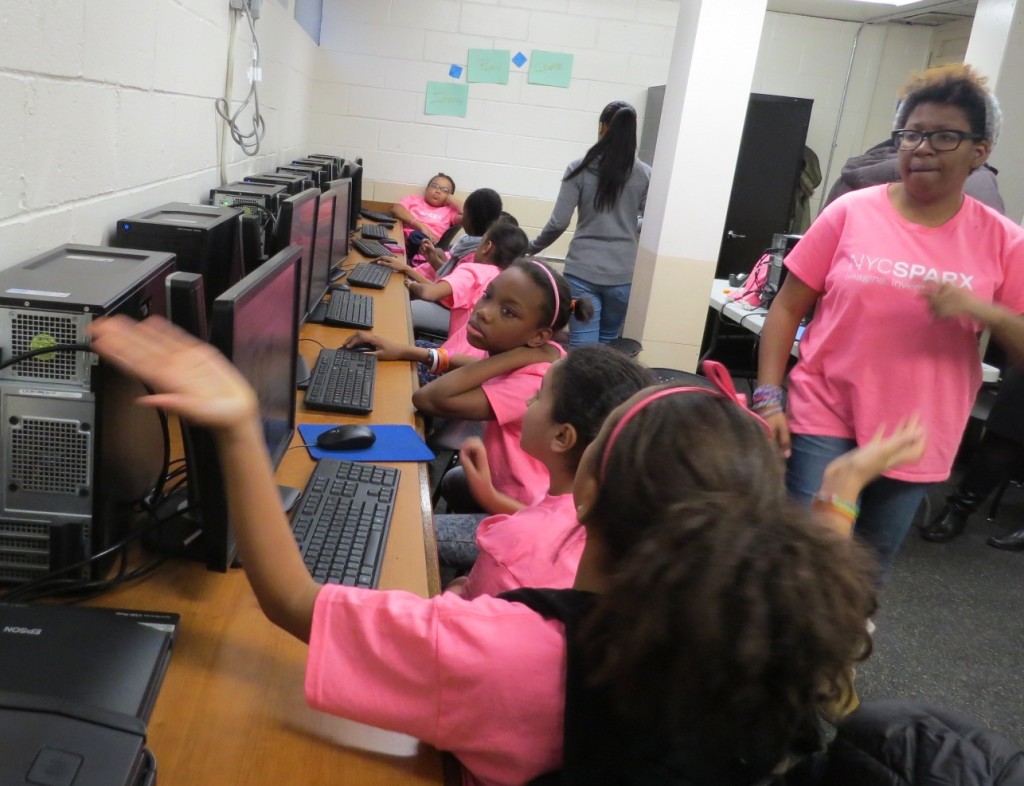 Zaleen Julia, 12, stood carefully monitoring the group of 10 young girls staring intently at their Dell computers. They sat inside the boxy computer lab at St. James Park Recreation Center in Fordham, learning how to code, or giving a computer program a voice.
But the tedious work transformed into a thrilling exercise for the girls, utilizing a program dubbed Python, software that helps visualize the coding process. There were girls as young as 10 years old in the class, all decked out in pink T-shirts. Zaleen, a student at MS 244, wants to be a dancer, but she's certainly kept an eye on coding.
"It's pretty fun, it's pretty cool, and it's like a new experience for me because I never did that in my  life before," said Zaleen, wearing a pink shirt that read, "NYC SPARX; Imagine, Invent, Inspire." The phrase is a reference to the after school pilot program teaching young girls such as Zaleen to code. For the past several weeks, Zaleen has been developing a smartphone app that pinpoints the whereabouts of a user with help from a watch or bracelet.
SPARX, privately funded and administered by the city Parks Department's Computer Resource Center, exclusively recruits young Bronx females ages 12 to 18 to acquire tech-based skills. Its title is not an acronym, but a play on the word "parks," given the agency that's adopted the program.
As it stands, females have barely broken into the tech sector. Even worse, the industry in the Bronx is far behind other boroughs such as Manhattan and Brooklyn, making opportunities for young girls scant. For minority girls, the statistics are even more of a concern.
"They're poorly represented in higher level technology," said Ana-Maria Campos, director of the Computer Resource Center. "Not all these girls are gonna go on to technology. Some of them go into what they're interested in. But it's the exposure that is the key piece here."
Embedded within the program's framework is Science, Technology, Engineering and Math education (STEM), lessons amalgamated to application design or coding. Should students complete a course, it can work towards a tech credit that's accepted by schools.
The program is free, thanks to a $100,000 grant from the Butler Foundation, which went to the hiring of Laira Reid, SPARX's computer science program instructor. Two part-time employees were also hired, working at the St. Mary's Recreation Center in Mott Haven. At the St. James Recreation Center, Reid utilizes a program that illustrates the basic coding process to help create a simple smartphone app.
"When they first come in they're like, 'Oh we're going to make apps, this is going to be so cool,' and then when they're doing it, it's like, 'this really is cool cause I'm controlling and I'm making an app do something that I want to do,'" said Reid.
Editor's Note: To learn more about the program, go to sparx.crc@gmail.com or sparx@parks.nyc.gov.