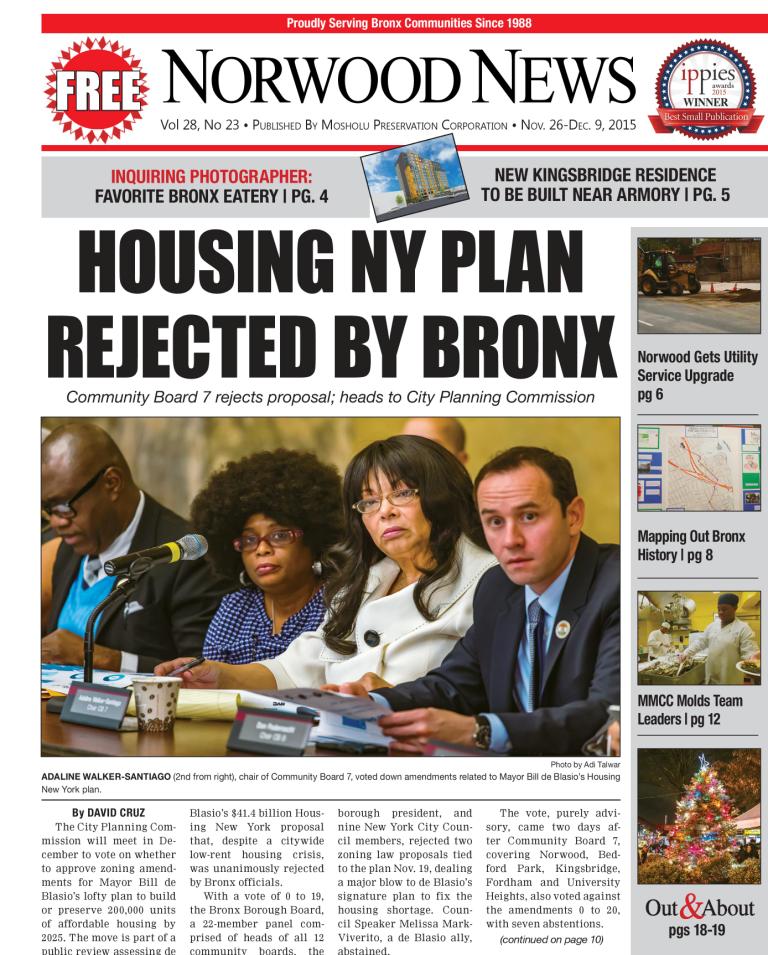 Dear Readers,
Happy belated Thanksgiving Day! If you're at home or work, you could spend some time to check out some community news you can use with the Norwood News, covering the northwest Bronx.
The digital edition, and physical paper are out with news you won't find anywhere else. Our front page focuses on an issue impacting the 63 percent of rent burdened Bronxites living in the northwest Bronx–two zoning proposals rejected by Bronx officials. Considered the DNA of Mayor Bill de Blasio's Housing New York Plan, the zoning text amendments were not well-received by Bronx elected officials and community boards. Read the full-length story to understand why.
Also, check out what the developer of a new residence near the Kingsbridge Armory has to say about the proposals.
Inside the cover you can read up about yet another initiative to increase the troubling voter turnout and experience in the Bronx, a heartwarming piece on kidney donors, celebrations of a women's rights pioneer, and a major oil-to-gas conversion project by Con Edison. We also have your regular Norwood News staples–Inquiring Photographer, Neighborhood Notes, and Out & About, all good reads for everyone.
So take a look at the paper and share your thoughts, concerns, compliments to David Cruz, editor-in-chief of the Norwood News, at dcruz@norwoodnews.org.
Thanks everyone!
Norwood News Editorial Team