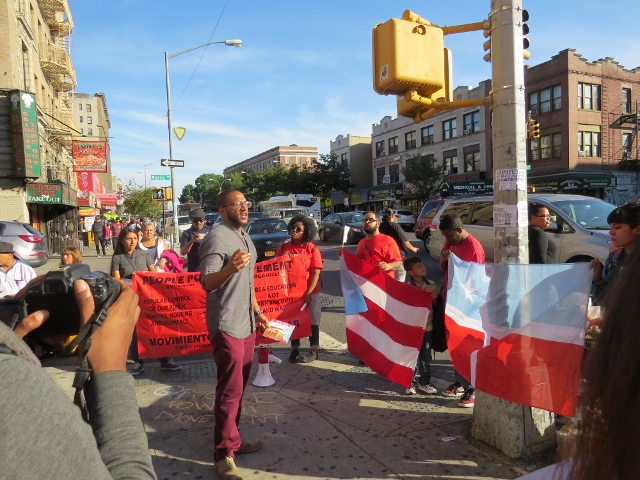 Like the Nationalist Party protestors in the streets of Puerto Rico during the 1950s, a band of some two-dozen protestors, many of whom were of Puerto Rican descent, marched from Lehman College to El Grito de Lares, a street dedicated to Puerto Rico's 1868 uprising against the nation of Spain. They commemorated their protest on Sept. 23, a day before the anniversary of the uprising.
For the People Power Movement, a group calling for all-around equity and independence for Puerto Rico, their list of grievances was broad, and at times loaded–outrage over school funding, substandard housing, low-wage jobs, and the assassination of a Filiberto Ojeda Rios, a Puerto Rican Independence Movement leader, who was killed a decade ago on the anniversary of El Grito de Lares.
"We remember this day and how they demoralized our people on the day of our revolution," said Antonio Andres Rodriguez, a protester who spoke through an interpreter. "I have seen our people go through the worst just to be accepted. And that is not in Puerto Rico ten years ago, five years ago. That is today, that is in the Bronx. That is happening right now."
But all had a central theme–many of them impacted the borough's 300,000 Puerto Ricans living in the Bronx. It's one reason why many called for Puerto Rico to secede from the U.S. "The need for independence is still relevant today considering that Puerto Rico is still suffering as a colony of the United States government," said Jay Espy, one of the lead organizers.
The protest, held in the heart of Kingsbridge, was largely sparked by the troubling debt crisis in Puerto Rico, a U.S. territory.
It was those concerns many protestors sought to exploit, capitalizing on an audience that included plenty of onlookers, some taking fliers on the group's cause as many chanted "Viva Puerto Rico."
Puerto Rico's debt crisis stood at the center of the protest. Becoming mainstream news over the summer, Puerto Rico's debt crisis has sparked questions on whether the island will become insolvent. Protestors have since lambasted the U.S. in staying idle as Puerto Rico languished in an out-of-control debt and spiraling economy. The country had defaulted on its debt payments in August for the first time in the country's history, signaling many to compare the crisis to Greece.
Legislators in Congress, many of whom are of Puerto Rican descent, have put the issue at the forefront though the U.S. hasn't budged.
Meantime, the New York City Council has passed resolutions officially calling on Congress to step in and resolve the crisis. The resolution stood as a moment of solidarity with Puerto Rico.
But Espy does not want any help from lawmakers.
"If they were really in the interest of the community we wouldn't be suffering in the Bronx, there wouldn't be any suffering in Puerto Rico," said Espy.